High performance tree
The High Performance Tree is a metaphor used to help teams engage in conversations focused on values and expected outcomes. Try this Lucidspark template.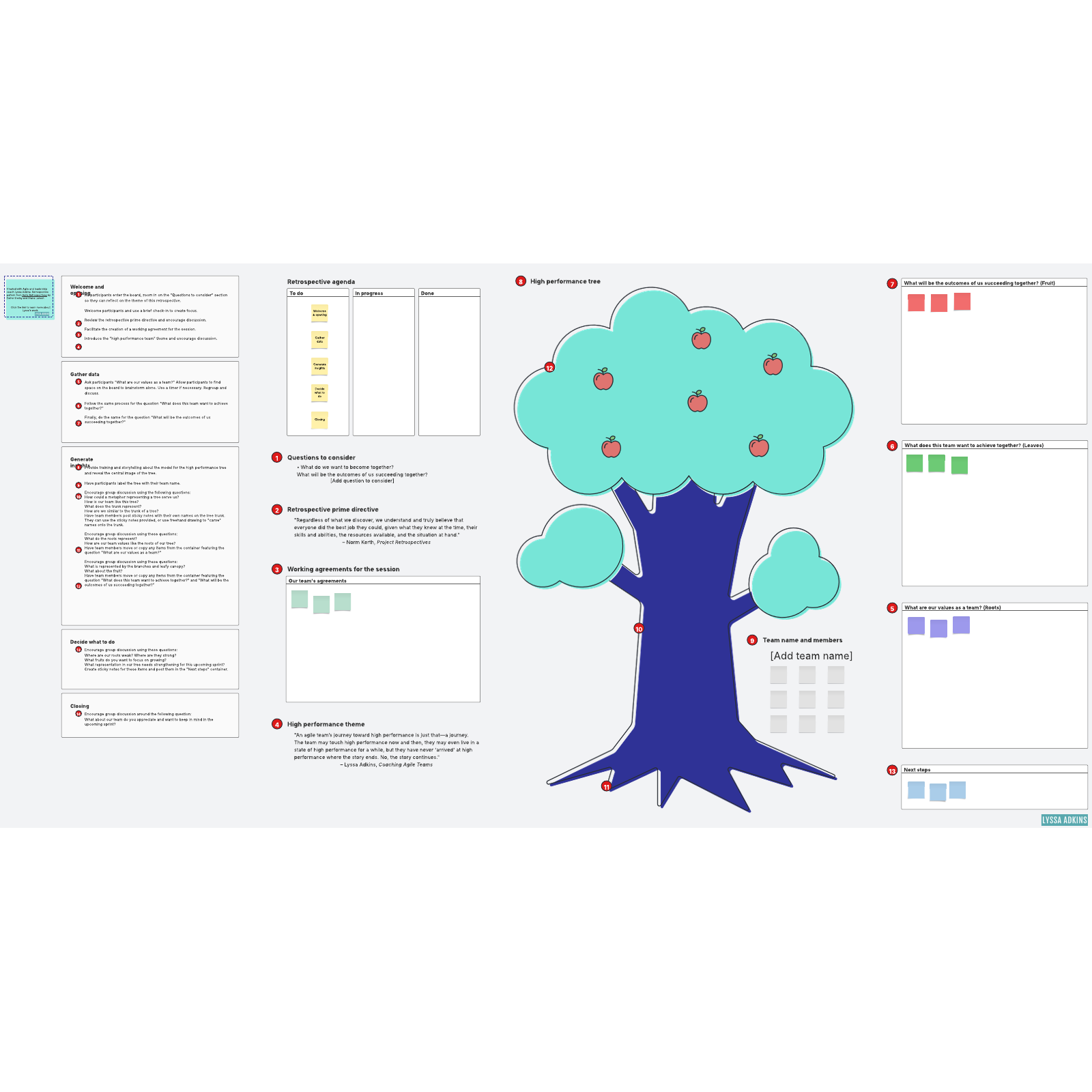 What is the high performance tree?
The high performance tree is a metaphor, designed by Agile and leadership coach Lyssa Adkins, that helps teams see how their goals relate to their shared values. The roots of the tree are the values the team shares, while the fruit the tree produces is what the team creates together.
This visual metaphor is helpful during retrospectives. The high performance tree lets teams see how all their processes, collaboration, and shared experience contribute to the work they do.
Benefits of the high performance tree template
A team is not a machine. The people you work with are more than cogs or parts of a process, and your collaboration with them is about more than what you end up producing. The metaphor of a tree more accurately reflects this reality: a tree lives and grows, and while it produces fruit, it's not only about the fruit.
This metaphor helps your team see themselves as an organic unit. While you can celebrate what you produce together, you can also find meaning and opportunities in your failures and in the processes you share.
This customizable template provides a visual that aligns teams on a shared vision, improves collaboration, and keeps teams motivated.
How to use the high performance tree template in Lucidspark
The template contains detailed instructions, summarized below:
Welcome and opening. Begin by setting the scene. Give the participants questions to consider and create a working agreement for the session.
Gather data. Brainstorm ideas to answer the questions to consider, and place the participants' answers on sticky notes in the containers provided.
Generate insights. During this section, the team engages with the tree metaphor and relates what they understand about the group to the tree.
Decide what to do. Next, the team uses their newfound understanding to decide how to strengthen the group and what to create together.
Closing. The team discusses one final question: "What about our team do you appreciate and want to keep in mind in the upcoming sprint?"
As you work through each section of the template, keep track of topics with the Note Panel, and use the timer tool and the Facilitator Tools to guide the discussion.
Lyssa Adkins
Agile & leadership coach
As an Agile and leadership coach, Lyssa Adkins helps teams start the journey toward high performance.