Give them a hot tub
Discover what features your customers desire for your new product and uncover their hidden needs.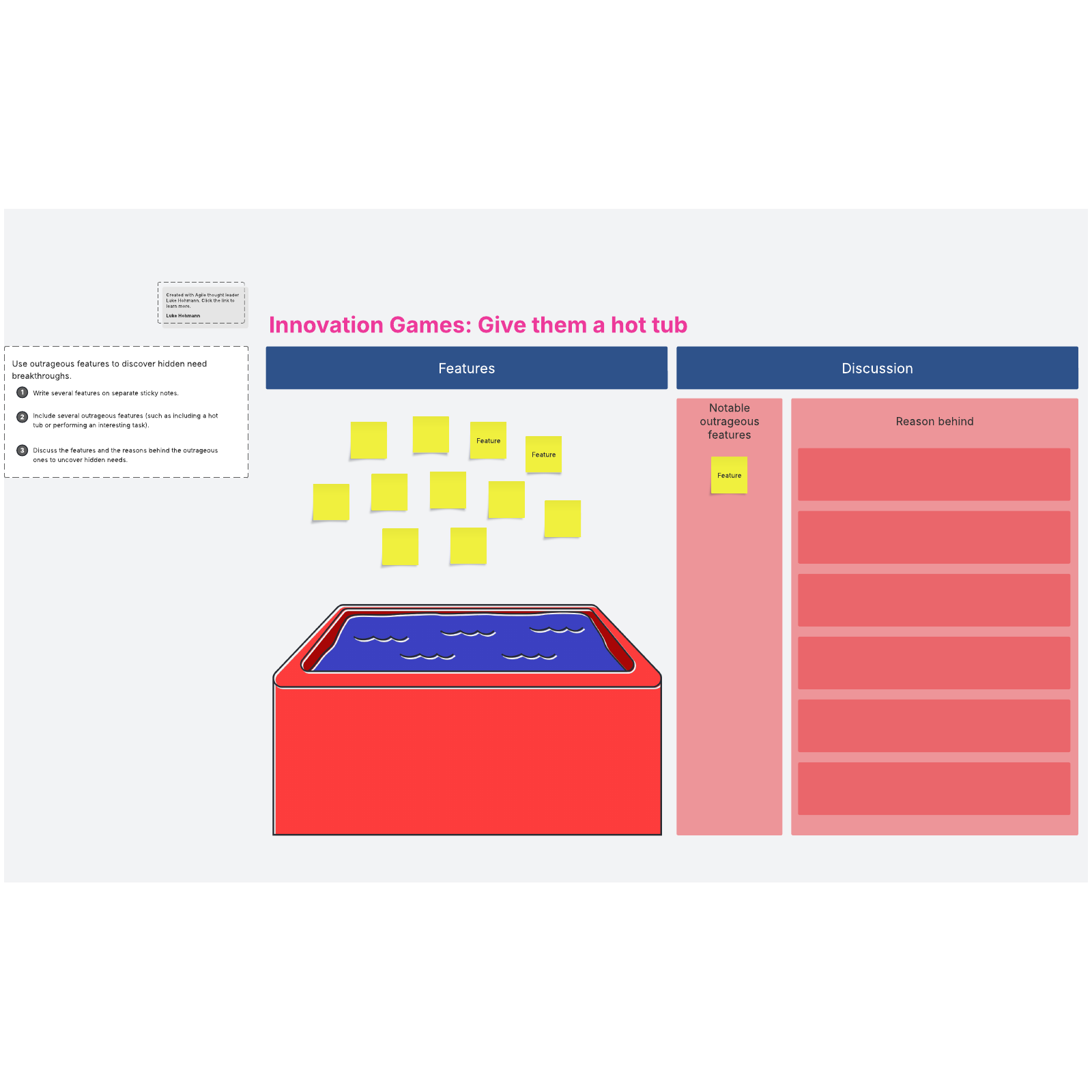 What is the Give Them a Hot Tub Innovation Game?
Some of the craziest ideas have turned out to become integral parts of modern life—such as cars that drive themselves or a computer small enough to be carried in a pocket. But how do you come up with ideas so out-of-the-box that they improve your business in drastic ways? Ask your customers to help. The Give Them a Hot Tub Innovation Game is a game-based approach that encourages the most outrageous thinking possible to find hidden breakthroughs to add to your product or service.
Part of Innovation Games, this collaborative exercise is a great tool for discovering what new features would be most valuable to add to your product or service through the eyes of your consumer. In this exercise, customers think of outrageous features to add to your product or service offerings, then you use the outrageous ideas to think outside of the box and decide on reasonable yet creative additions to your product or service.
Benefits of using the Give Them a Hot Tub template
Seeing things through your customers' eyes is invaluable for understanding their needs, and the Give Them a Hot Tub game can help your business determine its next game-changing (no pun intended) idea. So why should you use a template?
Foster customer collaboration. Use this template as part of a workshop with customers to work with them instead of just building and marketing products to them.
Encourage creativity. This new approach breaks down your customers' defensive walls and gathers their feedback in a creative way. They'll be much more open to sharing in a game, and you'll have an easy way to keep track of suggestions.
Uncover what to build next. Use the template to uncover hidden insights about your customers to influence new product features. Outrageous features can sometimes make customers uncomfortable, so they'll either reject the feature idea or adapt it into something more reasonable, yet still innovative.
How to use the Give Them a Hot Tub template in Lucidspark
Brief participants on the objective of the game. Then, have each person brainstorm outrageous features they'd like to see added to your product or service. Feel free to use collaborator colors during this activity to see who suggested what. Use the timer and other Facilitator Tools to help guide the session.
Discuss the suggestions and take note of interesting ideas in the space provided. Encourage participants to use emojis or chat to interact with each other and discuss each other's ideas.
Find the origin of each outrageous idea. What is the core desire? Consider how you could adapt the idea to something more doable that fulfills the core desire. Note surprises and themes. You can even tag sticky notes with themes to better understand what participants really want.

Luke Hohmann
Author, Innovation Games
As the author of the book Innovation Games, Luke Hohmann dives into predicting what customers want through a gameified approach. Luke believes that once you know what customers want, innovation can thrive.