GIPHY mood check icebreaker
Help break the ice at the beginning of a meeting by using the GIPHY mood check GIF icebreaker template to encourage everyone to express their emotions only using GIFs.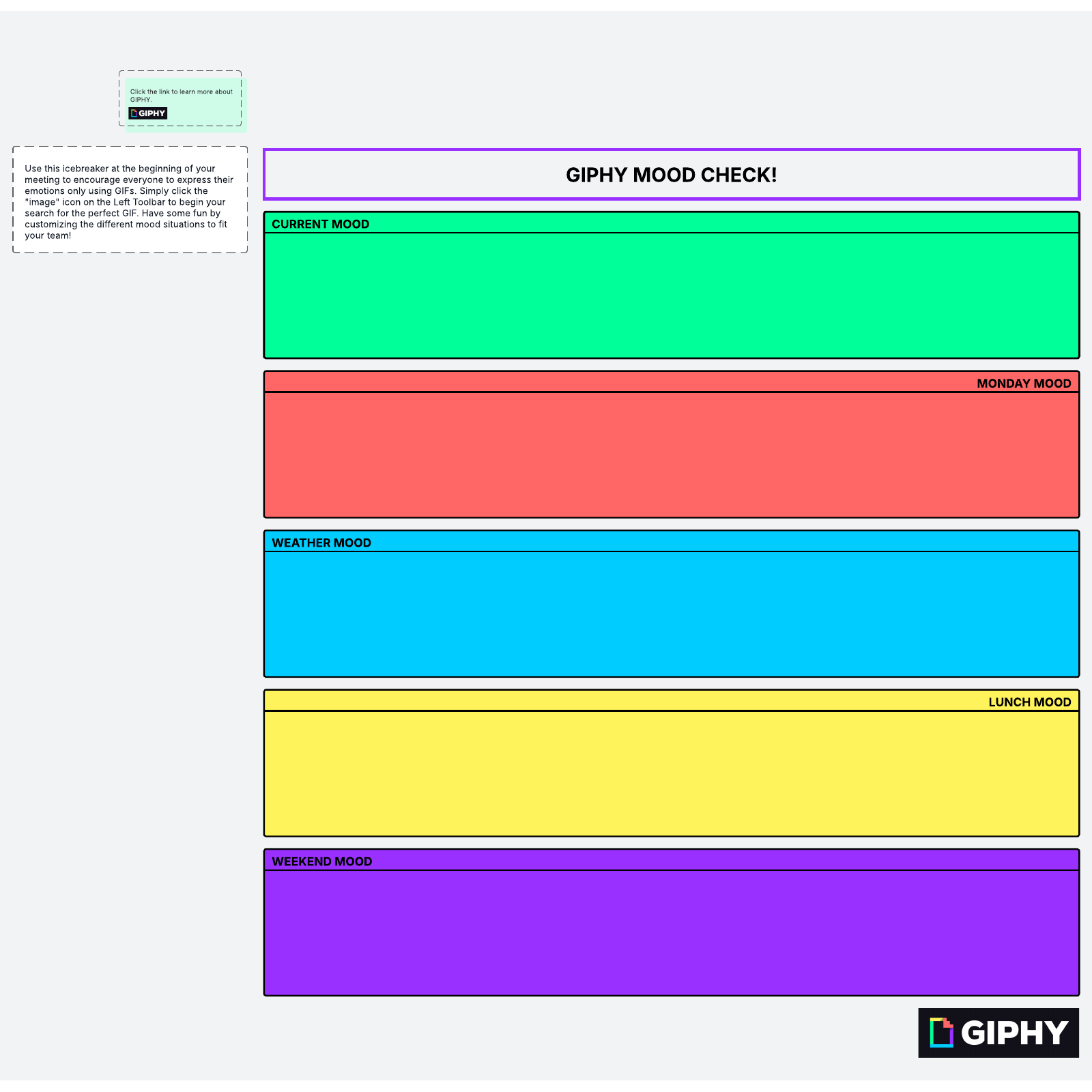 About the GIPHY mood check GIF icebreaker
When it comes to scheduling and holding meetings, it's hard to please everyone. Too early and half the participants will still be shaking off sleep. Too late and they'll be fighting off that post-lunch drowsiness. Some people might be thrilled to be there, and others not so much.
But you can, however, start things off right: with an icebreaker activity that helps you get a quick read of the room. Enter Lucidspark's GIPHY mood check-in icebreaker template.
How to use this icebreaker mood GIF game for your work meetings
In this check-in icebreaker, participants have three minutes to create a personal mood board on a collaborative Lucidspark board. But instead of images, each mood board will be made up of GIFs.
Thanks to Lucidspark's GIPHY integration, adding mood GIFs to your board is super easy! Just click the image icon in the toolbar and use the search bar to find the perfect one.
This is a pretty simple, lighthearted team mood check, but don't underestimate it: This activity can inject some much needed energy and life into the beginning of a meeting!
You can make this mood GIF activity as quick or involved as you like. Consider using Lucidspark's voting feature to have participants vote on the most relatable GIPHY matrix mood board. It's a fun way to make the icebreaker GIFs activity more engaging, while also helping you get a read on the room. Win-win, right?
GIPHY
GIPHY enables individuals to express themselves and make their everyday conversations more entertaining through GIFs, stickers, Arcade, Clips, and much more. Learn more about GIPHY
here.