Feedback icebreaker
Break the ice so you can learn from your team's experiences with valuable feedback.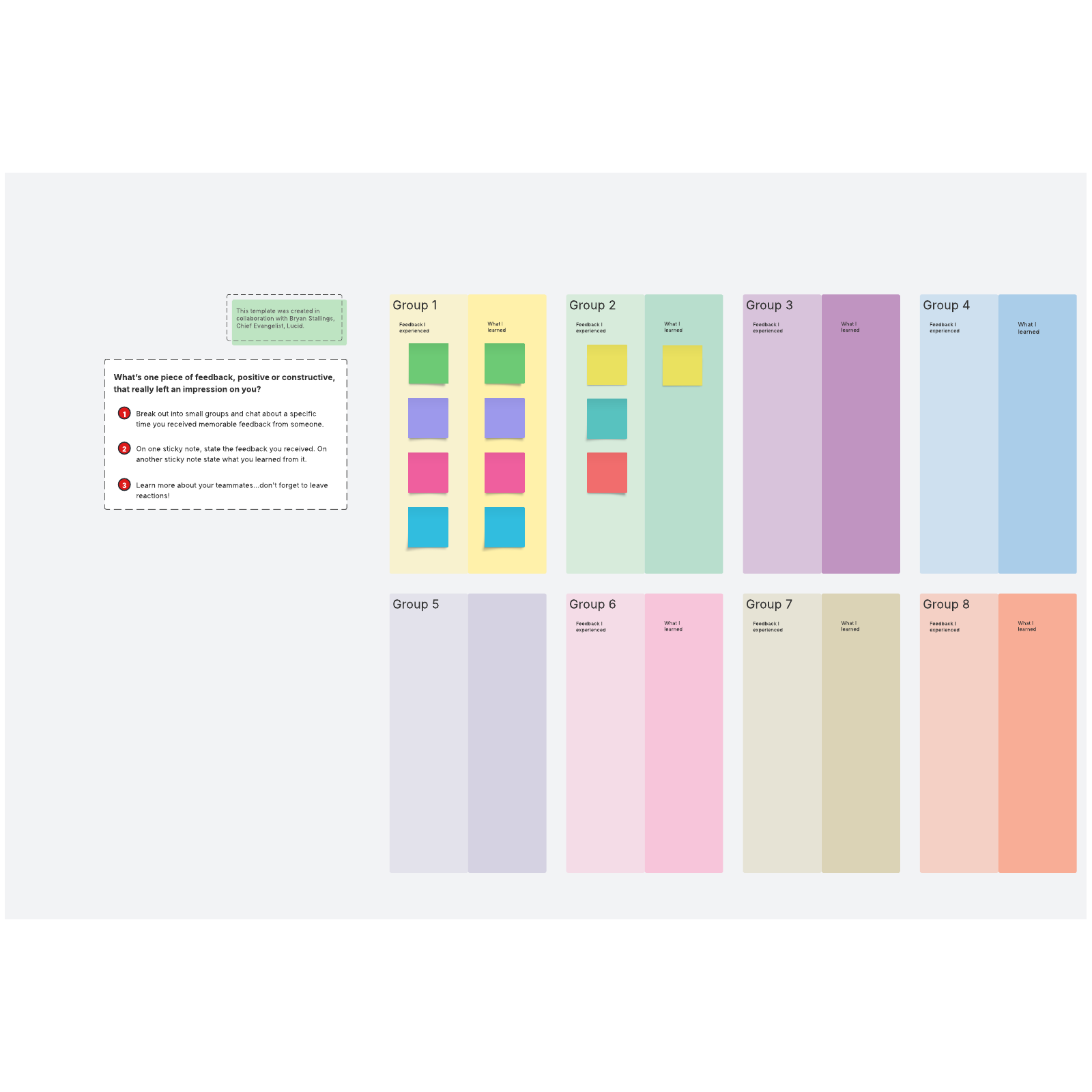 What is a feedback icebreaker?
While everyone knows that feedback is crucial to improving, most people still get nervous about receiving it. You can use this simple game to help your team relax and discuss past feedback they've received, along with what they learned from it.
Your team will get to know each other better, feel more comfortable with their coworkers, and learn from the rest of the team's experiences. Additionally, this icebreaker can make your meeting more energetic.
When to use the feedback icebreaker template
This kind of team-building game is called an icebreaker for a reason: it's meant to metaphorically break the ice at the beginning of a meeting so the rest of the discussion goes smoothly. Use this game before getting to the meeting's business, and your team will appreciate the break and feel ready to contribute.
While many icebreakers include ways for participants to get to know each other better, this game specifically helps your team learn about their coworkers' responses to feedback. You can learn how each person best receives feedback and bond over the good and bad experiences you've shared. This will help your team give better feedback to each other in the future.
How to use the feedback icebreaker template in Lucidspark
If you have a large group, start by breaking the participants into small groups no bigger than four people. Assign each group to a section of the template.
Each participant should choose a row of sticky notes—you can keep track of everyone's contributions by using Collaborator Colors if helpful. On the left sticky note, write what feedback you received, and on the right sticky note, write what you learned from the feedback or how the feedback made you feel. Use the timer to keep the meeting on track.
After everyone has had a chance to write down their experiences, have the small groups go over what each person shared and discuss it. You can also allot time at the end for participants to read through what other groups shared and leave emoji reactions. By the end, your team will feel more connected with each other and ready to collaborate on the day's work.
Bryan Stallings
Chief Evangelist, Lucid
As Chief Evangelist at Lucid Software and Certified Scrum Trainer, Bryan Stallings has coached thousands of individuals and teams in Agile and Scrum techniques.