EVBox customer journey
Identify each aspect of a buyer persona's journey with this EVBox customer journey template.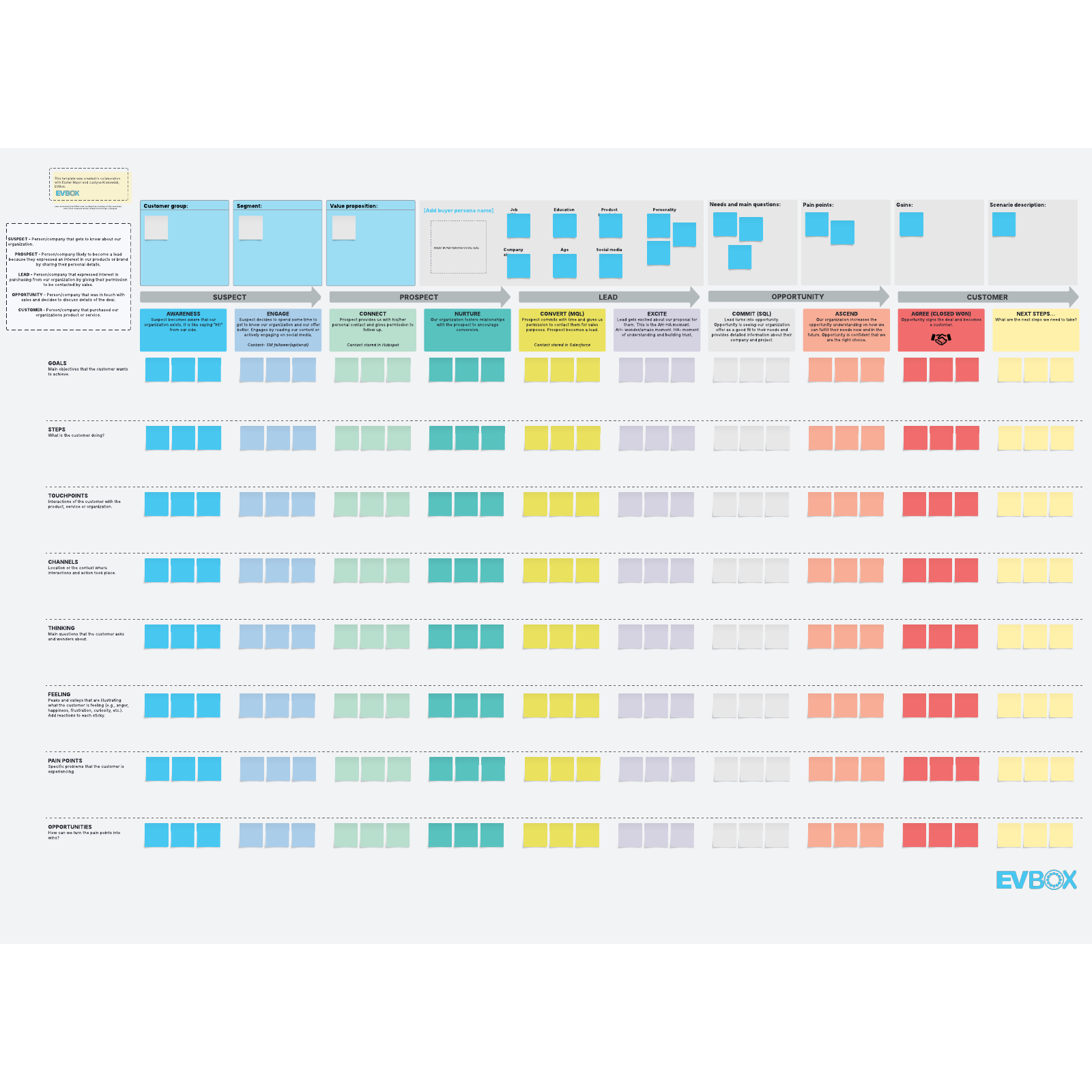 What is the EVBox customer journey template?
Diving deeper into your customers' journey offers endless benefits, but not all customer journey maps are created equal. This customer journey template was developed in conjunction with EVBox for teams that want the insights that come with customer mapping—without the limits of traditional mapping methods. It's designed to break down silos, synchronize efforts and ideas, and track a range of information for each stage of the customer journey.
Use the EVBox customer journey mapping template to track and share the customer journey across the five major steps from suspect to customer. Include detailed customer personas, along with information about your buyers' actions, thoughts, and emotions at each step, so you can create a seamless user experience from introduction to purchase—and beyond.
What are the benefits of the customer journey template from EVBox?
When your customer journey template thinks outside the box, so can you. The EVBox customer journey template gives you space to plan, track, and collaborate on each aspect of your customer's experience, so you can build on customer insights as a team and surface your best ideas. You can even customize your template to visualize and refine different customer journeys.
No two team members work the same. Our online whiteboard lets your team work together during meetings, or asynchronously whenever inspiration strikes. Each customer action, insight, and idea is tracked and recorded, so momentum is never lost. With all of your ideas in one central location, you can synthesize ideas and connect silos for an integrated customer mapping experience across your organization.
How to use the EVBox customer journey template in Lucidspark
Here's how to take full advantage of our customer journey template.
Detail the buyer persona
Create a complete visualization of a typical member of your target audience by discussing their needs, goals, motivations, and paint points. Detail the scenarios in which your customer would be seeking your product or service, as well as how they typically interact with products like yours.
Meet with your team to collect ideas and get feedback as you build out your customer persona. The more perspectives you have, the better you'll know your potential customer. Keep sessions on track using our timer, and collect any necessary notes in the notes panel for future access. Use Breakout Boards for small group work, where you can tackle specific topics before coming back together to get feedback or vote on ideas using our Voting feature.
Detail each phase of the customer journey
Write out the goals, steps, touch points, and channels that your customer could use to become aware of your product, then engage with it. Make sure you include the thoughts, feelings, pain points, and opportunities that might accompany their decision to engage with your product.
Do the same as you move through each stage of the customer journey, from awareness to engagement, then connection, and onward. The EVbox customer journey template lets you dive deeper into each stage of the customer's experience as you nurture, convert, and excite—and as they commit, ascend, and agree. In the end, you'll have a targeted marketing strategy that creates enthusiastic engagement and builds customer loyalty.
Check out our blog post for more information on how
EVBox uses Lucidspark to enhance remote collaboration
.
EVBox