Design thinking board
Solve ambiguous problems by understanding your users, identifying issues, and then prototyping a solution through assessing hypothetical scenarios.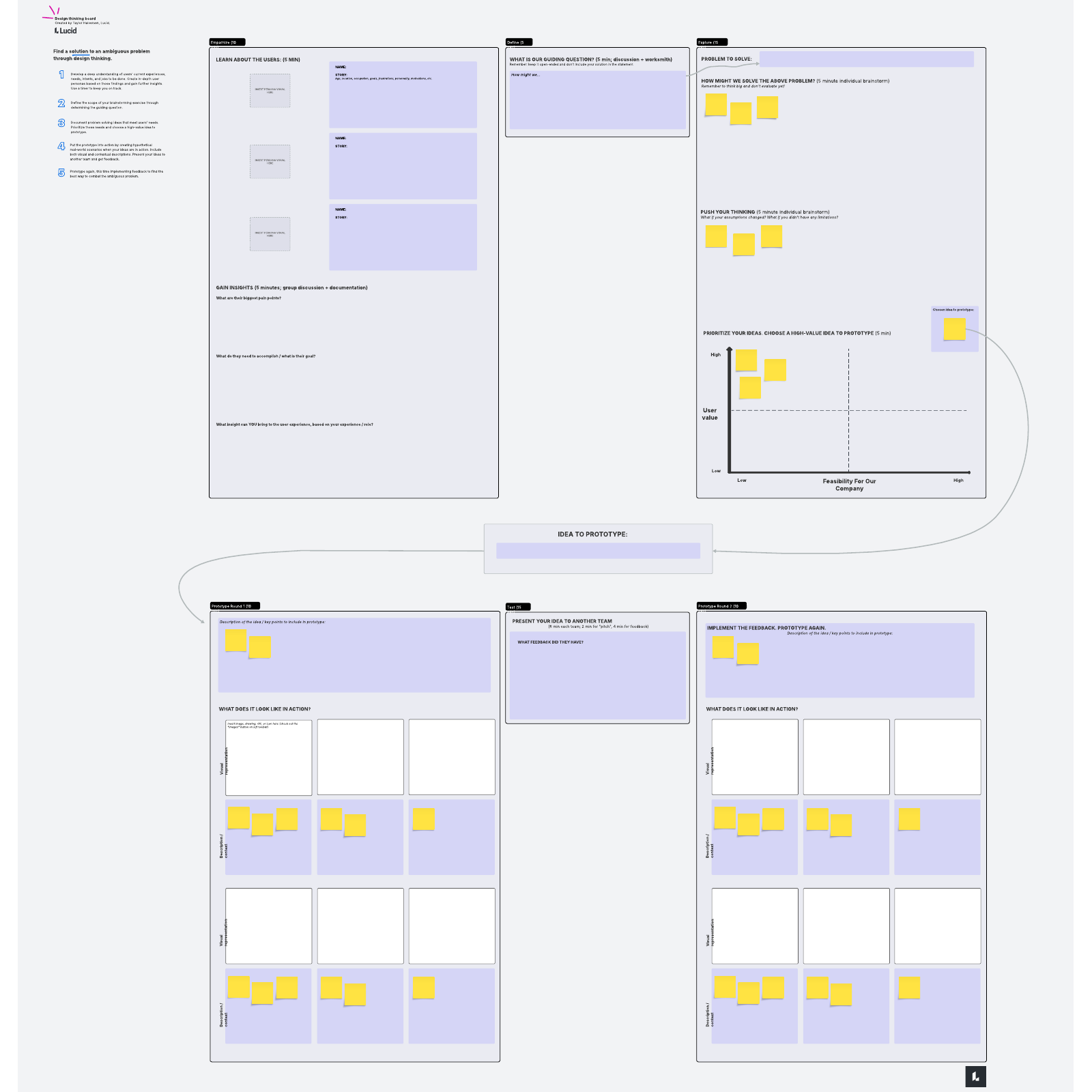 About our Design Thinking board
In theory, improving the customer or user experience is as easy as walking a mile in their shoes. Here's the catch: That's easier said than done. If you've ever struggled to iron out problems in the user experience, you're not alone. It can be difficult to objectively evaluate what users actually, well, experience. This is where a Design Thinking board comes in handy.
Visuals can be powerful problem-solving tools—and a Design Thinking board is a visual used specifically for solving problems in the user experience. Design Thinking boards start with empathy—what is the user experience currently like?—and end with a series of solution prototypes.
There are, of course, a few more steps along the way. But don't worry, our Design Thinking template takes you through each step!
Need a refresher on the philosophy of Design Thinking? Review the key five stages.
How to use this Design Thinking template
This Design Thinking exercise is designed to take you through the Design Thinking process in just over an hour. (It's even got suggested time limits to keep you on track!) The process is broken into six stages: empathize, define, explore, prototype, test, and, finally, prototype again. Let's take a closer look at each!
Empathize: This stage is all about understanding your users and their experience with your product. As you fill out this section of the template, you'll need to create in-depth user personas and document any questions you have about each.
Define: This portion of the template focuses on the users' problems: What is a pressing problem facing your users that you would like to solve? This will become the focus of your Design Thinking session.
Explore: Your co-workers and their ideas are your greatest asset. The Explore phase of the process is devoted to brainstorming as a team and individually. Everyone should be focused on the same question: How can we solve the problem identified in the previous step?
Prototype round 1: In the previous step of the Design Thinking process, you and your team brainstormed various ways to solve the user problem. Choose the most viable one and roll with it. What does it look like in action?
Test: Your first prototype for a solution isn't going to be perfect—and that's perfectly fine (even expected). Present your prototype to another team and record their feedback.
Prototype round 2: Using the feedback gathered during the testing stage, refine your prototype. How does it need to be tweaked to better help the user? By the end of this process, you should have a good idea of the solution you'd like to implement and how to move forward.
Taylor Halversen
Product Manager at Lucid
Taylor Halversen is an experienced product manager, user experience designer, and strategist with a passion for understanding users' needs and developing excellent customer experiences.