Design sprint template
Design sprints help you identify and solve problems ahead of time to reduce the risk of launching a product. Design, prototype, and test ideas with customers.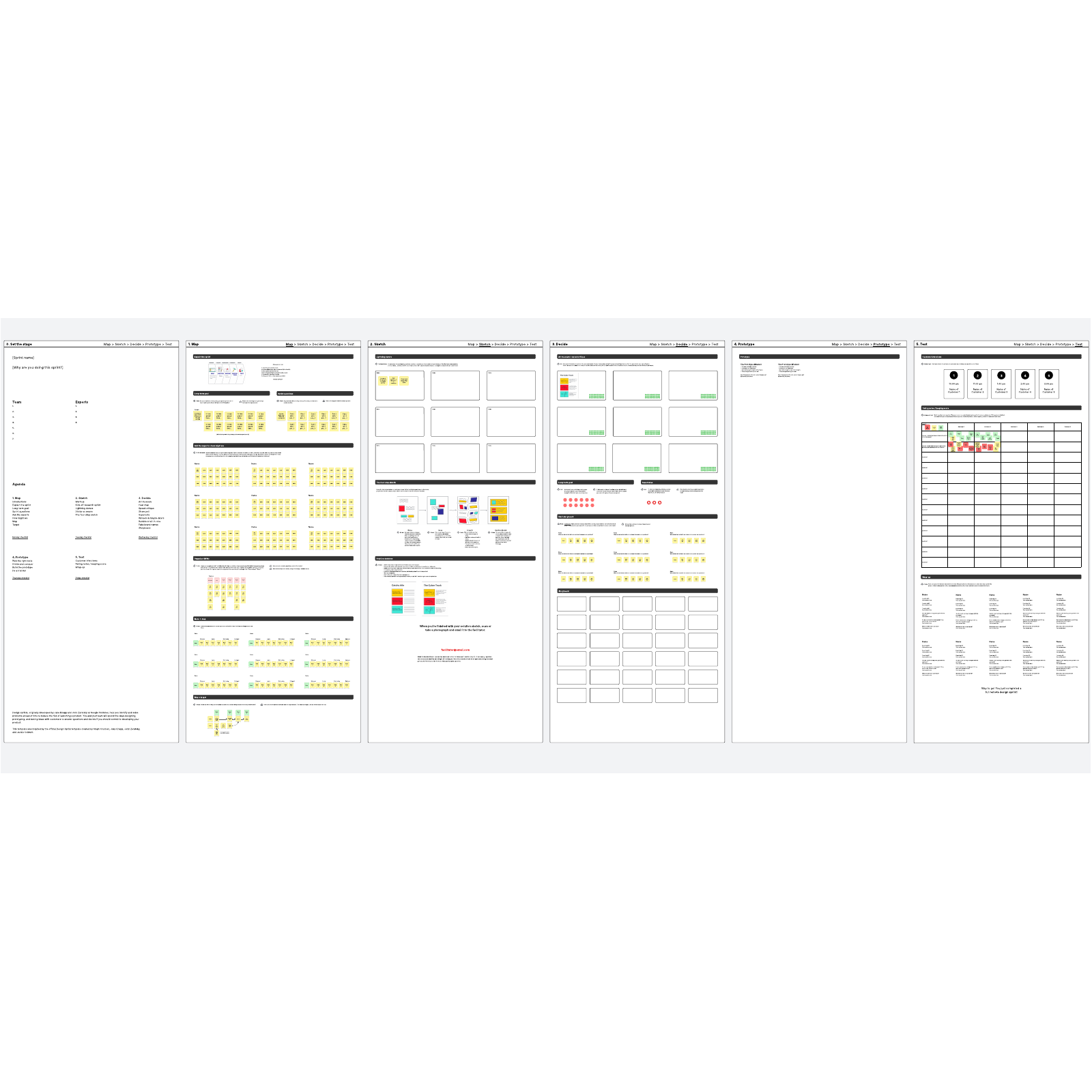 What is a design sprint?
A design sprint takes your team from idea to prototype in just five days. This sprint compresses months of back-and-forth into a clear-cut process to determine business value and deliver a prototype that will yield valuable data. You and your team will spend five days designing, prototyping, and testing ideas with customers to answer questions and decide if you should commit to developing your product.
This template was inspired by the official Design Sprint template created by Steph Cruchon, Jake Knapp, John Zeratsky, and Jackie Colburn, and the design sprint itself has been used by blue chip companies all over the world.
Benefits of using the design sprint template
Launching a new product is a tremendous risk—the design sprint template is meant to help reduce this risk. The template can improve design sprints because:
It's highly flexible. You can customize this template for teams of varying sizes and industries.
It encourages collaboration. The template makes it easy to involve everyone on the team and document the process in one shared space—whether your team is remote or in person.
It draws on diverse skills. Each member of the team is important for the design sprint, and the template allows for unique skills to be shared throughout the process.
How to use the design sprint template in Lucidspark
The template is designed in five sections, which align with a five-day design sprint. Here's what you should be focusing on each day:
Monday: After going over what the team should expect for the next five days, you'll need to set a long-term goal and interview experts. During this stage, your objective is to understand your various users' experiences as is. Then, you'll pick a target to focus on. This is a great time to use the Voting feature to make collaborative decisions.
Tuesday: Now to solve the problem. The focus of this step is to draw inspiration and encourage your team to start ideating and sketching solutions. When your team members are sketching individual proposals, they can use link previews and image imports within Lucidspark to show their ideas.
Wednesday: Identify the best solutions and start to storyboard. Use color-coded sticky notes and emoji reactions when debating.
Thursday: Time to build a realistic prototype! Feel free to use the Lucidspark board however works best for your team. Your team may want to take advantage of Lucidspark's ability to import images or leave comments during this stage.
Friday: Now for the exciting part—put the prototype to work. Test your prototypes on customers and gather their feedback. This activity is best done as a team, with each member contributing sticky notes to the board in real time.
At the end of the design sprint, you'll have enough information to confidently determine next steps.
Design Sprint