Demand creation strategy
Create a marketing strategy to generate demand for your product/service. Utilize this demand generation strategy template to help create a plan.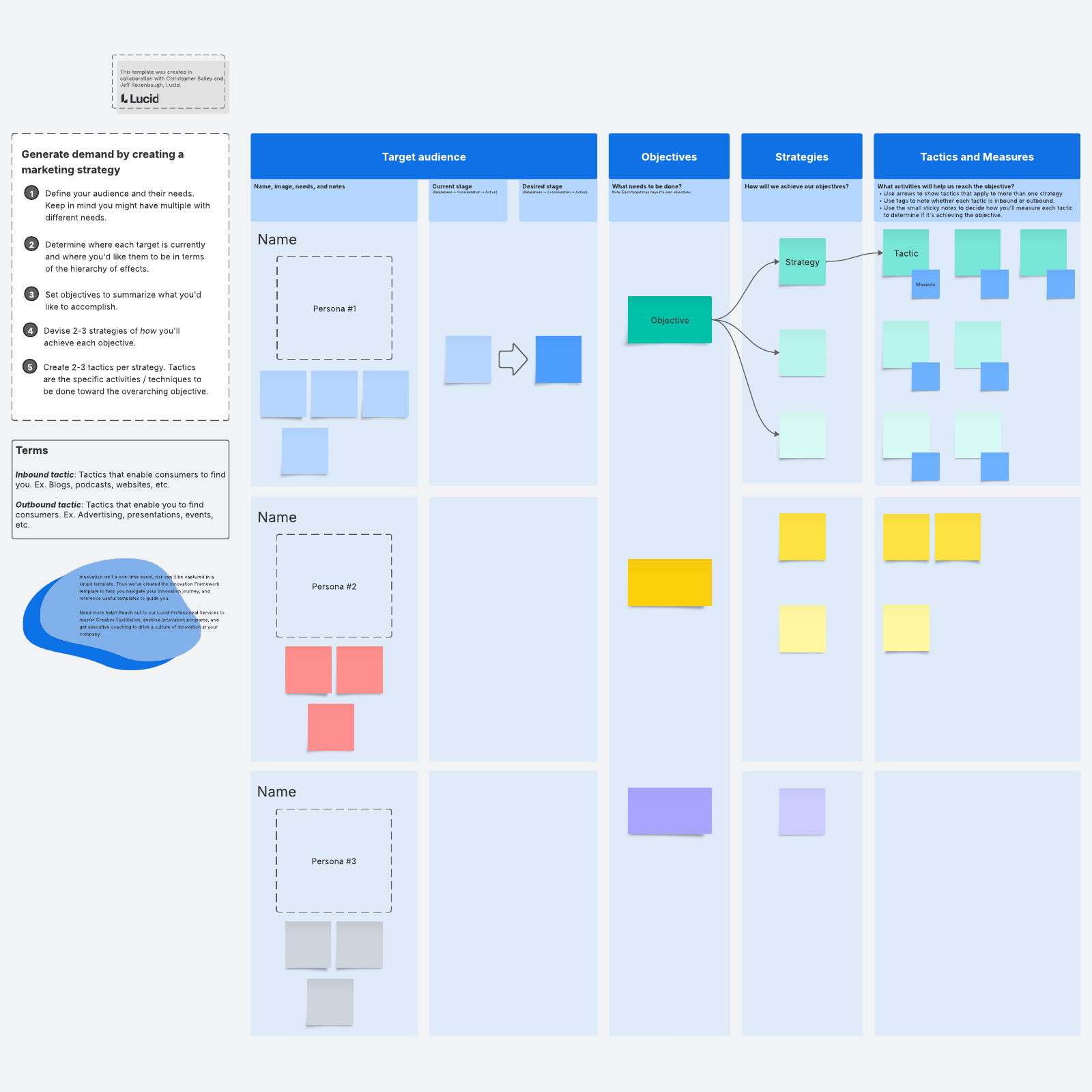 What is a demand generation strategy—and how can a template help?
These days, building a clientele is about much more than making potential buyers aware of your product. Today's most effective marketing strategies are rooted in building brand awareness that speaks to your demographic, leaving them with a lasting positive impression that builds trust. At the center of your branding campaign is your demand generation strategy.
With a demand generation strategy, you and your team can determine how to generate customer demand through various objectives, strategies, tactics, and measures. This can include awareness building, content strategizing and marketing, and fostering high-quality leads that generate engagement and grow your business. Your end goal should be to reach your various audiences with content and branding that will speak to their concerns and center your product as the answer to their needs.
Using a demand creation template, your team can easily collaborate on every step of building your demand generation strategy. Together, you can visualize each aspect of your strategy and develop action items that launch your strategy effectively.
How to use the demand creation strategy template in Lucidspark
Here's a step-by-step breakdown of how to use our demand creation strategy template in Lucidspark:
Together with your team, define your audience and their needs.
Identify your audience's current state and where you'd ultimately like them to be. Ask yourselves: Are they aware of your product? Have they considered your product? Have they purchased your product?
Determine the overarching objectives for your audience with your team.
For each objective, list 2-3 strategies that will help you achieve it.
For each strategy, list 2-3 tactics that will achieve the goal of your strategy. Tactics can include individual actions such as blog posts, free trials, case studies, etc. They can be broken into inbound (enable customers to find you) and outbound (enable you to find customers). Use Lucidspark's tags to label each type of tactic.
For each tactic that you decide to employ, list how you'll measure your goal and ensure that your goal is reached.
To make your experience as collaborative and seamless as possible, we recommend using our chat, comments, collaborator colors, and emoji reactions to help your team communicate as organically and quickly as you need.
Christopher Bailey & Jeff Rosenbaugh
Professional Services, Lucid
Christopher and Jeff have spent the last decade helping organizations develop innovation pipelines and transform into Agile systems of delivery.