Daily standup template
Use this daily standup board to keep your team on the same page. Standup meetings help to know what everyone is working on and address roadblocks.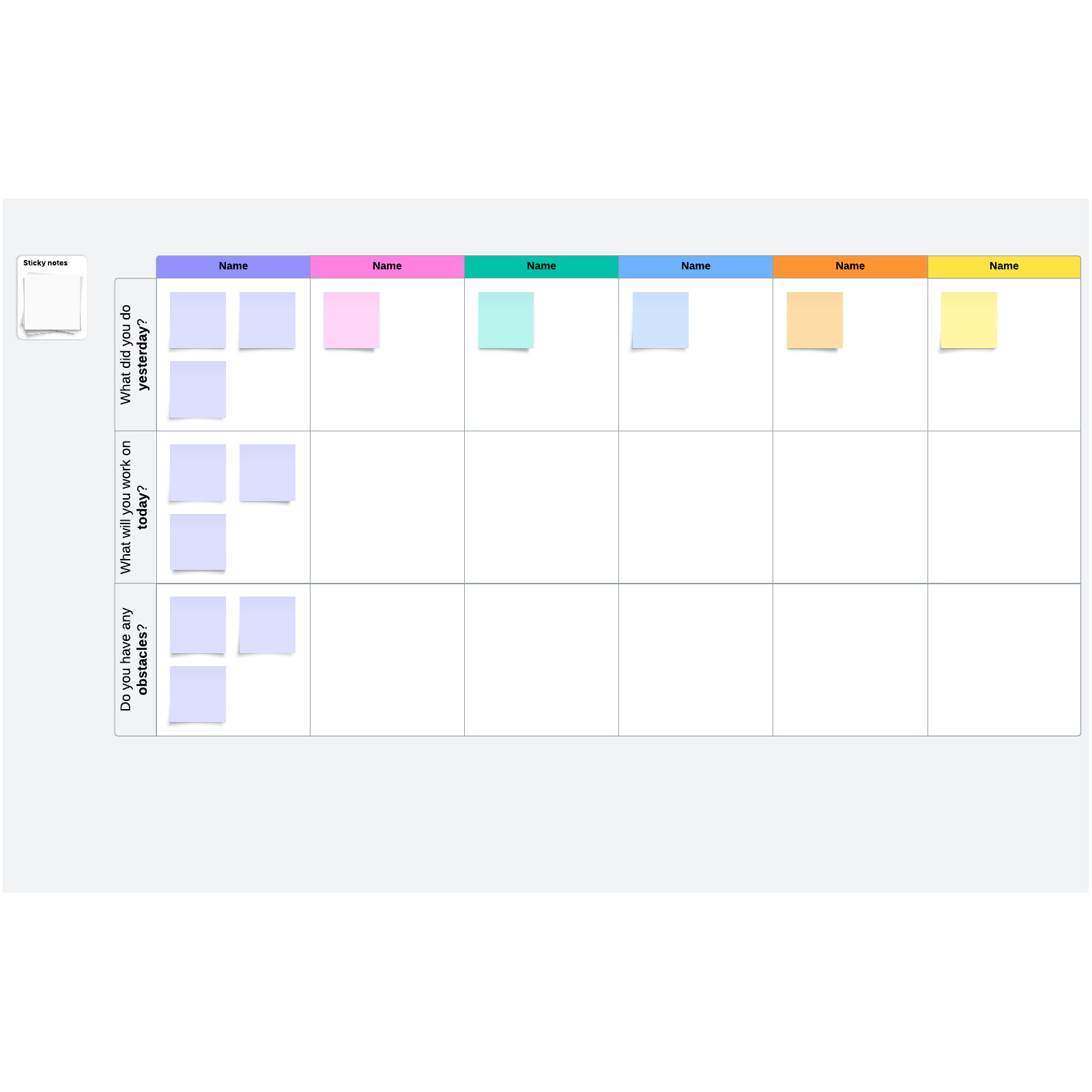 What is a daily standup meeting?
A daily standup—also called a Daily Scrum—is a progress check-in with every member of a team, and these daily meetings are essential for any agile team. This is a short, structured meeting that is best done at the beginning of the workday. While daily standups can take a variety of formats, one of the most common ways is for each member to answer three questions:
What did you do yesterday?
What are you doing today?
Do you have any blockers?
Benefits of a daily standup meeting
Daily standups are an exceptional way of increasing transparency on your team and keeping sprints moving forward. But that's not the only benefit:
They allow the team to better align on overall goals, whether working remote or in-person.
They help team members identify roadblocks and ask for help.
They foster a collaborative environment in which team members can learn from each other.
They're short and to the point, which means everyone can stay focused.
Daily Scrums also help the whole team mentally prepare for the day ahead. It's a great way for everyone to understand what to focus on.
How to use the daily standup meeting template in Lucidspark
Make it a habit. Add the daily standup to your team members' calendar as a recurring event, and link to the template within the invite.
Encourage prep. Team members should be responsible for adding sticky notes that answer the three questions on the template. When it's their turn, they can elaborate on those stickies. That way, there's no pausing the standup to type.
Make it interactive. This is the team's daily chance to align, so be sure to encourage use of Lucidspark's interactive features. Team members can leave emoji reactions to celebrate each other's contributions towards the sprint goal, comment on sticky notes, or use the real time chat function.
Identify action items. When blockers are identified, turn those into action items. Use the Notes panel to record information in real time, and even convert sticky notes into Lucidspark Cards to integrate tasks with project management tools like Jira, Azure DevOps, or Smartsheet.
This template can also be used for meetings and workshops other than Daily Scrums. It's a great, easy template to keep teams on task and apprised of everyone's current focus.
For facilitating other Agile meetings, check out our templates for a Sprint Retrospective, Scrum board, and burndown chart.