Customer segmentation
Use this Customer segmentation template to identify and prioritize your different customer personas in Lucidspark. List your target customer segments. Use actual customers to bring your analysis to life.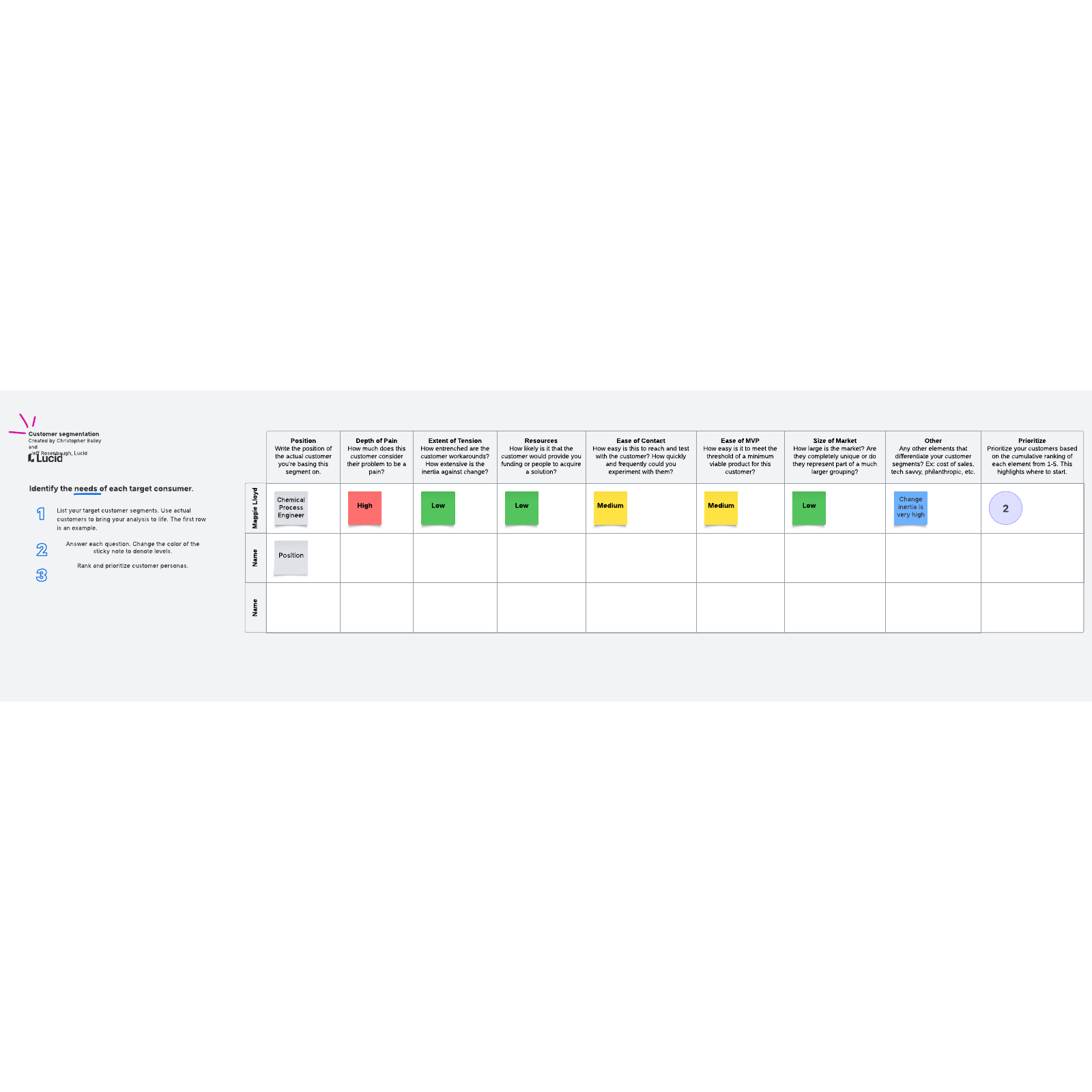 What is the customer segmentation template?
It's common to lump certain types of customers together to better understand who's using your product. For instance, you may find that your product is popular among teens or is most used by people who live in Germany. Many companies will segment their customers by characteristics such as industry, size, location, lifestyle, or behavior.
When you have an understanding of whom you're building for or marketing to, you can customize your roadmap or messaging. That's important to grow your business and to acquire a loyal customer base that feels their needs are being heard.
But understanding your customer segments isn't easy—this is where the customer segmentation template comes in. This template helps you outline the needs of your target consumer and identify where they lie in relation to your other target consumers. Once you have the template filled in, you have a visual resource that can be used as a foundational document to inform decisions moving forward.
Benefits of the customer segmentation template
The customer segmentation template is an invaluable resource that allows you to:
Compare target customers and prioritize efforts. This is ideal for identifying the lowest-hanging fruit (the easiest changes to implement that will yield the most impactful results).
See where you can improve to cater to prioritized target personas. If you discover that your target personas aren't having their needs met, you can shift your priorities moving forward.
Use to refine your product or service—or messaging around your product or service. This is useful for applying resources (money, time, effort) in the most effective ways possible and building customer loyalty.
How to use the customer segmentation template in Lucidspark
First, name each target persona and their role.
Then, identify how deeply the customer persona considers their problem to be a pain using the descriptors: high, medium, or low. Remember, your product or service will solve their pain. You can use the chat feature to discuss with your team and gain consensus.
Next, identify how willing or not willing the target customer would be to change to your offering. Add any comments to generate an interactive discussion.
Now look at resources. Would the persona actually help you get what you need in order to provide them with the product or service?
Next, identify how easy would it be to get in contact with the customer.
Think about how easy it would be to get a prototype or a minimum viable product (MVP) into your customer's hands. MVP is a development technique in which a new product is introduced in the market using low effort and containing just enough basic features to interest customers and elicit feedback.
Then, input how big a share of the market this persona represents.
Add any additional notes that provide clarity on each customer segment.
Finally, after diving into each persona, prioritize each customer segment by giving them a ranking.
Christopher Bailey & Jeff Rosenbaugh
Professional Services, Lucid
Christopher and Jeff have spent the last decade helping organizations develop innovation pipelines and transform to Agile systems of delivery.