Conversion funnel diagram
Craft a conversion funnel to visualize your customer's journey, from discovery to purchasing. Understand how to improve your conversion path today!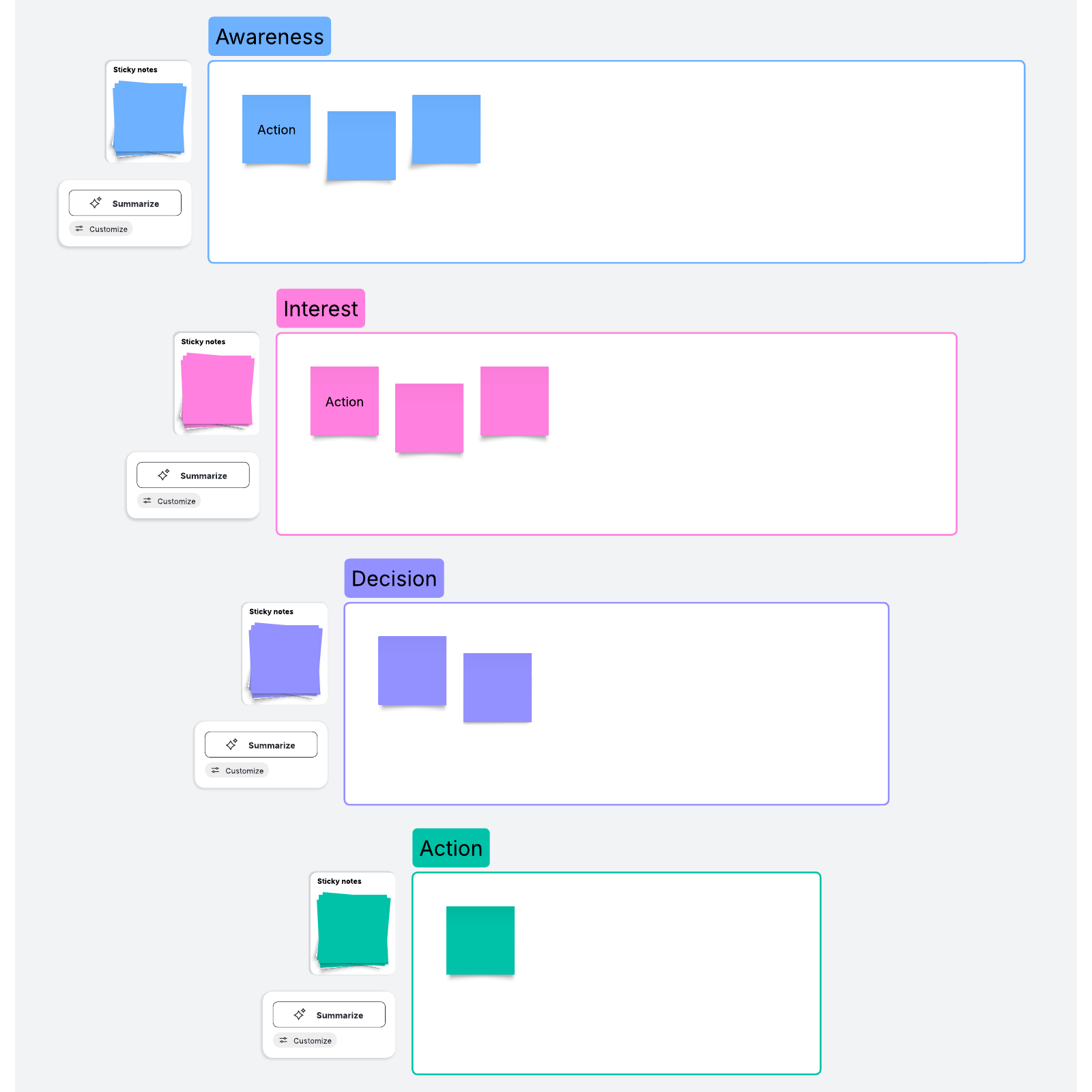 What is a conversion funnel?
Also called a sales funnel, a conversion funnel helps you visualize your customers' journey from being aware of your business's existence to making a purchase from you. The funnel diagram template includes four stages:
Awareness. In this stage, the potential customer becomes aware of your business and its products or services.
Interest. Next, the potential customer becomes interested in what you offer and wants to learn more.
Decision. Now that the customer has decided they want your product or service, they have to make a decision about whether to buy from you, a competitor, or not at all.
Action. Finally, the potential customer becomes a true customer and makes a purchase.
What are the benefits of using a conversion funnel template?
To guide potential customers towards a sale, you need to know where they are in the conversion funnel and nudge them accordingly. This sales funnel template helps you understand what actions to take for each type of customer—and by tailoring your actions, you increase your chances of satisfying your customers and retaining them.
Additionally, the conversion funnel diagram is an easy way to increase your ROI on sales and marketing campaigns. If you give each customer the right nudge for what stage of the customer funnel template they're in, you'll increase your sales with the least amount of expense.
How to use the conversion funnel template in Lucidspark
Brainstorm with your team about how to guide potential customers to make a purchase (Tip: Start with a persona template to ensure your team properly understands your customers). In each section of the conversion funnel template, we've included sticky notes—fill those out with what actions could best help a customer at that stage.
As you work in the conversion template, consider using emojis to react to others' ideas, and after, the group can vote on which ideas to move forward with.
Try tagging the sticky notes as you go. This will help you group similar ideas for easy searching and sorting later.
When you've finished filling out the customer journey funnel template, you'll have a better idea of how to attract and retain customers, and you'll be ready to take action.