Conflict protocol canvas (4 p's)
People create conflict resolution protocols so that when conflict arises between them, they already have agreed upon guidelines for communication and practices for addressing the conflict. Professional coaches Samantha Denning and Bryan Stallings created the conflict protocol canvas as a framework for individuals to engage with one another and proactively establish a conflict protocol.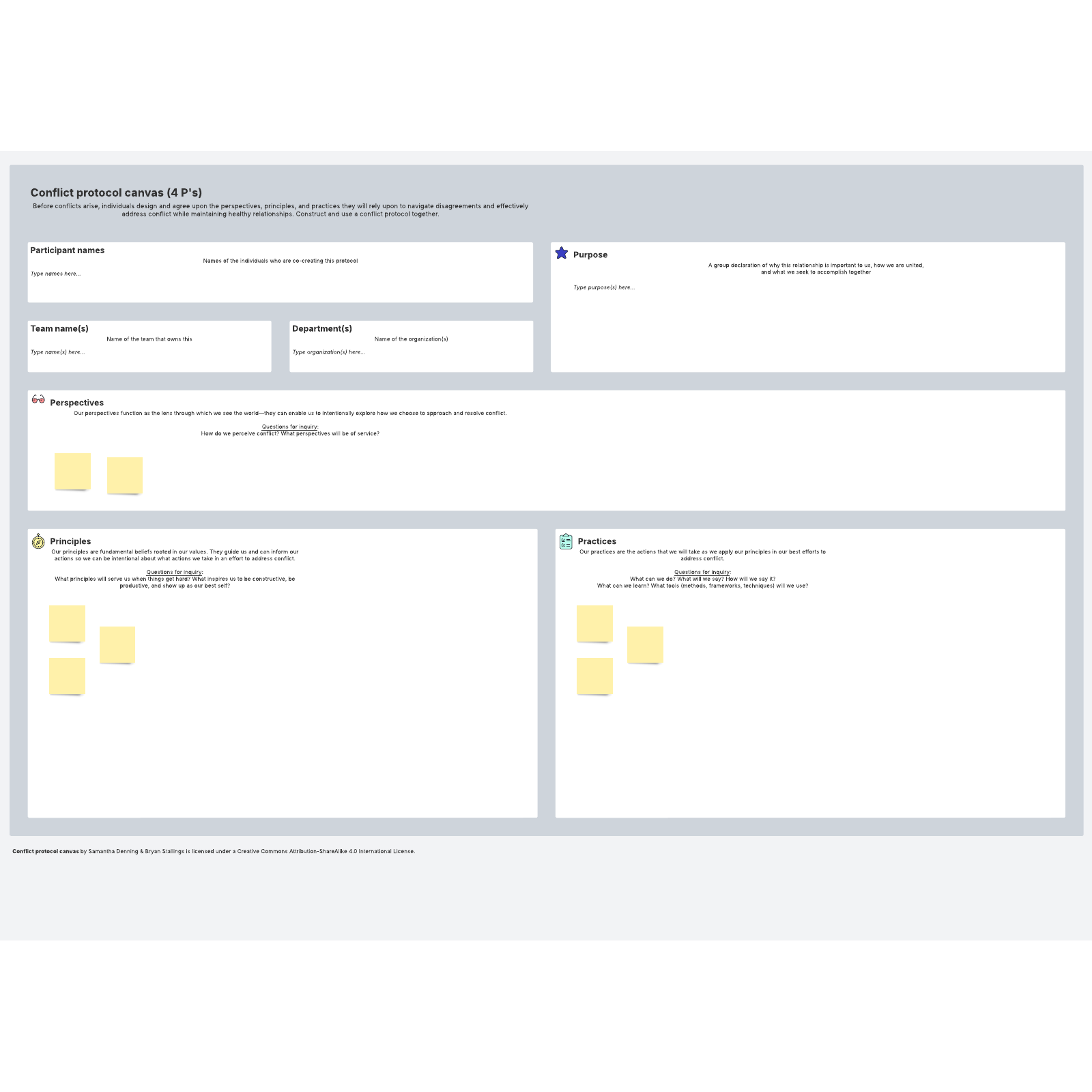 What is the conflict protocol canvas?
The best time to solve a conflict is before it ever starts.
The conflict protocol canvas is a collaborative space designed to help teams constructively address conflict and maintain healthy relationships. Using the conflict protocol, teams can map out effective conflict resolution strategies using the four Ps:
Purpose: Declare why your team relationship is important to you, how you are united, and what you seek to accomplish as a group.
Perspective: Address how you perceive conflict and what perspectives will serve you as you approach conflict.
Principles: Define what principles will serve your team when conflict gets hard and what inspires you to show up as your most productive and constructive selves.
Practices: List concrete actions that your team will take, including what you'll say and do, to address conflict constructively.
Benefits of the conflict protocol canvas
Few of us are able to act completely rationally in the midst of conflict, let alone as our very best selves. A conflict protocol allows your team to settle conflict easier and more constructively, with a pre-determined roadmap that keeps your team's values and goals in mind when conflict arises.
The conflict protocol canvas works to complement the other working agreements that Agile teams make as they embark on their work. This can include agreements on how to behave with team members, what defines certain work outcomes, and what tasks are considered a priority for the team. By collaborating on a conflict protocol together, your team can come up with inclusive strategies that produce the best outcome for your entire team.
How to use the conflict protocol canvas template in Lucidspark
Here's a step-by-step guide to using the Lucidspark conflict protocol canvas template with your team:
State any participants, teams, and departments that will be involved in your protocol.
State the purpose of your protocol, including what you hope to accomplish as a team using your protocol.
Discuss your perspectives, principles, and practices as a team. Use the sample questions found in the template to jumpstart your discussion.
As you discuss the four Ps, encourage participants to place sticky notes in each section to ensure that everyone is given a voice. Assign each participant a collaborator color to highlight each team member's contribution to the discussion.
Use emoji reactions and voting sessions to come to a consensus on which ideas, values, and actions will be included in your conflict protocol.
Reference your completed conflict protocol when conflict arises.
Samantha Denning
Certified executive coach
A leader in the Scrum and Agile worlds, Samantha Denning specializes in Executive Coaching, Mediation, and Conflict Resolution.