Conflict canvas
Conflict happens, and having the right skills to handle it is invaluable. Use this conflict canvas as an individual or as part of a team self-reflection. Prepare for conflict by answering questions around your motivations, observations, feelings, and what you heard. This conflict canvas was created in collaboration with professional coaches Samantha Denning and Bryan Stallings.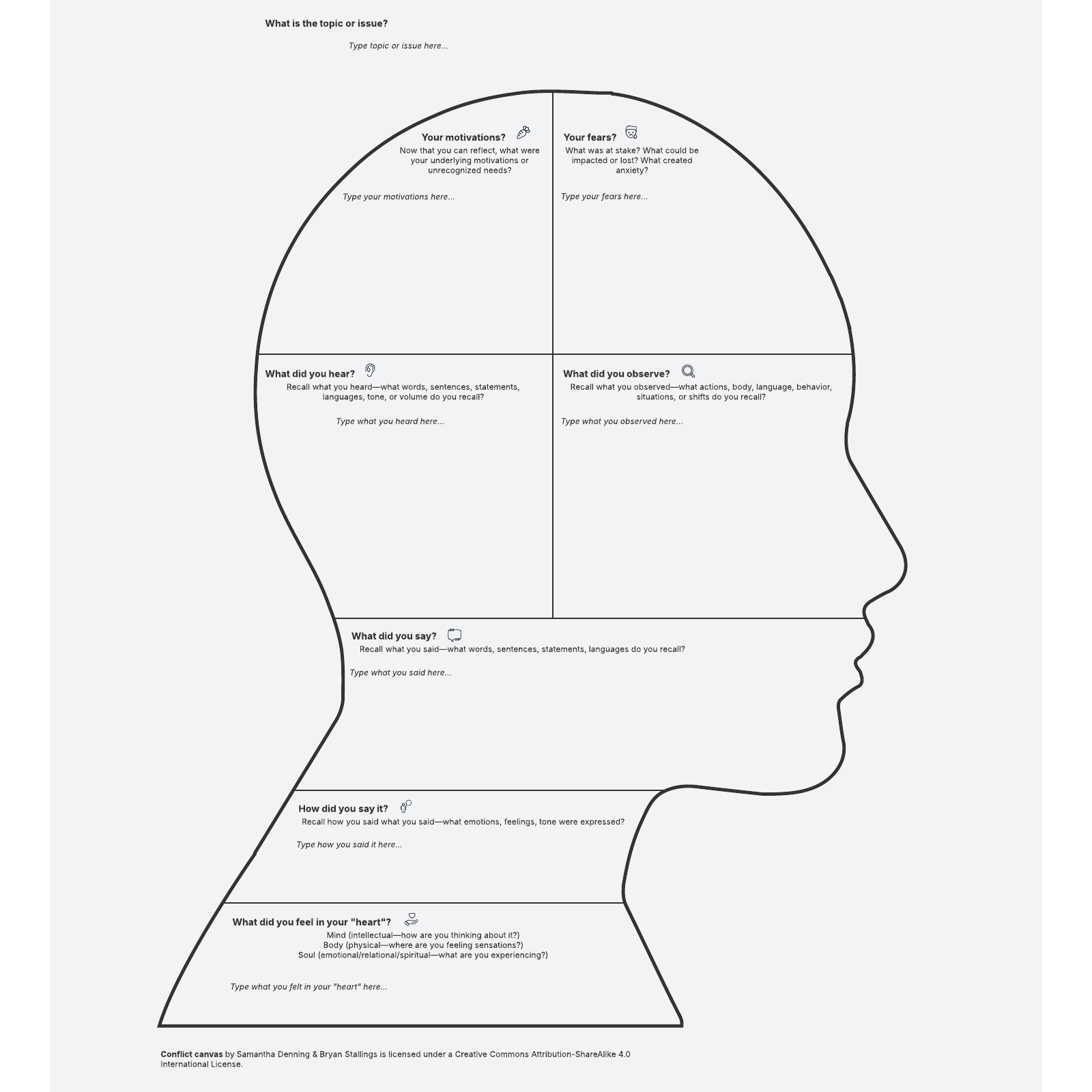 What is the conflict canvas?
Conflict is inevitable. But with the right skills, you can not only handle your conflicts as a team, you can allow them to teach your team new skills, produce new ideas, and foster creativity.
Lucidspark's conflict canvas was created in collaboration with Samantha Denning and Bryan Stallings as a way to structure conflicts for positive resolutions. Use the conflict canvas as an individual or team to self-reflect and prepare for resolution by answering questions about your motivations, observations, feelings, and what you've heard and experienced. With a deeper understanding of each aspect of the conflict, you and your team can turn any conflict into a potential learning opportunity.
Benefits of using the conflict canvas
How you choose to approach conflict can either make or break your team. Our conflict canvas is aimed at helping team members understand themselves and others on a deeper level, creating the trust and psychological safety that teams need in order to thrive creatively. Every team, and particularly Agile teams, can benefit from using the conflict canvas to quickly and thoughtfully resolve conflicts before they affect team morale or productivity.
How to use the conflict canvas template in Lucidspark
Here's how you can use the conflict canvas to approach conflict on your team:
State the topic or issue at hand. Be as detailed as necessary.
Discuss the motivations and fears involved in the conflict. Opening up about these particular emotions can be a powerful tool in conflict resolution, so lean into any vulnerability you might feel!
Next, detail the five senses:

What did you hear?
What did you observe?
What did you say?
How did you say it?
What did you feel?

Use the text box to record each answer. The conflict canvas works best with longer, more thoughtful responses, so include as many details, feelings, and observations as you feel appropriate.
Samantha Denning
Certified executive coach
A leader in the Scrum and Agile worlds, Samantha Denning specializes in Executive Coaching, Mediation, and Conflict Resolution.