Closest to the sun icebreaker
Learn about and align with team members by using this productive icebreaker template.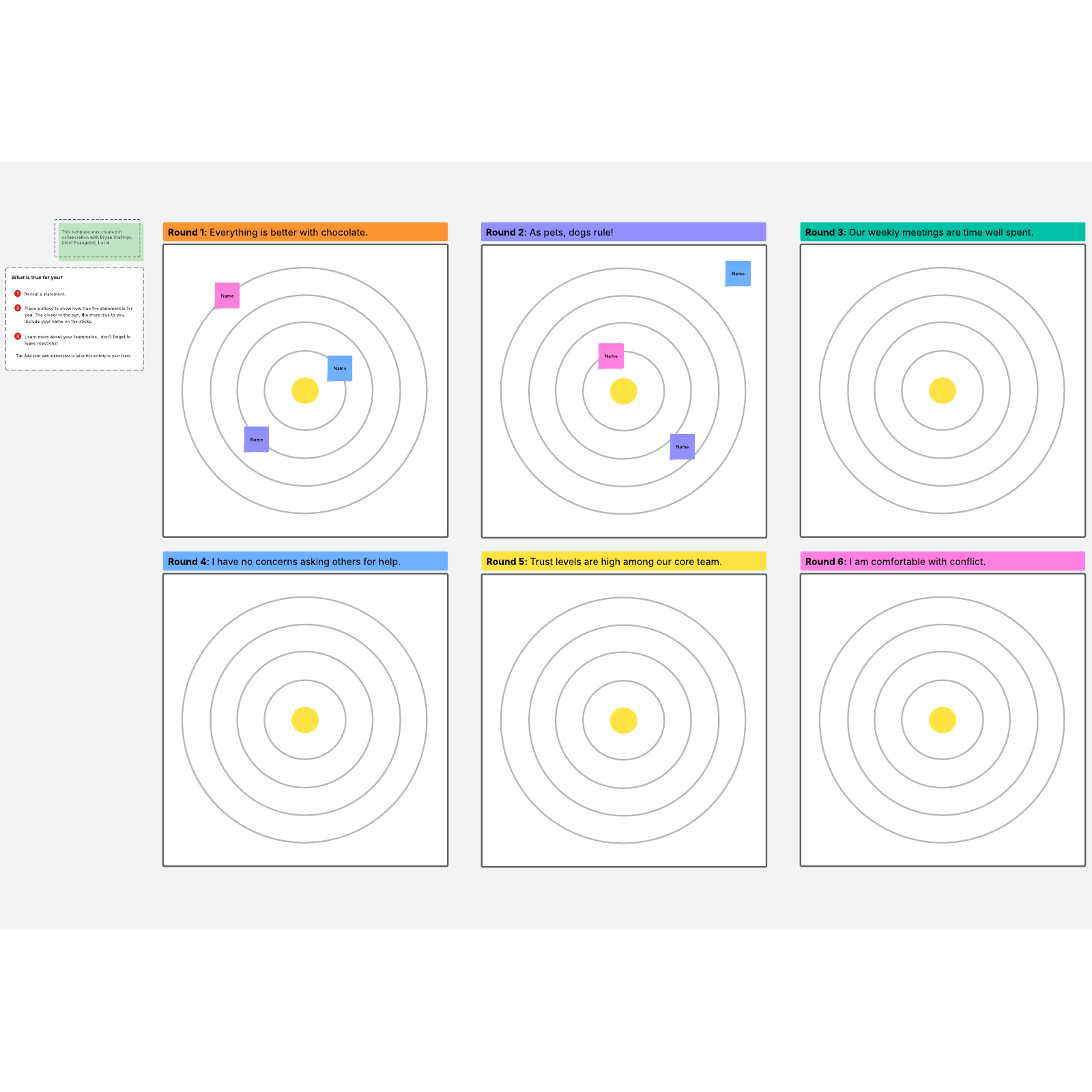 What is the closest to the sun icebreaker template?
This template helps you play a team-building game. In the game, each participant responds to a statement by marking how true it is for them or how strongly they agree. This kind of icebreaker makes your meetings more lively and helps you get to know your coworkers—which will help you feel more connected at work.
When to use the closest to the sun icebreaker template
Icebreaker games are most effective at the beginning of a meeting because they help participants relax. Your team can enjoy having fun without the stress of work for a few minutes, and they can connect on a personal level and feel rejuvenated. After the game is over, they'll feel refreshed and ready to dive into the meeting's work.
Team-building games are especially helpful for remote teams since they provide structure. While an in-person team can start a meeting with informal chit-chat to serve the same purpose, your team may have a hard time carrying a group conversation on a video call without talking over each other. A game helps participants bond on a deeper level without the awkward stops and starts, and you'll get a chance to show your team that you care about them, not just about their work.
How to use the closest to the sun icebreaker template in Lucidspark
Each section will have a statement for participants to respond to. While the template includes some sample statements, change them out as needed to ones that work for you.
Go through each section in turn, and have your team put their names on sticky notes. They then place the sticky notes in the section depending on how strongly they agree with the statement: the closer to the sun in the center, the more strongly they agree.
As your team responds to each statement, you'll get the chance to better know and understand your coworkers. If one of your coworkers' responses surprises you or makes you smile, leave an emoji reaction to let them know!
Bryan Stallings
Chief Evangelist, Lucid
As Chief Evangelist at Lucid Software and Certified Scrum Trainer, Bryan Stallings has coached thousands of individuals and teams in Agile and Scrum techniques.