Change management with ExperiencePoint
Align and assess how well your conditions help or hinder the right behaviors within your organization with the help of ExperiencePoint. ExperiencePoint helps organizations build the skills and conditions for innovation to thrive and become self-sustained.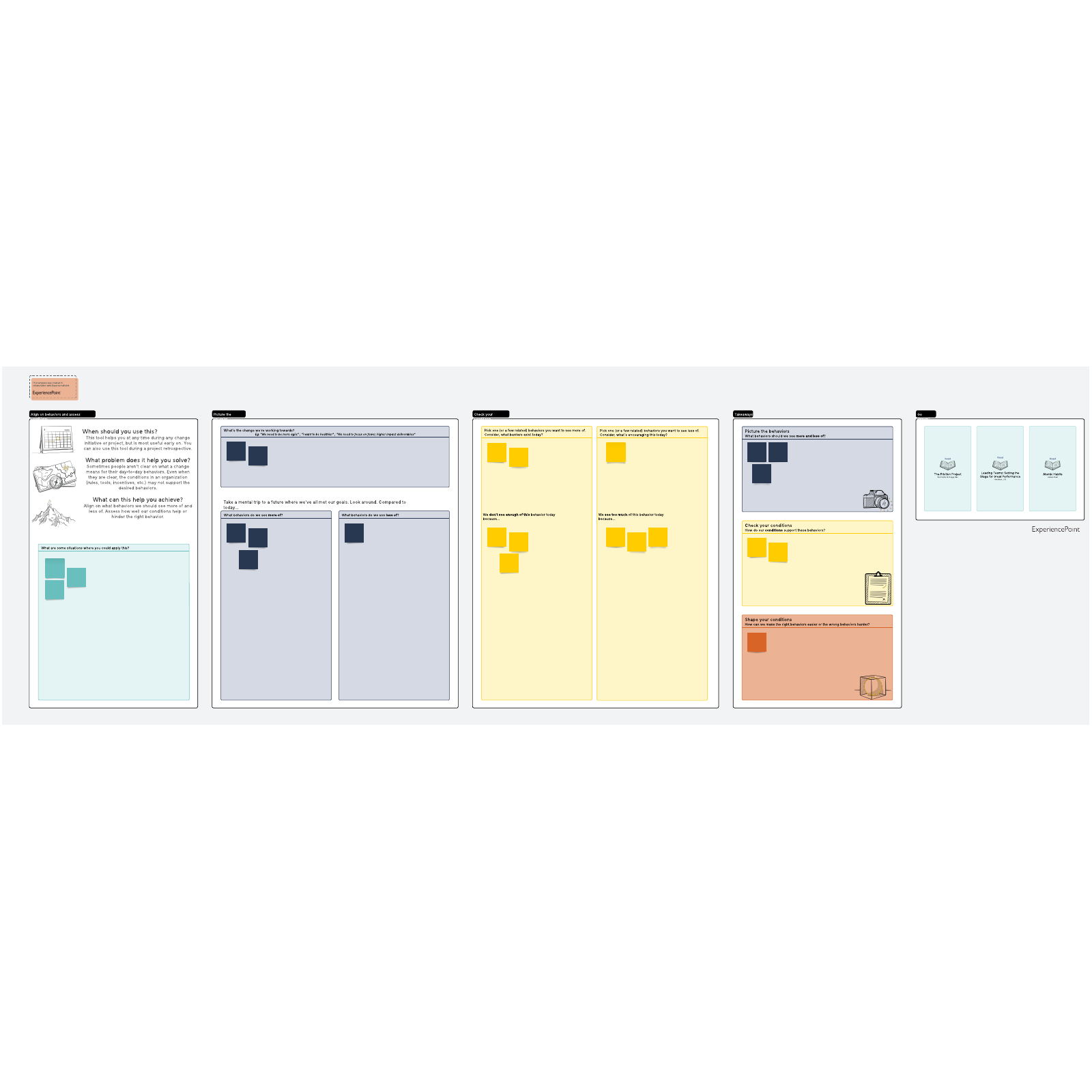 Ensure successful change in your organization with a change management template
Change is difficult on any level, let alone when you want to enact change across an entire team, department, or business. If you want to bring about successful change for your organization, try using ExperiencePoint's change management template.
Created to work alongside agile processes, the change management strategy allows organizers to manage the human side of change—to align behaviors and assess conditions necessary for successful change to take place.
This management is necessary because people aren't always clear on what organizational changes mean for their day-to-day behaviors. Even when they do understand, the conditions in an organization may not support the desired behaviors. Actively using a change management template can help you identify and clear away some of these obstacles.
How to use the change management template in Lucidspark
To use ExperiencePoint's change management template in Lucidspark, first share the template to your whiteboard. Then, on your own or with a team, complete the following sections:
Align on behaviors and assess conditions.

Read the use case information, and brainstorm how you think these principles could apply to your scenario. Add your ideas to sticky notes.

Picture the behavior.

Define the change you're working toward.
Take a mental trip to a future where you've met all your goals. Include the behaviors you'll see more of and the behaviors you'll see less of.

Check your conditions.

Pick one (or a few related) behaviors you want to see more of. Then brainstorm some barriers that currently prevent those behaviors.
Pick one (or a few related) behaviors you want to see less of. Brainstorm some conditions that currently encourage those behaviors.

Determine the key takeaways of the previous sections and create action items based on these takeaways.
If you plan to complete the template with a group, try out Lucidspark's emoji reactions, in-editor chat feature, and Gather and Sort features to maximize collaboration and engagement.
As you work to identify what conditions and behaviors can aid the changes you want to see in your organization, those changes will be more likely to stick.
ExperiencePoint
ExperiencePoint is your innovation training partner to help scale and sustain a workforce-led transformation. Your teams will learn the essentials of design thinking via hands-on workshops, simulations, and digital learning modules. Unlike consultants, ExperiencePoint helps your organization scale innovation across the company through internal change agents who train and sustain communities of practice. With the right tools and methods, teams can apply design thinking to their daily work and achieve real business impact.