Catalyst Canvas Template
Use our template of the Catalyst Canvas from the Agile Leadership Journey to help you align goals, determine steps, obstacles, and measuring progress.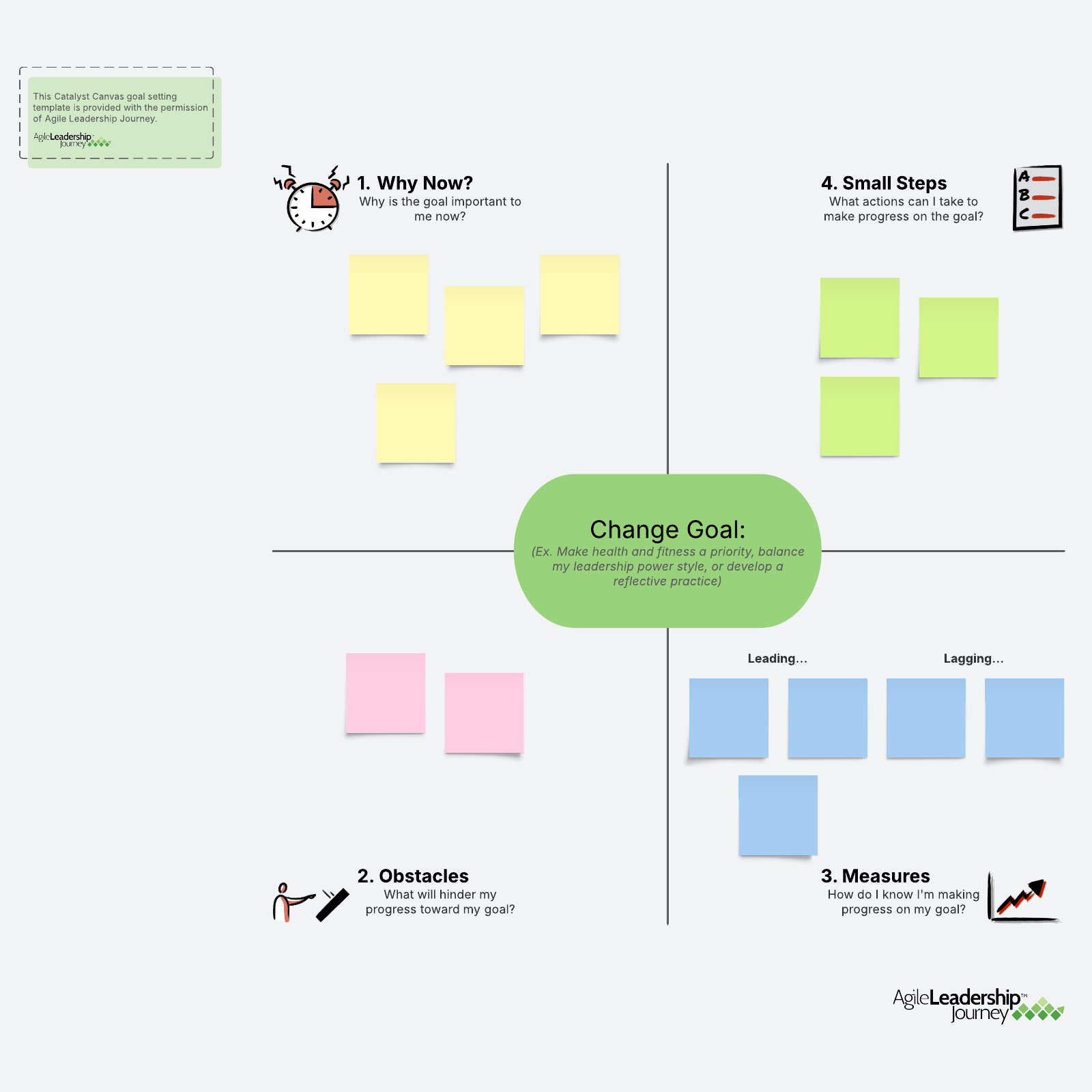 Harness Agile thinking for personal development with smart goal planning
Agile planning is known for enabling teams to efficiently prioritize and work together to achieve their goals. But it can also help individuals achieve personal goals.
Try goal planning with the Catalyst canvas. Created in partnership with Agile Leadership Journey, this goal-planning template can help team members with personal goals that will expedite their individual growth.
The Catalyst canvas is used individually to examine the important aspects of a goal for personal change. Users will define the goal's importance to them personally, identify obstacles that might prevent them from reaching this goal, determine what steps are needed to achieve the goal, and find effective ways to measure their progress.
Leaders and managers can utilize the template to assist team members with personal goals and growth, creating a culture of healthy improvement for their workplace.
Use the Catalyst Canvas goal planning template in Lucidspark
The Catalyst canvas is simple to fill out and can be used repeatedly for as many goals as an individual wants or needs. To use the goal planning worksheet, share it to your Lucidspark whiteboard. Then:
Define your personal change goal in the center. This could be any goal you want to work on, in areas from making health and fitness a priority to balancing your leadership power style.
On sticky notes, provide answers to the following questions in each quadrant:

Why now?: Why is the goal important to me now?
Obstacles: What will hinder my progress toward my goal?
Measures: How do I know I'm making progress on my goal?
Small steps: What actions can I take to make progress on the goal?

Determine which answers work and which are lacking, and adjust the template accordingly.
Use the Quick sticky feature to add a lot of ideas quickly and optimize your brainstorming session. As you complete the template, you can also include a timeline to map out any deadlines for your goal and its individual steps.
When you complete this goal-planning template, you can easily share it with managers or other leaders who can help you with your newly developed plans. You can also use the template as an ongoing resource as you work on a particular goal.
Agile Leadership Journey
Agile Leadership Journey changes the way leaders lead through workshops and programs designed to develop more creative, adaptive, innovative, and resilient leaders and organizations.