Card sorts
Use this template to quickly set up a card sort for customer or clients to categorize associations. Consider using these three types of card sorts: closed sort, open sort, or hybrid sort.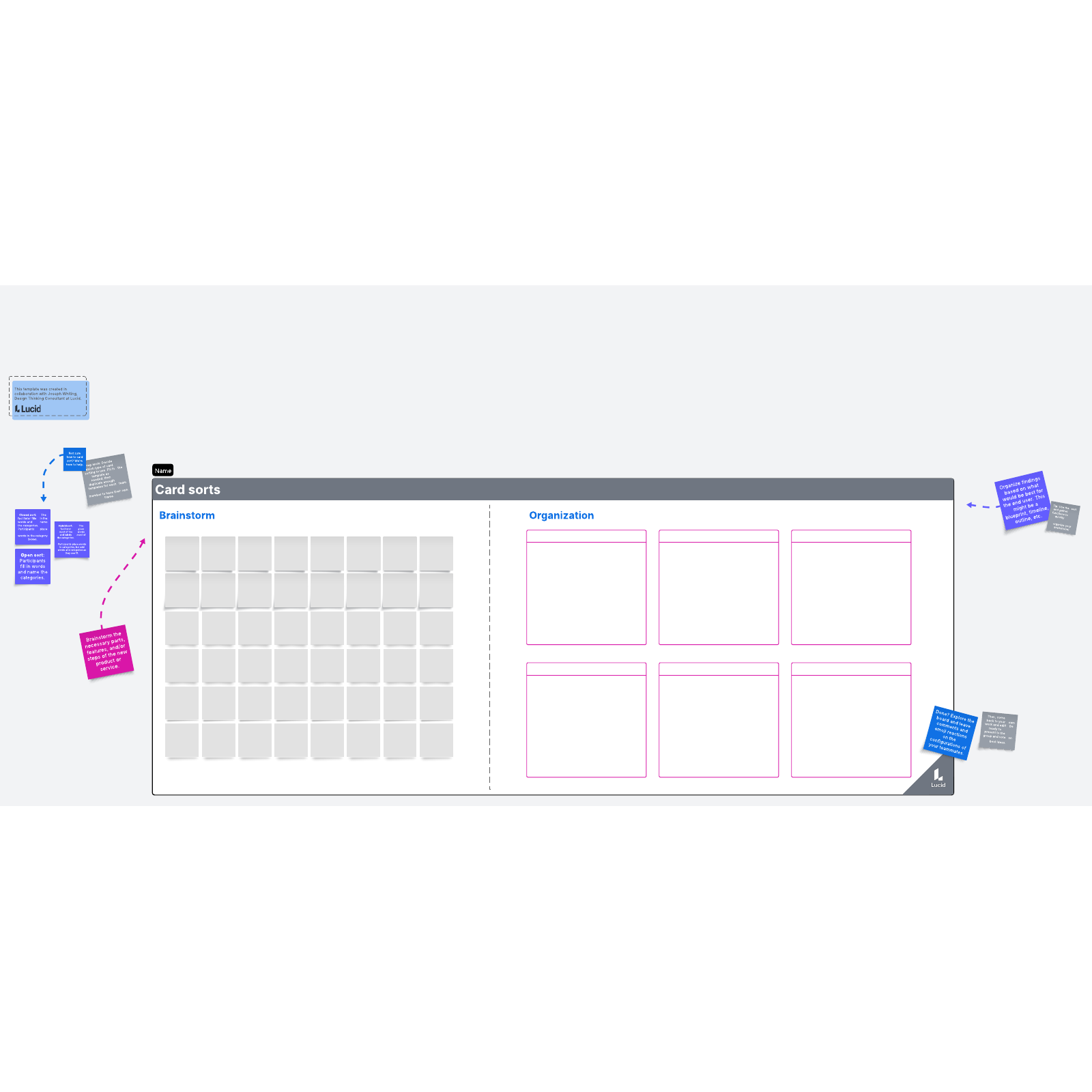 What is the card sorts template?
The card sort template is one of 80 templates created by Joseph Whiting, a design thinking consultant at Lucid. It helps you learn more about your product by seeing it through the eyes of others. When you use the template, you think about how other people would categorize different elements of the product.
Benefits of using a card sorting template
The card sort template helps you profile customers and understand the user experience. This helps you find ways to make that experience better for your customers.
You can use the template for three types of card sorts:
Closed sort: As the facilitator, you fill in the words and name the categories. The participants will place the words in the category boxes.
Open sort: Instead of the facilitator providing all the information, the participants fill in the words and name the categories themselves.
Hybrid sort: The facilitator gives most of the words and categories, but the participants can add words and categories as they sort the cards.
How to use the card sorting template in Lucidspark
Begin by deciding which type of card sorting you'll use. From there, you can fill in the template as much or as little as you need. Duplicate the frame in the template until you have enough for each participant to have their own space to work in.
Have each participant brainstorm the necessary parts, features, or steps of the new product or service. Then the group will organize the results based on what would be best for the end user. How this looks will vary depending on the project—for example, you may organize the cards into a blueprint, timeline, or outline. The Sort and Gather tools may make things easier.
When you're done, explore the board and see how the other participants configured the cards. React to their work with comments and emojis.
When everyone is ready, have each person present to the group. After, use the Voting feature to choose the best ideas. As you're running the discussion, you may find the Facilitator Tools helpful, including a timer to keep the meeting on track.
Joseph Whiting
Design Thinking Consultant, Lucid
As a Design Thinking Consultant at Lucid, Joseph has a passion for enabling the creative and innovative potential in others.