Calendly futuristic team activity icebreaker
Use this Calendly sponsored activity as a fun icebreaker and plan a hypothetical team activity hundreds of years in the future.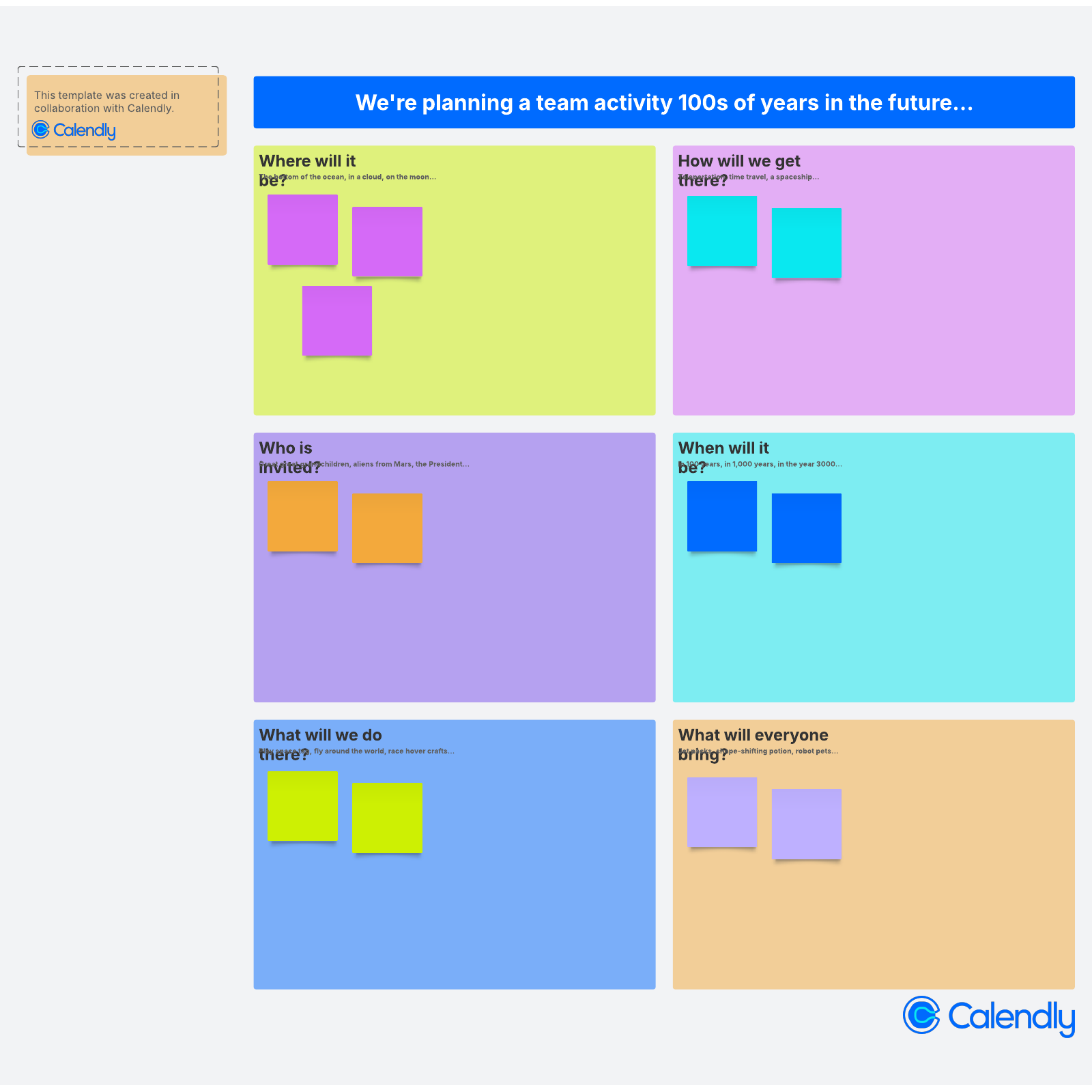 Run a fun icebreaker during your next remote meeting
If you're looking for fun icebreaker activities to spice up your remote meetings, Lucidspark can help. We've collaborated with Calendly to provide an icebreaker template that your whole team can use in real time.
When you work with a remote team, icebreaker games can be an excellent way to help your team get to know each other. Since your team won't be able to see each other regularly in person or avail themselves of break room small talk, you have to actively create team activities if you want your remote team to benefit socially.
Having a short icebreaker at the beginning of a remote meeting can be a fun way to help your team decompress and enjoy each other's company, as well as demonstrate that you care about your team members as people.
Plan a hypothetical team activity… hundreds of years in the future
One particular icebreaker that you can do with the Lucidspark template has a futuristic bent. Encourage your team to use their imaginations and come up with their ideal futuristic team activity. Think hundreds of years into the future, with all the technology that entails. Give your team some time and have each team member come up with answers to the following questions:
Where will the activity take place?
Who will be invited?
What will we do there?
How will we get there?
When will it be?
What will everyone bring?
Then have them write up their answers on sticky notes and post those notes in the corresponding section of the template, with one answer per box per participant.
Once everyone has posted, you can enjoy reading everyone's answers and pick the best ones out of every section. Depending on the time you have available, you may even be able to hold a vote for the best activity options with the voting feature.
Once you've picked the best options, you'll have an entire activity planned! Will your team fly to Mars with the future clone of Jeff Bezos? Or will you all enjoy a sightseeing tour through a nature park filled with genetically resurrected dinosaurs?
The options are limitless, and seeing what your team comes up with will help you better understand the people you work with, even if you never actually get to attend an underwater concert in the ruins of a rediscovered Atlantis.
Calendly
Calendly is your hub for scheduling meetings professionally and efficiently, eliminating the hassle of back-and-forth emails so you can get back to work.