Buyer interview with Clozd
Learn about your business by interviewing customers. Get feedback on your work and see how consumers interact with your products.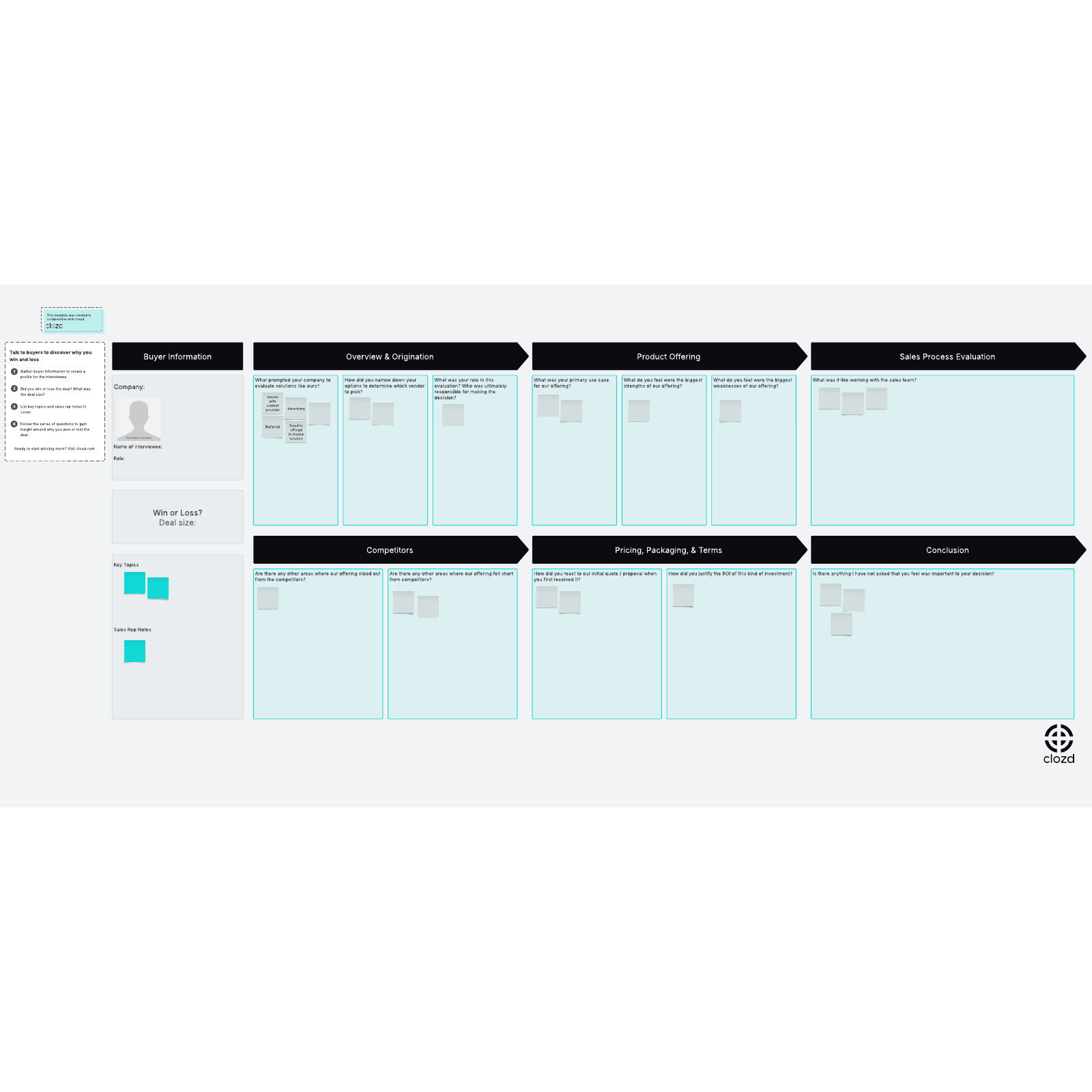 What is a buyer interview template?
Every sales opportunity, whether it's won or lost, has something valuable to teach a sales team. Rather than hypothesize about which aspects of your product or sales pitch are winning or losing, why not just…ask?
Using our buyer interview template, you can conduct a win-loss analysis with a contact from your customer's team to determine why they did or didn't purchase your product. Gain the insights your team needs by digging into each aspect of the buying process—from the early evaluation stages to the final sales pitch—to determine where you went wrong or right.
Benefits of using the buyer interview template
The buyer interview template is designed to be used after a company has decided to buy or not to buy your product. By interviewing a contact from the buyer's team, you can discover, straight from the source, why they decided to sign the deal or not. This can provide you with invaluable information that can help your team move your product, messaging, marketing, and sales strategies in the right direction.
After enough interviews, you can uncover the core reasons behind your wins and losses, so your team can win more deals with the right customers.
How to use the buyer interview template in Lucidspark
Here's a step-by-step guide to getting started with the Lucidspark buyer interview template:
Gather buyer information to create a profile for the interviewee. Include information such as whether you won or lost the deal, the size of the deal, etc. Assign each participant a Collaborator Color to ensure that answers are attributed to the right person.
List key topics and sales rep notes to cover over the course of the interview.
Use the questions in the template to gain insight into why you won or lost the deal. Set a timer for each question to keep your interviewee engaged and ensure the interview moves at a comfortable pace.
Once the interview has concluded, tag and sort your notes to surface the most important ideas from your conversation. Then, try using our integrations with Slack or Microsoft Teams to share the interview notes with your entire team.
Clozd
Clozd is a leading provider of technology and services for win-loss analysis. Clozd helps clients uncover the truth about why they win and lose—so they can hone product strategy, refine messaging, enable sales, foster strategic alignment, and win more.