Best of me / worst of me exercise
Discuss individual strengths and weaknesses as a team exercise with this Best of Me / Worst of Me exercise template in Lucidspark.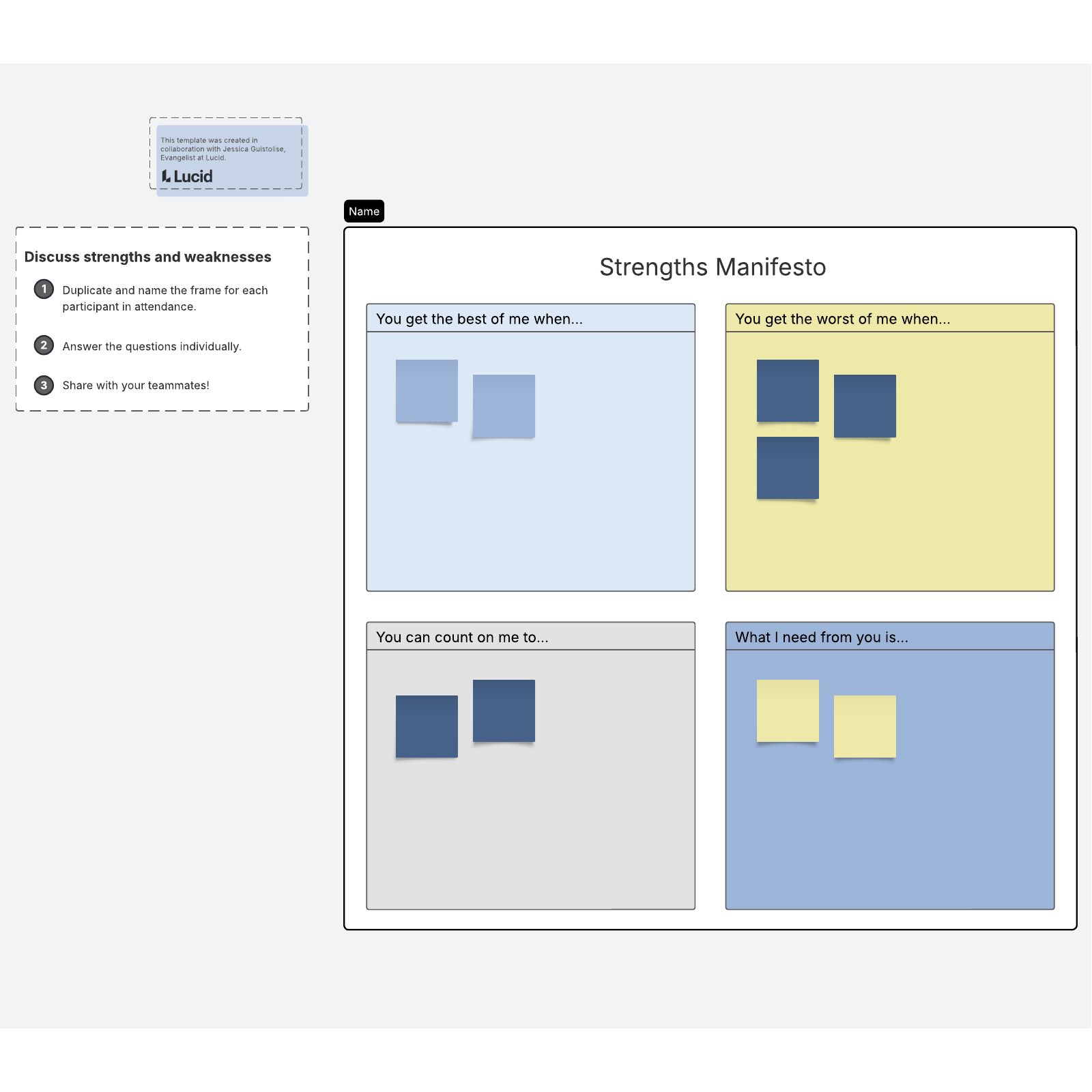 Identify individual strengths and weaknesses with the best of me/worst of me exercise
Being aware of your own strengths and weaknesses is valuable. In a workplace context, such awareness can empower you to take pride in your contributions as well as identify areas where you need to improve. As a manager, helping team members uncover their own strengths and weaknesses can be one of the most important things you do for their individual growth.
If you are looking for remote team-building activities that will facilitate bonding while improving your team's performance, the best of me/worst of me exercise is an excellent fit. This activity provides a space for each team member to reflect on when they perform at their best and worst while discovering what unique strengths they have.
When the exercise is completed as a team, members can identify what they bring to the table and how they can better support their coworkers. Managers will also better differentiate the variety of skill sets between team members so that making assignments is easier and there is a greater chance of comprehensive success.
How to use the best of me/worst of me template in Lucidspark
This exercise can be completed in person or fully remotely and asynchronously, with the help of Lucidspark.
To begin the activity:
Share the template to your Lucidspark whiteboard and duplicate it for each team member, adding their individual names at the top.
Have each team member use sticky notes on their individual template to provide a few options that finish the following sentences:
"You get the best of me when…"
"You get the worst of me when…"
"You can count on me to…"
"What I need from you is…"
When everyone has completed their template, invite them to share their work with teammates. You can take turns going in a specific order for a discussion or encourage team members to react to their teammates' templates with comments and emojis.
This exercise not only allows teammates to get to know one another but also helps everyone identify ways they can better work together. Ideally, you can use the best of me/worst of me exercise as a jumping-off point for a fruitful discussion on how to support individual team members.
Jessica Guistolise
Evangelist, Lucid
As Evangelist at Lucid, Jessica Guistolise is a Certified Scrum Trainer who has coached thousands of individuals and teams in Agile and Scrum techniques.