BCG Matrix
A BCG matrix template uses the growth share matrix to determine how to prioritize the development of each product you offer. Sign up for Lucidspark!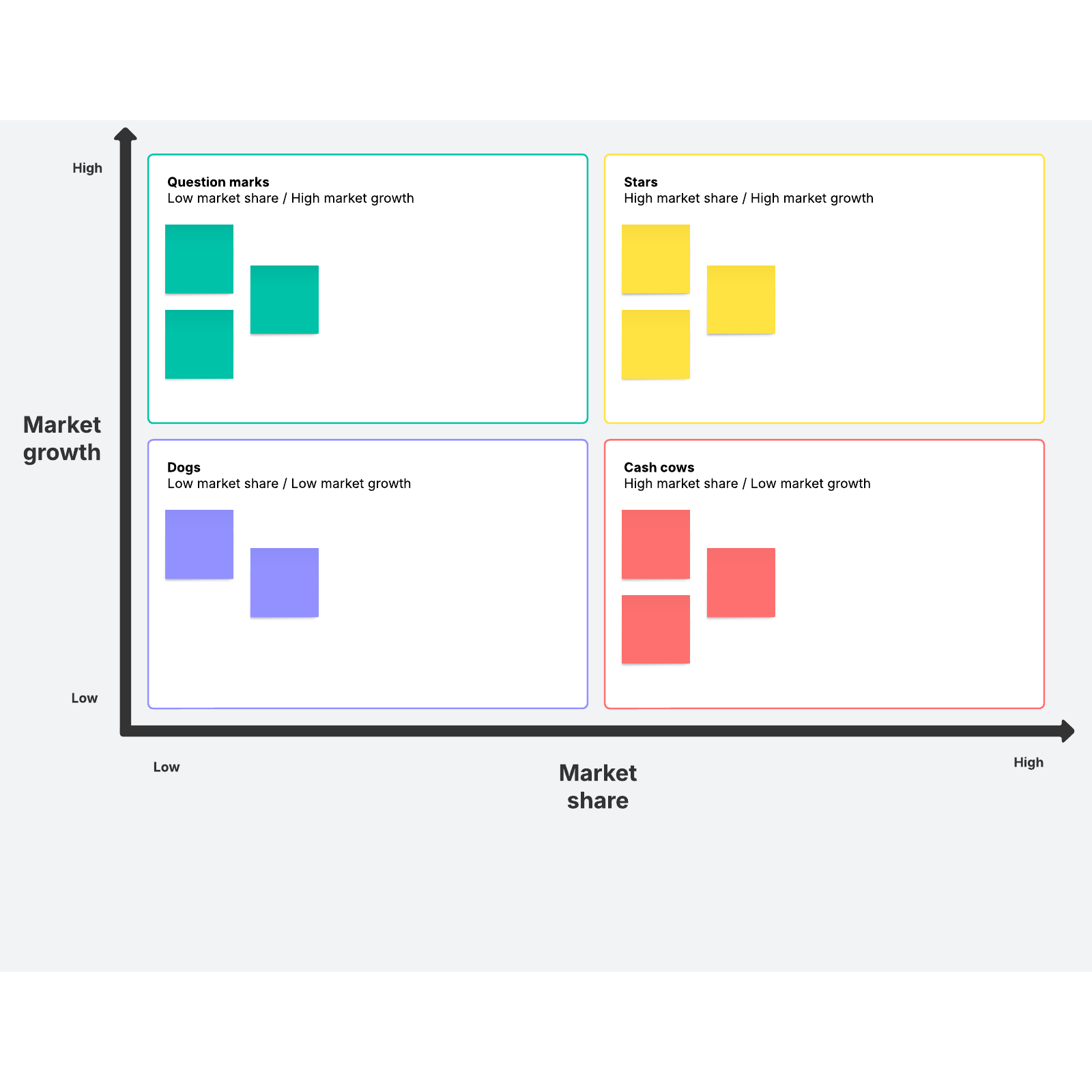 Analyze how your products are performing with a BCG matrix template
If you have a wide variety of products, you may occasionally need to assess how well your individual products are doing in the marketplace. One convenient way to do this is to use a Boston Consulting Group (BCG) matrix. This strategic planning tool can help you determine which products you should prioritize in marketing and product development efforts.
The BCG matrix divides products into four different categories, based on how much market share they possess and how high their growth rates are:
Question marks: These products successfully operate in a high-growth market but possess low market share, which indicates that they may need more investment to become more profitable.
Stars: These products have a high market share in a high-growth market, indicating that they may lead a market or niche.
Dogs: These are low market share products in a low-growth market, typically breaking even on costs.
Cash cows: These products have a high market share in a low-growth market and tend to consistently bring in extra profits.
As you sort your different products into these categories, you, your product team, and your stakeholders can more easily determine which products you should invest in and which you may want to put on the backburner.
How to use the BCG matrix template in Lucidspark
You can intuitively grasp how to make a BCG matrix with Lucidspark's BCG matrix template. Our customizable template can easily become a shareable visual that you can use to keep your team on the same page and to keep shareholders informed.
To get started on creating yours, share your template to your whiteboard space and have your team work together to generate your very own BCG matrix. You can host a meeting in real-time and allow everyone to place products on the template. Lucidspark allows users to easily import images and preview links, giving everyone a chance to add and view information.
After the relevant products have been added, you can discuss the placement of each product in the template and benefit from everyone's perspective on the relative success of each.
As these examples are added to the appropriate sections of the template, you'll be able to clearly see what products you should prioritize in upcoming marketing campaigns and product development projects. You can then easily export the template and its information to the relevant stakeholders.