Balanced scorecard
A balanced scorecard is a strategic planning and management tool that breaks down goals into measurable initiatives that reflect the vision of the company.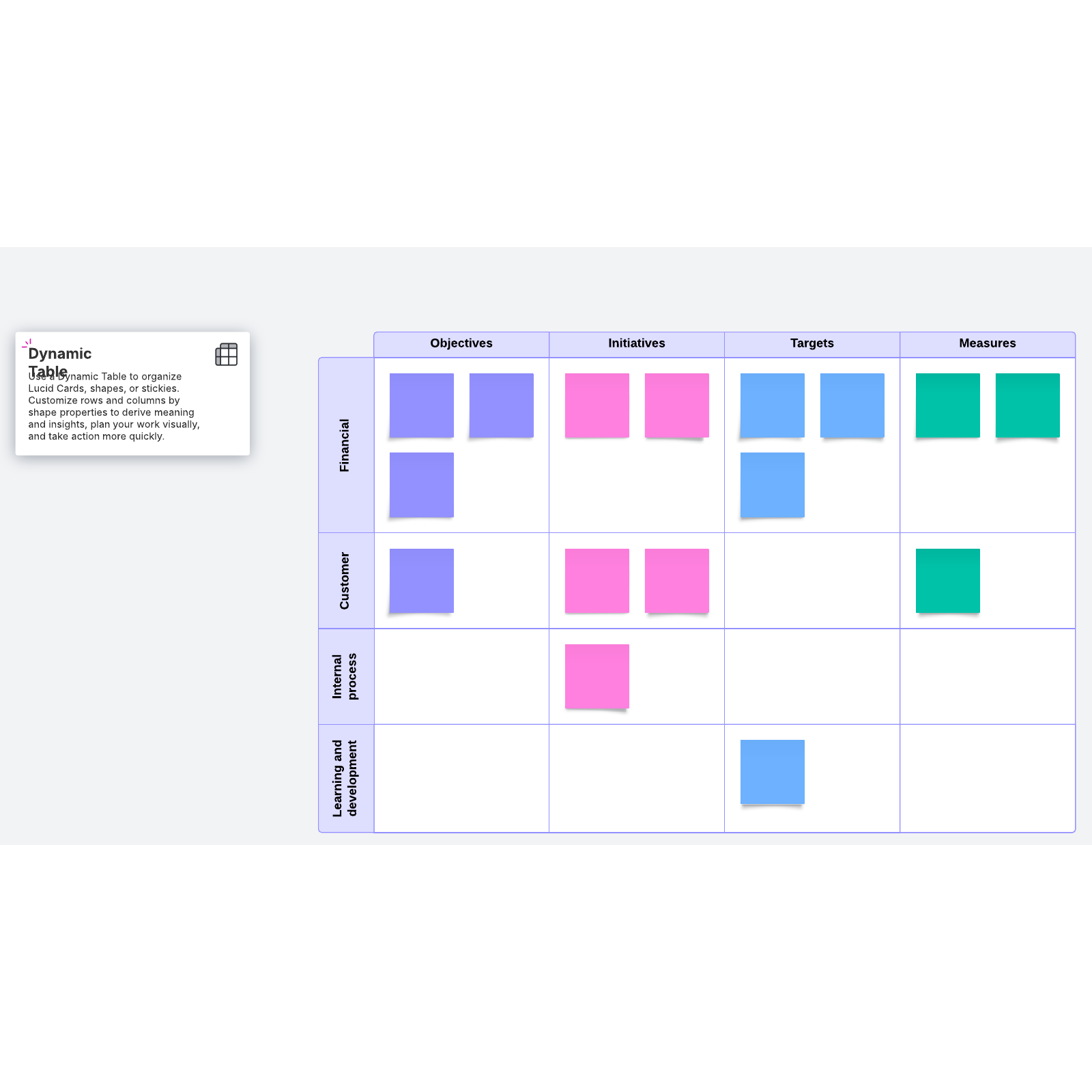 What is the balanced scorecard approach?
The balanced scorecard (BSC) is a visual tool used to guide a holistic approach to strategic planning and management. The BSC is divided into four sections, allowing teams to examine their strategy and determine objectives from four separate perspectives:
Financial: Examines an organization's financial performance and the use of resources
Customer: Looks at an organization's performance from the lens of its customers and stakeholders
Internal process: Explores the efficiency and quality of an organization's processes, services, and products
Learning and growth: Takes into account an organization's infrastructure, culture, and other organizational resources
Benefits of the balanced scorecard model and template
There are a number of benefits to working with the balanced scorecard approach. The balanced scorecard offers organizations a chance to improve their strategic planning by creating a complete picture of performance outcomes, drivers, and cause-and-effect relationships within a strategy.
This detailed visual of your strategy can not only improve communication and execution, but it can ensure your entire organization is aligned on which objectives you're reaching for and which processes are going to get you there. It can also provide the data you need to make improvements to your budget, personnel, and internal processes.
Our customizable balanced scorecard template gives your team the freedom to organize your information as it makes sense to you. Invite your team to your board to work together in the same room, remotely, or a hybrid of the two. Gather instant feedback using color-coded cursors, sticky notes, emoji reactions, and more to ensure everyone is aligned on your strategy moving forward.
How to use the balanced scorecard template in Lucidspark
Here's a breakdown of how to start using your balance scorecard template:
Start by defining your organization's vision statement in the middle of the diagram.
Beginning with one of the four sections, fill out your objective for the section. You will likely have two to three objectives for each section.
Fill in how you plan to measure your objectives, targets for your measures, and your strategy for achieving your target objectives. Identify common themes or ideas that require more attention using Ludicapark's Tagging feature.
Complete the same process for the rest of the sections. Use Lucidspark Cards to create action items that align with your initiatives to ensure follow through.
Get feedback from your team on each objective and action item to make sure everyone is on the same page. You can use Frames to draw your collaborators' attention to specific parts of your model and invite your team to comment their feedback directly on your BSC.