Backlog planning template
Evaluate and assess your backlog stories and plan the next steps through this backlog planning board.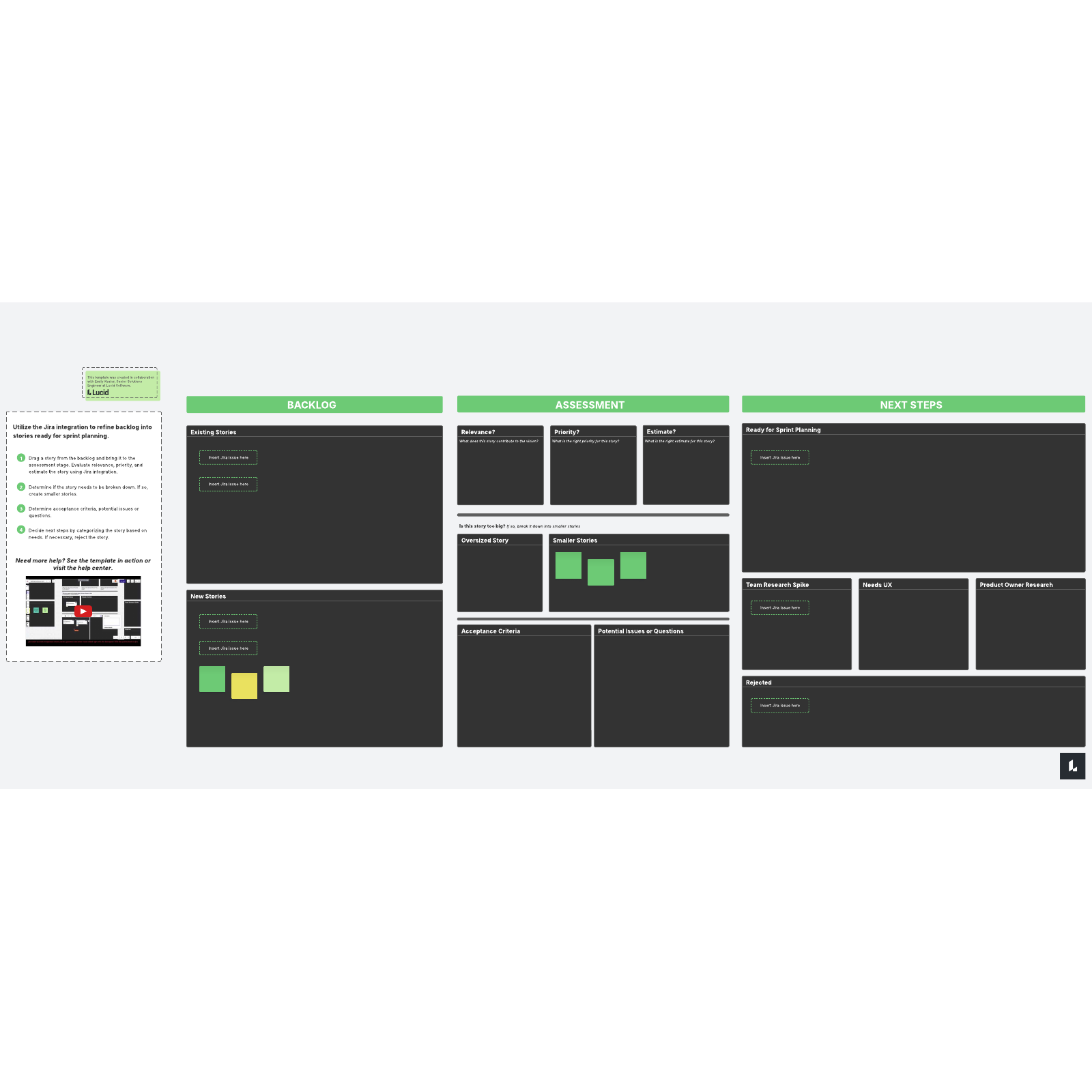 About our backlog planning template
You may be familiar with a product backlog, a list of features and other technical work for development teams based on a company's product roadmap. However, you may be less familiar with the full process of backlog management, which includes adding, grooming, and prioritizing backlog items.
A properly groomed backlog is essential to keeping your product on track and leaving room for innovation, but backlog refinement can get complicated fast. You need a simple way to organize and plan your backlog—and this backlog planning template is the solution.
Use this quick, easy template when your backlog needs refining. You can assess backlog stories and decide what to do next with them. Use either Jira issues or sticky notes for each story, and drag the story through the process.
This process allows you to ensure that each story is simple and achievable, and it helps you visualize each stage of the backlog assessing process at a glance. With this template to keep you organized, you and your team have a better chance of creating a product that your customers will love.
How to use this template for backlog refinement
Begin by listing your new and existing stories in the appropriate containers on the template—you can use sticky notes, or you can integrate Lucidspark with Jira and import existing issues as cards.
Once you've got your backlog into the template, you can start assessing it: Take each story through the assessment process by dragging it from container to container.
The template includes everything you need to complete the backlog refinement and management process, including spaces to look at:
Relevance, priority and time estimates
Whether the story is too big, and if so, how you can break it down to smaller stories
What the story needs to be accepted
Any potential questions or issues you foresee
Once you've assessed the story, move it to the last section to decide what to do next with it. You can drop the story into the container for acceptance, rejection, or further help. Now you're ready to move forward from planning to action. But don't forget to celebrate refining your backlog! Enjoy the clarity and peace of mind that come from knowing that you're organized and have planned ahead.
Emily Keator
Senior Solutions Engineer, Lucid
As Senior Solutions Engineer at Lucid,
Emily Keator
provides technical voices in both the sales and engineering departments while interacting with departments all across Lucid.