Asynchronous brainstorm
Use the Asynchronous Brainstorming template in Lucidspark. When team members have busy days or different time zones, try doing your brainstorming asynchronously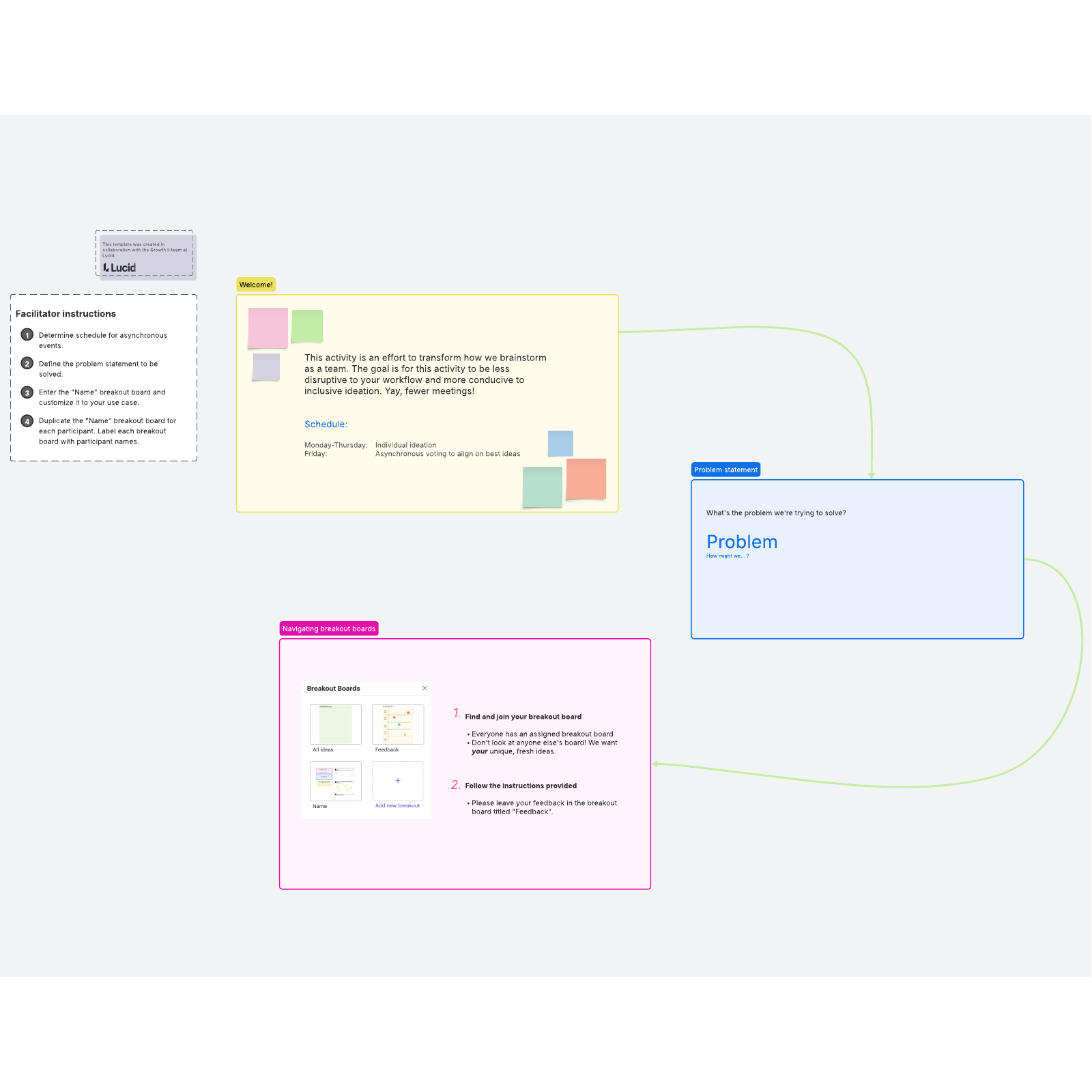 Transform the way you brainstorm as a team
Sometimes you simply can't juggle everyone's schedules and get everyone in the same room at the same time, even virtually. When team members have busy days or work in different time zones, try doing your brainstorming asynchronously instead of forcing a meeting. This template can help you make the experience effective and fruitful.
Benefits of using the asynchronous brainstorm template
When you use the asynchronous brainstorm template, you reap the benefits of getting everyone's ideas and sharing creative suggestions, just like in-person brainstorming.
However, you also get a lot of flexibility: You don't have to meet together, and you can brainstorm over a period of time instead of all at once. Since you don't have to meet together and the brainstorming can take place over some time, you increase your chances of getting everyone's best ideas.
How to use the asynchronous brainstorm template in Lucidspark
First, since you won't be holding your brainstorming session in person, you need to decide how long the asynchronous process will take. Set a schedule for how long your participants have to complete their part, and enter it into the template.
Next, define the problem to be solved so everyone knows precisely what they're working with, and set up Breakout Boards for your participants. Take the "Name" Breakout Board, customize it to your brainstorming session, and duplicate it, labeling each copy with the name of one of your team members.
On their own time, each participant will join their Breakout Board and work through the brainstorming prompts on it, including a 30-minute activity to test solutions to the problem you're working on and a 10-minute activity to come up with ideas. After the team member finishes brainstorming, they'll copy their ideas to the "All Ideas" Breakout Board.
The template also includes a "Feedback" board. Have your group leave any comments they want to make there throughout the entire brainstorming period.
When the set time period has ended, everyone can revisit the "All Ideas" board and vote on the best ideas. You can also use comments and emojis to react to others' work, using Collaborator Colors to keep track of who contributed which ideas.
Growth II, Lucid
The Growth II team at Lucid is dedicated to enhancing product design.