Around-the-world celebration
Use this template to highlight and celebrate the accomplishments of your peers in different languages.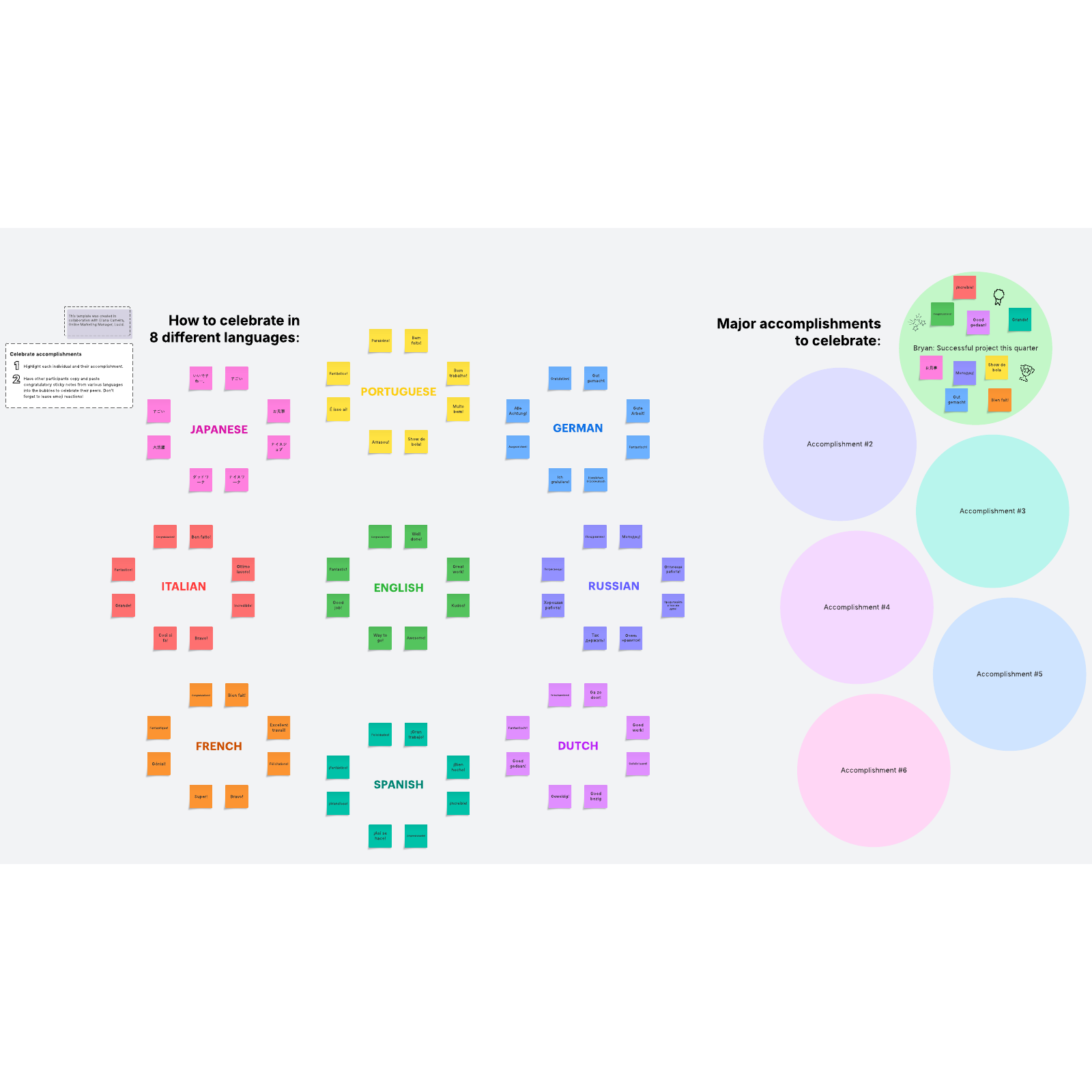 What is the around the world celebration template?
At work, it can be too easy to focus on what went wrong. You've probably participated in dozens of meetings focused on analyzing past problems and figuring out how to improve your work, but what about celebrating the excellent work your team has already done?
Highlighting accomplishments is necessary, not optional. It builds morale, encourages excellence, and creates a healthy team culture. This template can help you celebrate major accomplishments with your team, and it adds the fun twist of using different languages to do so.
Why should you use this template?
Heaping praise on people can feel artificial and forced, or even awkward. Adding some structure and group participation makes the experience a bit more natural and celebratory. This template guides you through highlighting your team members' accomplishments so the meeting flows without a hitch. Additionally, the language options and Lucidspark features make the activity more fun and inclusive for teams spread across the world.
How can you use the around the world celebration template in Lucidspark?
Before the meeting, write each accomplishment you want to focus on in one of the circles on the right side of the template. If you want to use this template regularly, make a copy each week, month or quarter to focus on achievements in that time period.
During the meeting, go through each accomplishment in turn: as you do so, participants can celebrate their teammates by either dragging or copying the sticky notes with congratulatory messages in different languages into the circle. You can also write your own message on a sticky note.
You aren't limited to the sticky notes—feel free to also use icons, GIFs, images, tags, and emoji reactions. Lucidspark makes it easy to include these types of content, so encourage the participants to get creative in finding the right message to celebrate their coworkers. Meanwhile, you can watch as everyone gets a boost to their mood and morale.
Eliana Cameira
International Marketing Manager, Lucid
With 8+ years of Growth and Digital Marketing experience in the tech space, Eliana has helped brands reach their target audience and build deeper connections as part of a long-term growth strategy.