Annual retrospective
Review the highs and lows of the year with your team while creating an action plan for the new year.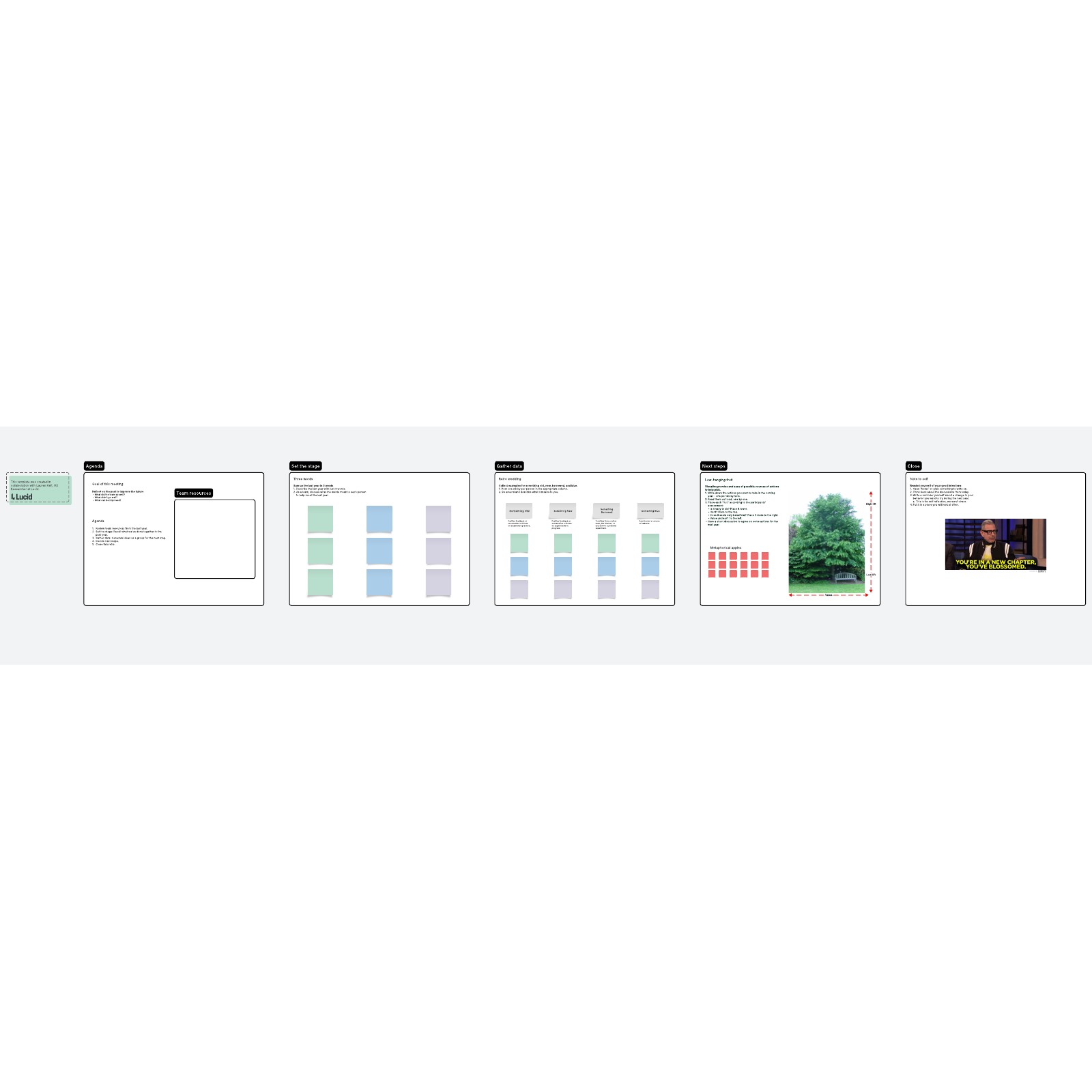 Plan for the future with our Annual retrospective template
They say that to know where you're going, you must know where you've been. One tool to help you consider your progress over the last year is a year-in-review, or an annual retrospective exercise.
When used according to the Agile planning Scrum guidelines, this exercise can help you dive into the highs and lows of the previous year and plan with your team to make the next year even better. It's also a perfect preliminary step for setting goals, as it will help you collect everyone's input and gather solid data to make your goals actionable.
With Lucidspark, you can use a template that will make this exercise a breeze.
Use the Annual retrospective template in Lucidspark
Collaborate with your team, either remotely or in person, to fill out each of the following sections of the template:
Agenda
First, decide as a team what you want your ultimate goal of the meeting to be, and add it in text next to "Goal of this meeting." Use the questions provided on the template to help.
Next, create your agenda. You can use the example outline provided or create your own. In the box marked "Team resources," feel free to provide links to previous works to reference if desired.
Set the stage
For the "Three words" exercise, turn on Collaborator Colors and have each team member brainstorm three words to describe the previous year. They should put each word on a separate sticky note. Then, as a team, review the words and look for commonalities.
Gather data
For the "Retro wedding" exercise contained in this box, have everyone post one sticky note per person for each of the following categories:
Something Old: positive feedback or constructive criticism on one of your teams' established practices
Something New: positive feedback or constructive criticism on experiments in progress
Something Borrowed: a tool or idea from another team or from elsewhere
Something Blue: any blocker or source of sadness or frustration
If you feel it will be helpful, use a timer for this exercise. When everyone has posted, take turns explaining contributions and leave emoji reactions to indicate your favorites.
Next steps
The low-hanging fruit exercise will help your team visualize the ease of possible courses of action so that you can identify the best tasks to tackle. First, write down the actions you want to take in the coming year (one per card). Place each "fruit" according to the group's assessment: if it's easy to do, place it lower. If it's harder, place it closer to the top. If it seems very beneficial, place it more to the right. If the value is unclear, post it farther to the left.
At the close of the exercise, have everyone use the tips in "Close," to make personal commitments for the next year. Having individual and team goals will help each of you feel invested in the process of making positive changes.
Lauren Kett
Senior User Experience Researcher, Lucid
As a UX Researcher at Lucid, Lauren specializes in researching, concepting, and defining what it means to help teams see and build the future.