AgileWalls improvement wall
Remove organizational obstacles for good with this AgileWalls improvement wall. Through troubleshooting and fighting fires, improve your system sustainability.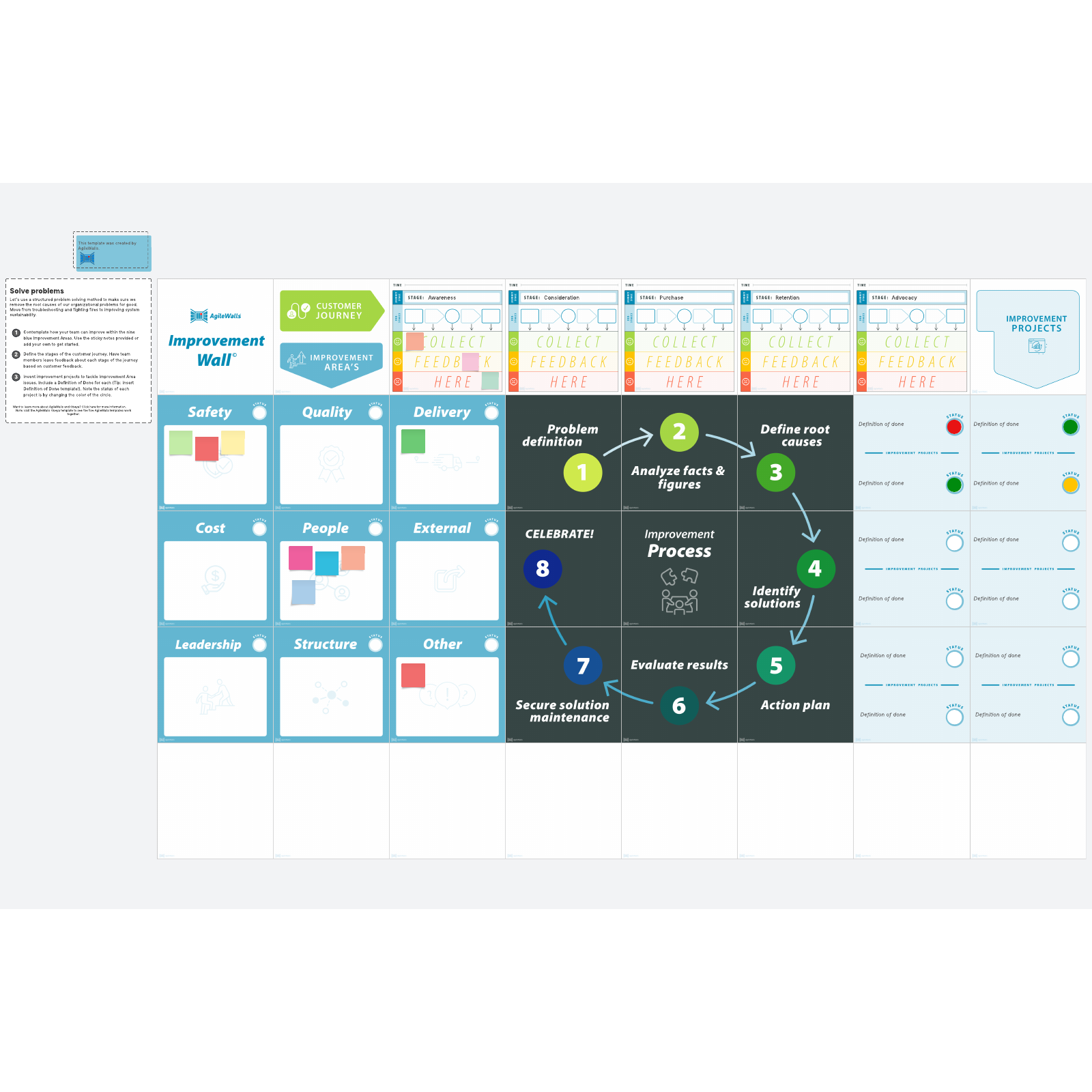 Remove the root cause of problems with an AgileWalls improvement wall
An Obeya room model helps everyone on your team stay connected and engaged while your agile projects are in progress. In physical or digital form, the Obeya serves as a space where everyone can have access to the same information, collaborate on strategy, and keep track of execution.
One of the figurative or literal walls that form the Obeya should be an improvement wall. This space provides a structure to solve organizational problems that may be slowing your progress as a team or impacting the quality of your products or services.
With the help of Lucidspark's AgileWalls improvement wall template, move away from troubleshooting and fighting fires to enacting sustainable systematic improvements.
Benefits of the Obeya improvement wall template
When you share the improvement wall template to your Lucidspark whiteboard, members of your team will be able to easily collaborate on the template. You'll be able to gather everyone's perspective on what improvements need to be made and ensure that everyone is fully invested in any and all plans to make those improvements. You'll also be able to easily integrate feedback from customers into the brainstorming process.
How to use the AgileWalls improvement wall template in Lucidspark
To fully utilize the Lucidspark improvement wall template, follow these steps:
Look at the blue "Improvement Areas'' and determine where your team can improve in regard to safety, quality, delivery, cost, people, external, leadership, structure, or in other areas. Add sticky notes or encourage team members to add sticky notes with their thoughts.
Then define the journey customers take as they choose to engage with your product or service. Have your team members add feedback about each stage of the journey based on customer feedback.
Brainstorm improvement projects to tackle any issues you've identified in the Improvement Areas. Include a Definition of Done for each project and change the color of the status circle with traffic light colors to signal how much attention a project needs.
As you and your team move through the template with different projects, you can use Lucidspark features such as the Zoom integration, comments, in-editor chat, and emoji reactions to communicate. As you collaborate on the template together, everyone will stay aware of and be able to actively participate in your improvement efforts, which will lead to lasting changes.
AgileWalls
Backed by the tools and philosophy of Obeya, AgileWalls creates physical and digital walls to foster a strong connection between digital and analog/physical collaboration spaces.