Agile team hub
Follow new features from brainstorming to implementation all on one board.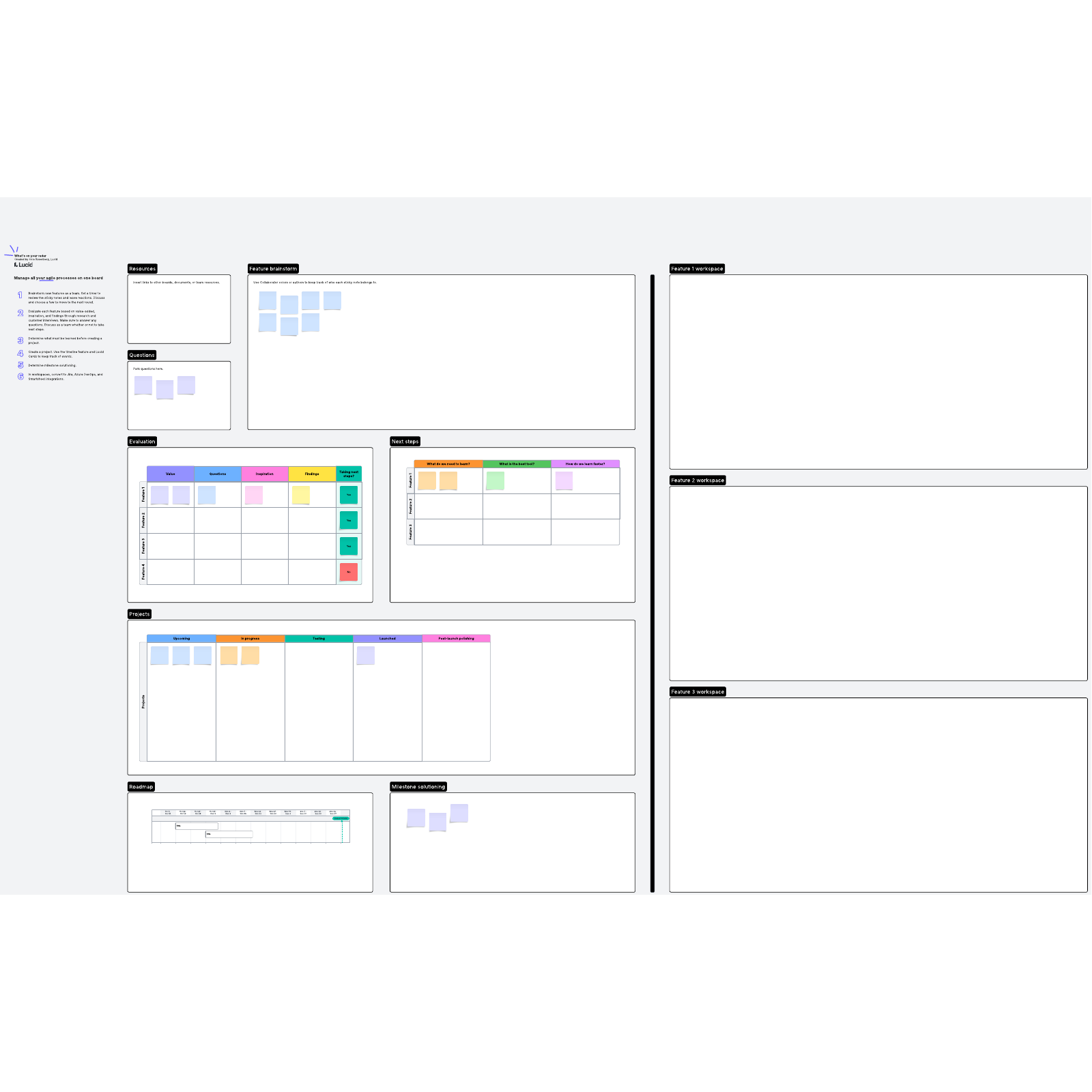 Streamline your agile processes with an agile team hub
If you're working with an agile team, your projects often have many moving parts. To get even more mileage out of the agile process, you can use an agile team hub as a digital space to manage all of your agile processes.
If you work with a remote team, an agile team hub can be invaluable. This resource can keep everyone on the same page and can even function as a workspace for brainstorming and collaboration. Everyone will more easily be able to stay on top of tasks and adapt to any changes, especially if you're working with a cross-functional team that is doing different types of work for a specific project.
How to use the agile team hub template in Lucidspark for maximum efficiency
With Lucidspark, creating and running an agile team hub could not be simpler. You can share the agile team hub template to your Lucidspark board and make sure that everyone has access to it, which should be easy with Lucidspark's integrations with Zoom, Slack, and Microsoft Teams.
Once the template has been shared, you can use it to:
Brainstorm new features.
Evaluate new and current features.
Create projects.
Determine what must be learned before a project can progress.
Determine milestones.
Create a roadmap by mapping out a timeline.
Use Lucidspark Cards for Jira, Azure DevOps, and Smartsheet to stay on top of action items.
Dedicate different workspaces to different features.
The template can easily be customized, so you can change different aspects to better fit your needs and the work you and your team will be doing. You can also easily keep track of everyone's contributions with color-coded sticky notes and stay interactive with comments, emoji reactions, and the chat function.
As you use the agile team hub to facilitate your agile projects, you'll find that your team will enjoy greater unity and will be able to work together more efficiently right from the start of your projects.
Cole Rosenberg
Senior Product Manager, Lucid
Cole Rosenberg is a Sr. Product Manager for Lucidspark. He leads product development teams focused on enabling visual planning and digital collaboration.