A better question
Ask a dynamic question and discover the problem to be solved. Use this 'A Better Question' template in Lucidspark. As a team, brainstorm new versions of your question that get at the heart of the problem to be solved.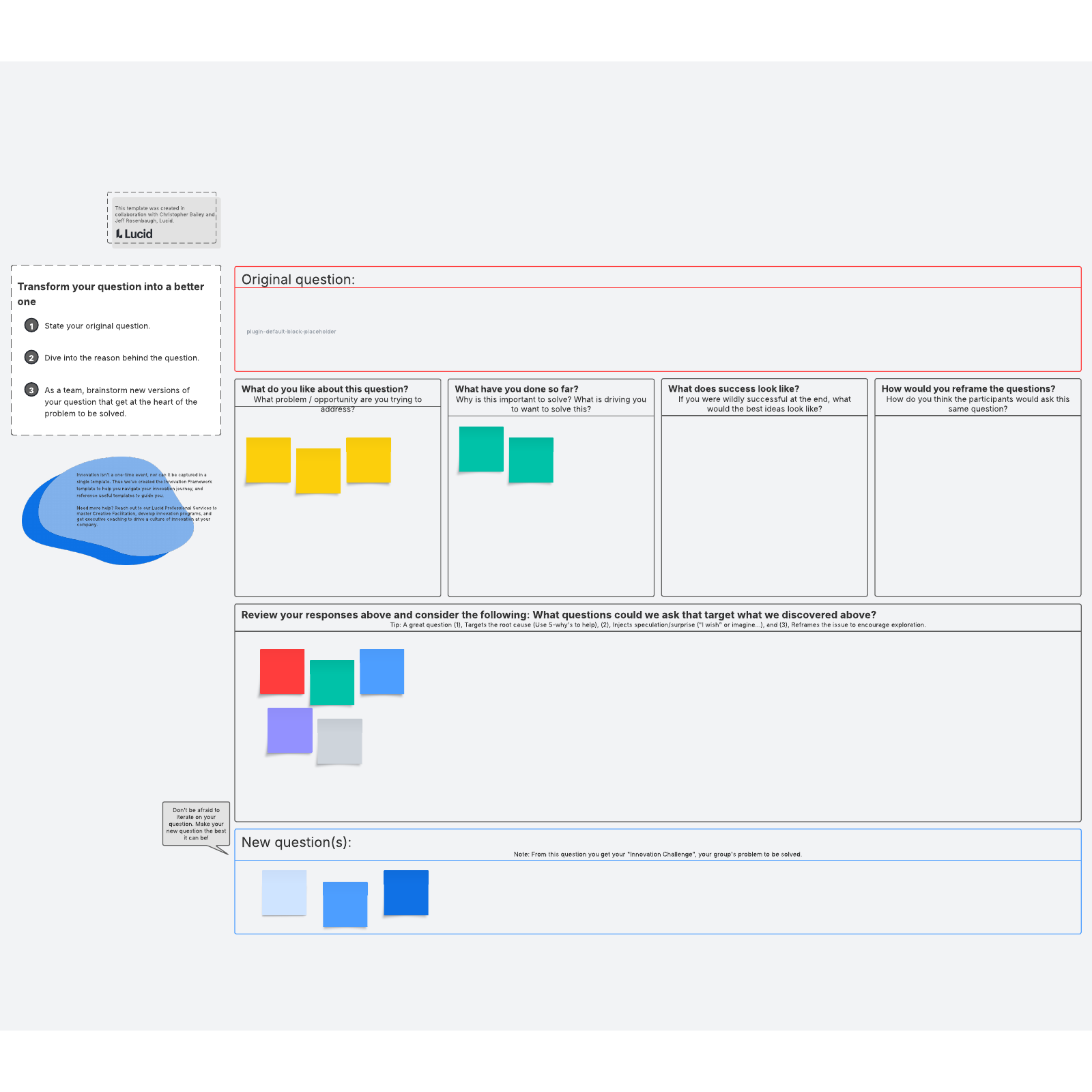 Why asking a better question can help you solve problems
Problem-solving can be boiled down to finding the right answer to a question. As a business leader, you may ask questions such as: "How can we improve?" "What will satisfy our customers?" and "Where should we invest our resources?" These general questions can give your efforts direction, but to solve a specific problem, you need to ask a better question.
Discovering the right question to ask can help you get to the root of a problem, determine actionable next steps, and spark innovation. With the help of Lucidspark's "a better question" template, you can accomplish all this either individually or as a team.
How to use the Lucidspark "a better question" template
Transform your original questions into better questions that you can take action on with the "a better question" template. To use it, share it to your Lucidspark whiteboard and then:
State the original question that encapsulates your problem and has prompted the exercise. Such a question might be: "How can we improve our sales process?"
Dive into the reasons behind the question. Add sticky notes with relevant points to the applicable areas of the template.

Discuss what you like about the question. What is the purpose of the question? How does it identify the problem to be solved?
Discuss what you have done so far. Why is this problem important?
Describe how to achieve success. What would successfully solving this problem look like?
Discuss ways to reframe this question. How would someone from the other side of the problem—a client or a supplier—ask this question?

Brainstorm ways for you to reframe your question based on your exploration of the reasons behind your questioning. For instance, if you've discovered that your sales process suffers because your sales personnel are inadequately prepared, you may want to reframe your question as: "How can we educate our sales personnel about our products?" or "How can we help our sales personnel develop the right strategies to secure a sale?"
Narrow down a few new questions, and feel free to take these new questions through the process from the top to further refine them.
If you plan to complete the "a better question" template as a team, take advantage of Lucidspark's collaborative features, such as freehand drawing, live chat, comments, and emoji reactions. As you work together or individually to improve your questions, you'll gain a better grasp of the actual problem to be solved and be able to come up with better strategies to solve it.
Christopher Bailey & Jeff Rosenbaugh
Professional Services, Lucid
Christopher and Jeff have spent the last decade helping organizations develop innovation pipelines and transform to Agile systems of delivery.