7S framework
Assess the well-being and future success of a company, process, or initiative with this 7S framework template in Lucidspark.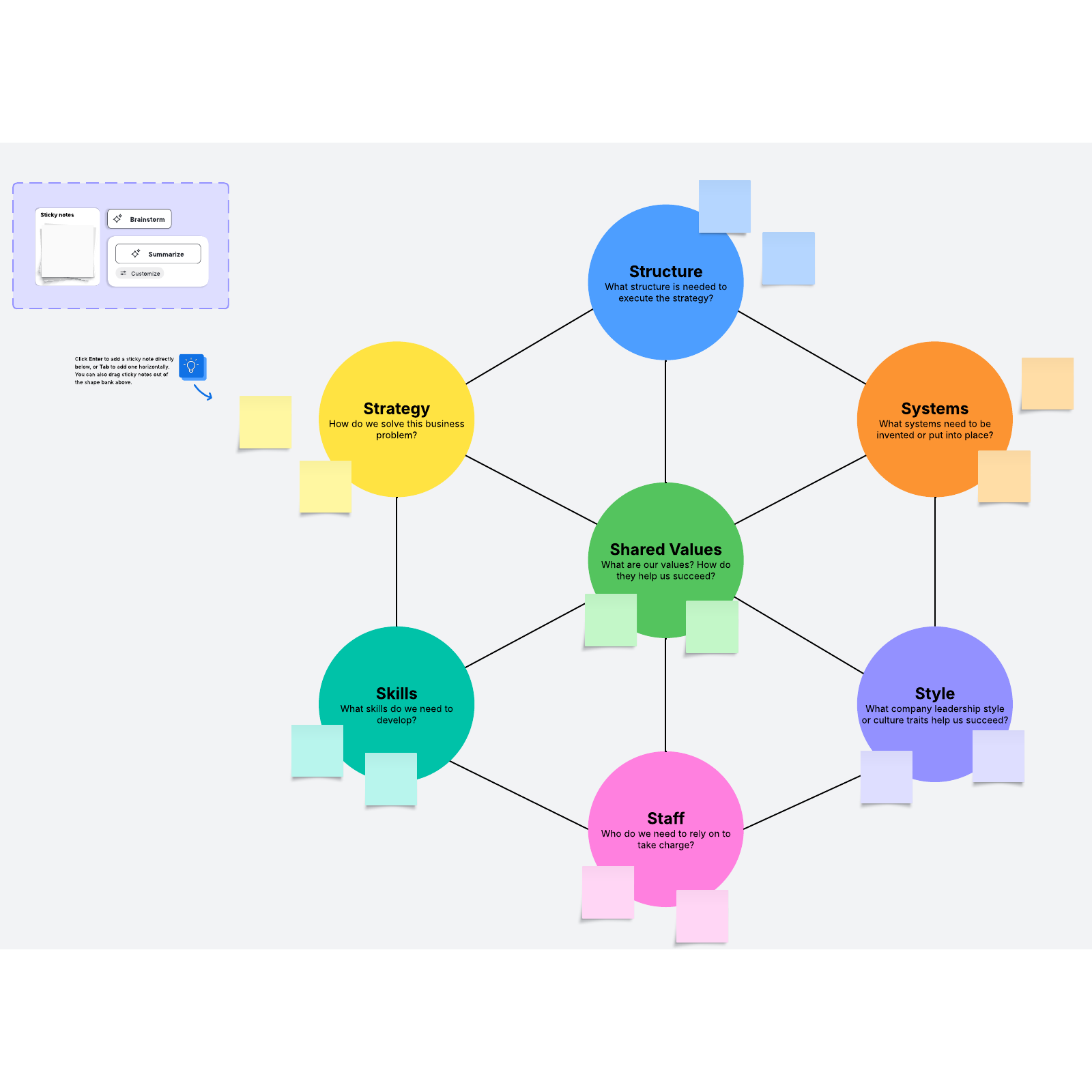 What is the McKinsey 7S model?
The McKinsey 7S model helps organizations identify multiple factors that contribute to their success. While many leaders only consider quantifiable elements like their strategy or their equipment, the McKinsey 7S model emphasizes human elements that can make or break your organization.
The model includes seven elements, all beginning with the letter S. These are divided into hard elements, or factors that are quantifiable, and soft elements that are harder to identify and manage. The hard elements are:
Strategy: your organization's plan for succeeding in your field
Structure: your company's hierarchy and organization
Systems: the procedures and activities that employees use to do their work
The soft elements are:
Shared values: your organization's core values
Style: how your leaders lead and manage
Staff: who you have in your organization
Skills: what your staff is capable of
The McKinsey 7S model helps you analyze all the elements and their relationships with each other.
Benefits of using the McKinsey 7S framework
When you use this framework, you get a better idea of how the elements of your organization interact. Are they aligned in purpose, or is there a mismatch? Use the template to help you see what needs tweaking so your organization works harmoniously.
The template is easy to share for collaboration and feedback, and you'll find it easy to customize as well. Revisit it often to keep an eye on the big picture.
How to use the 7S framework template in Lucidspark
Use sticky notes to describe each element of your organization in the template. As you go, think of how the elements relate to each other, and add notes along the connecting lines. If you want to connect two elements across the template, feel free to add more lines in.
If you're working on this template with others, use @mentions to draw a collaborator's attention to specific sections for feedback. You can also use the chat if you're working in real time. To make sharing and collaborating even easier, check out Lucidspark's integrations, including Zoom, Microsoft Teams, and Slack.