4P marketing mix
Optimize your go-to-market strategy with this 4P Marketing Mix template: product, price, promotion, and place.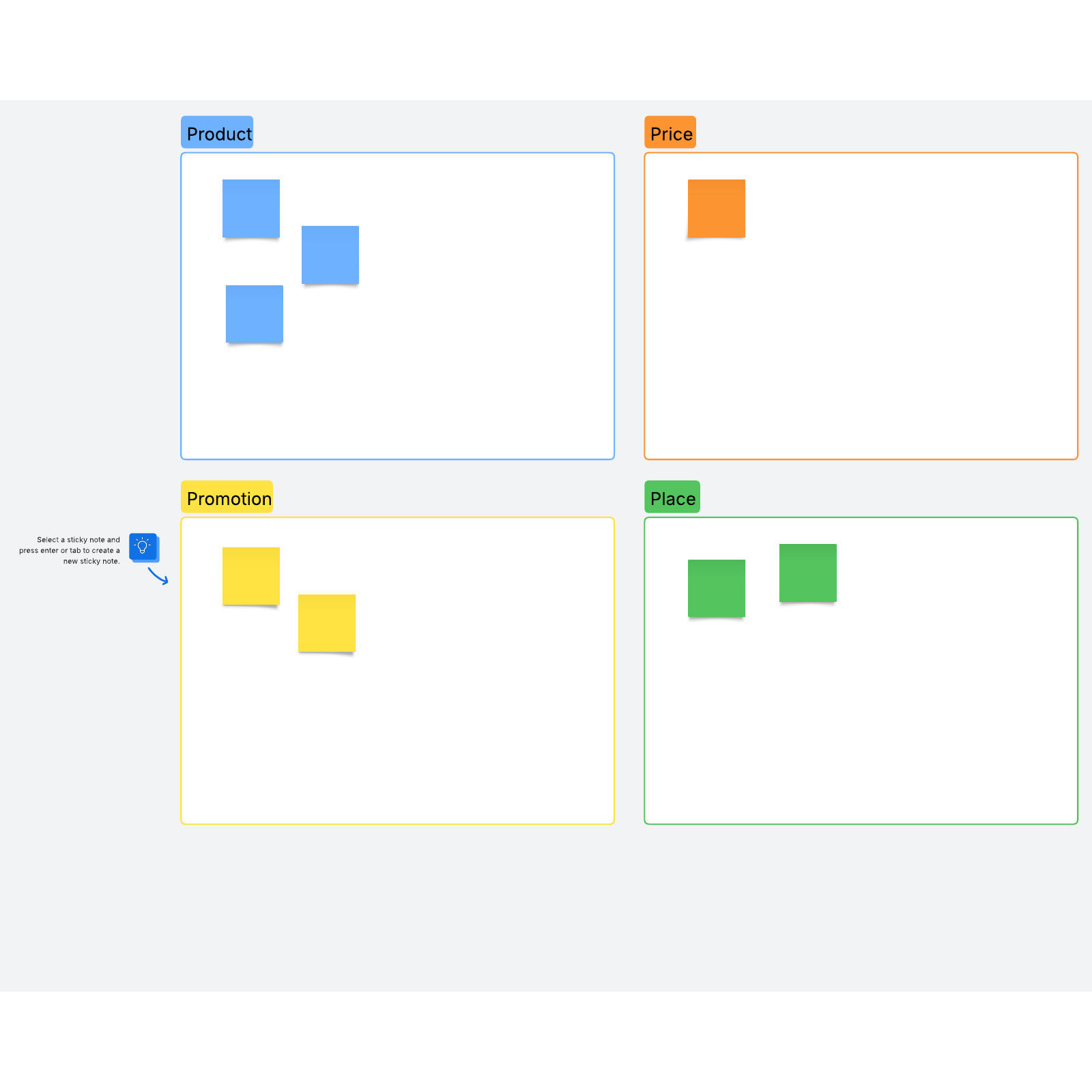 What are the 4 p's of marketing?
When you've spent time and energy developing a product to bring to market, it's difficult to step back and examine all the factors that should be considered in your marketing launch. The 4 p's, also referred to as a marketing mix, are intended to guide you through this important process so you can develop a marketing plan that is differentiated from your competitors and is appropriate for your product or service.
The 4 p's of marketing are:
Product. What are you selling and how is it meeting your customer's needs? Define your product fully.
Price. How much does your product cost? Will it be a one-time fee or a subscription-based service? How will you accept payment and will you allow discounts (for group purchases, for instance)?
Place. Where should your customers go to buy your product? Will it be online or in stores? What does your distribution plan look like? Will you be using a sales team?
Promotion. How are you planning on attracting and communicating with potential customers? Will you be using social ads, print campaigns, or other distribution techniques?
Why a marketing mix is useful
A marketing mix is a guided approach to developing a strategic marketing plan for your product. This is useful because it allows you to be objective and thorough as you carefully consider the best way to reach customers and convert them.
When used correctly, the 4P marketing mix template can save you time and money by:
Improving customer satisfaction and retention.
Clearly defining your target market.
Refining your product offering and strategy.
Increasing sales.
How to use the 4P marketing mix template in Lucidspark
Brainstorm. Meet with your team and add the answers to each of the above questions (as well as any others) into the appropriate container within the Lucidspark template.
Present. Present your completed template to stakeholders using Presentation Mode, which converts your board into a professional presentation.
Share. Gather feedback and further input from the broader team with just a click. Allow the 4 p's marketing mix template to become a source of truth for initiatives moving forward.