Online timeline maker
Lucidspark is a virtual whiteboard that helps you and your team collaborate to bring the best ideas to light. Sign up for a free trial today.
Online timeline maker for teams to collaborate easily
Stay on schedule with project mapping

Our online timeline software is used by teams across many industries to visualize past events and plan future milestones. Lucidspark helps teams plan business goals, detail new processes, and think through their next steps in a project. With flexible date ranges and time units, teams can customize their timelines to fit their needs. Lucidspark makes it easier to map your timelines, share with stakeholders, and collaborate with teammates.

Organize and visualize your historical data

Your project's past is just as important as its future! Being able to quickly outline historical events alongside future milestones provides great clarity in project management. Lucidspark helps teams illustrate dates, descriptions, headers, and images to clearly show the most important aspects of a project. You can re-order tasks, drag shapes to change date ranges, and quickly add new tasks to organize work chronologically and communicate efficiently.

Built for creative collaborative teams

Timeline tools empower teams to work together and actively visualize their project planning. Teams can quickly capture, categorize, and prioritize their thoughts in a freeform environment, easily adding new tasks to keep the ideas flowing. Team members can own and manage tasks, moving seamlessly from the ideation phase to executing the determined project tasks together.

Integrate with your favorite project management tools

Lucidspark integrates with popular project management tools, including Smartsheet, Jira, and Azure DevOps. You can also export your Lucidspark board into Lucidchart, creating a more formalized project deliverable to support your timeline planning with leadership teams and stakeholders.
5 tips for using our timeline maker
Add and adjust a timeline

Select the Timelines icon in Lucidspark to drag a timeline onto your canvas. You can then click the timeline to adjust the date range and select your time interval and start/end dates.

Organize your timeline

Intuitive controls help teams quickly sort and arrange their events into organized timelines with easily adjustable shapes and date ranges.

Customize your design

Task shapes and colors can be customized to bring clarity to roles and responsibilities in your timeline.

Create a Lucidspark Card

You can double click on a Timeline to add a new Lucidspark Card to track ongoing tasks through to completion.

Define what success looks like

Use Lucidspark to illustrate and define your goals and outcomes within your timeline.
Start a project timeline
Frequently asked questions about our online timeline maker
See Lucidspark in action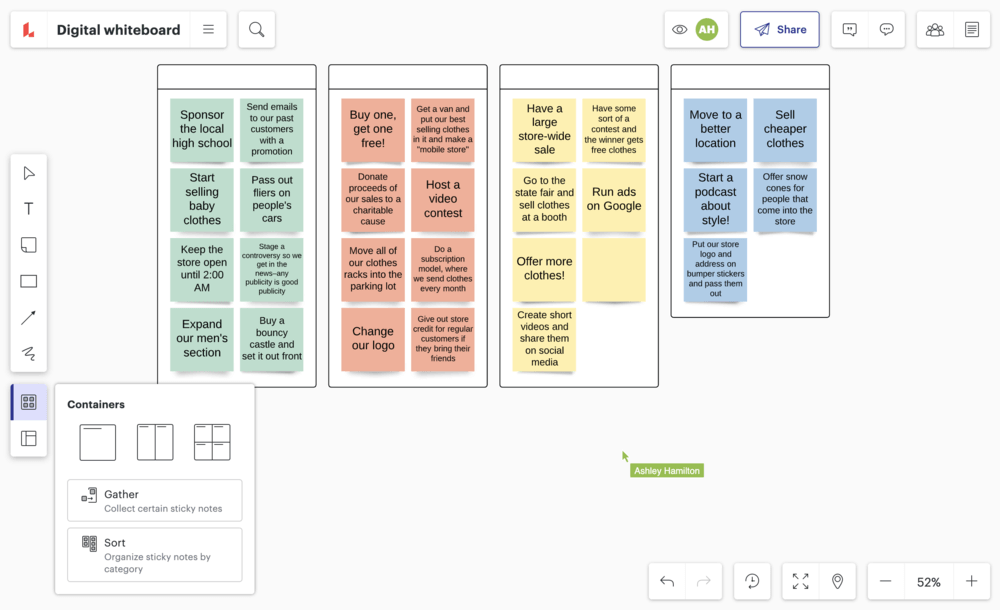 A demo of a sample Lucidspark brainstorming board is shown, with lots of active participation from the four participants across the entire board. Next, a rapid series of close ups demonstrating some Lucidspark features: Writing on a sticky note, drawing a circle around an idea, starting a 30-second timer, crossing an item off an agenda, adding emoji reactions to a sticky note, and sharing a board with collaborators in the share settings. The video then continues to demo features in line with the narrator's audio for the remainder of the video. The video ends with the Lucidspark logo and tagline Where ideas ignite.