Online schedule builder
Lucidspark is a virtual whiteboard that helps you and your team collaborate to bring the best ideas to light. Sign up for a free trial today.
Plan out your week and visualize your day-to-day schedule with Lucidspark
Work visually on an infinite canvas

Take online planning to the next level with a schedule builder that incorporates all of the features you need to visualize your day, week or month and take command of your schedule. Use shapes, sticky notes, and freehand drawing to create visuals that fit your style of planning. Our infinite canvas, customizable templates, and creative features let you organize, plan, and prioritize your days for maximum ease and efficiency.

Customize schedule templates

Lucidspark's customizable templates take the guesswork out of building your weekly schedule. We offer dozens of templates that incorporate different styles and types of planning. Browse our template gallery for the template that best helps you prioritize and plan your tasks, create daily to-do lists or even build your class schedule, then customize your color scheme, text, and more to suit your needs. Save your template for future use so you can all use it week after week.

Share and gather feedback instantly

Share your board with others in a matter of minutes to help you maximize productivity and make sure everyone is on the same page. Our schedule maker allows you to export your board in any format, so your collaborators can access it from anywhere, on any device. Share feedback and gather important input with easy-to-use sticky notes, annotations, and a host of other collaborative features.

Organize data in one place

With Lucidspark, you can organize and create your most important visuals on one infinite canvas. From prioritization matrices to extensive quarterly timelines, our digital planner offers the tools you need to go beyond simply listing tasks on a weekly schedule. Assign action items with follow-ups, vote on which tasks deserve priority, and more with collaborative tools designed to help you organize, plan, and work together.

Integrate with the apps you know and love

Combine your favorite tools to build and share the ultimate schedule with our online planner. Lucidspark integrates seamlessly with your favorite planning tools such as Google Workspace, Asana, and many more, so you can always keep your team on task.
How to make a weekly schedule
Prioritize your tasks

Before opening your schedule builder, gather your tasks and prioritize them. Make sure to include personal tasks and account for any deadlines that will come up during the week.

Add details to your tasks

Take the time to write out every step you need to take when performing a task. This will help you better guess the amount of time the task is going to take.

Estimate how much time you'll need

Estimate how much time you'll need for each task. Be realistic with your estimation to ensure that your schedule is an accurate reflection of what you're able to accomplish.

Fill up your weekly schedule

Start creating your weekly schedule based on time and priority. Try to not fill up all available time in your week to account for any unexpected events or delays.

Personalize your schedule

Add visuals, notes, and color coding to your schedule to help you organize tasks by type or by team member, remember important details, and give your schedule a personal touch.
Make a schedule
Frequently asked questions about our schedule builder
See Lucidspark in action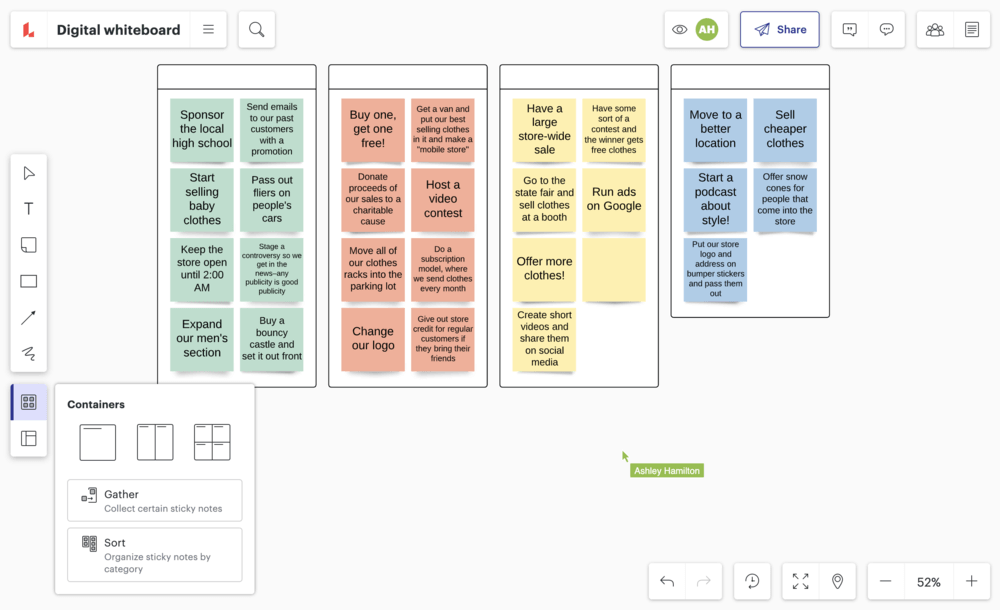 A demo of a sample Lucidspark brainstorming board is shown, with lots of active participation from the four participants across the entire board. Next, a rapid series of closeups demonstrating some Lucidspark features: Writing on a sticky note, drawing a circle around an idea, starting a 30-second timer, crossing an item off an agenda, adding emoji reactions to a sticky note, and sharing a board with collaborators in the share settings. The video then continues to demo features in line with the narrator's audio for the remainder of the video. The video ends with the Lucidspark logo and tagline "Where ideas ignite."
Explore our schedule templates