Weekly schedule template
Use our weekly schedule template to plan out your week and keep track of your to-do list. Sign up for today and try this weekly planner template for free.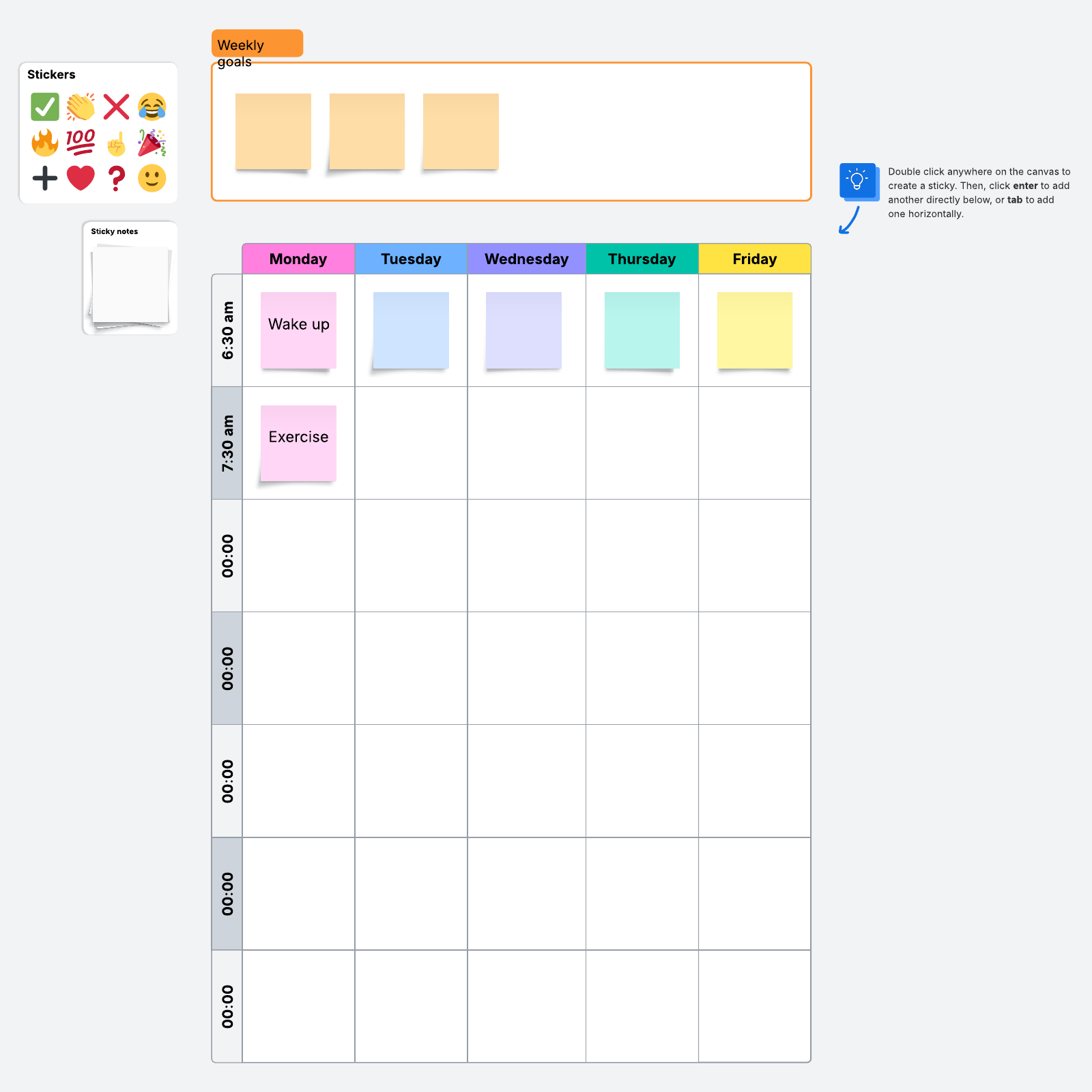 What is a weekly schedule template?
A weekly schedule template takes all the organizational power of a paper planner and adds the functionality of cloud-based software. You'll have all your tasks in one place, accessible from any of your devices. Use a weekly agenda to visualize your week, organize your priorities, and plan out your daily tasks.
Benefits of using a weekly planner template
Work can be overwhelming. Without taking a highly organized approach to your role, it's easy to not know how to accomplish everything that needs to get done. A weekly planner template can be the tool that adds clarity to your work week. Using a weekly planner template can help you:
Stay motivated. Taking tasks out of your brain and putting them in a template makes everything feel manageable. Instead of avoiding work because you don't know where to start, you can take tasks one at a time.
Manage your time. Once all your tasks are in one place, it's easy to prioritize by deadline and determine when you need to work on what.
Customize. Add images, use tags, add links, and change sticky colors within the template. It's so easy to customize this weekly planner template to make it work for you, and you might even discover that customization makes you more motivated to work through those tasks.
Add in personal tasks. It's amazing what you can fit into your agenda once you treat it as a task that needs to be completed. Suddenly, you have time for yoga or journaling or meal prepping.
How to use the weekly schedule template in Lucidspark
First, decide what your main goal for using the weekly planner template is. Are you planning events in your personal life? Or are you creating a weekly agenda for your team? If the planner will be used across your team, start by sharing the Lucidspark template and inviting your team to collaborate.
Add in tasks to the blank weekly schedule. Don't worry about placing them in the correct days off the bat; this is more of a brainstorm. If you have your tasks spread across multiple places, consolidate them into the template.
Add due dates to all your tasks, then arrange them by due date.
Color-code your sticky notes according to type (personal, work, etc.), then use Tagging to set the priority of items.
Use Lucidspark Cards to add more information to tasks—or even integrate with your existing project management tools!