Online planner
Lucidspark is a virtual whiteboard that helps you and your team collaborate to bring the best ideas to light. Sign up for a free trial today.
Stay organized with a digital planner
Stay on track

Research shows that having a visual representation of your agenda can help you accomplish tasks, stay motivated, and even decrease anxiety. Lucidspark's online planner templates and tools are designed to help you understand what needs to be done and when, without the hassle of remembering your entire schedule or carrying a traditional planner.

Get a head start

Our online planner templates take the guesswork out of planning—no matter how detailed or simple your agenda might be. Whether you're looking for a simple daily agenda, weekly planner, or detailed project timeline, our templates can provide much-needed visual organization and jump-start your planning session.

Everything you need in one infinite canvas

With Lucidspark's infinite canvas, you have everything you need to build an online agenda to keep up with every aspect of your life. Assign tasks with follow-ups, fill out prioritization matrices, and customize your schedule beyond simply listing tasks and appointments—all on one convenient board.

Create visually appealing designs

Build a digital planner that you'll actually want to look at with an intuitive canvas and tools that will upgrade your planning and organizing. Customize color schemes and text, add GIFs and images, or draw freehand for a planning experience that reflects your aesthetic and lifestyle.

Share and collaborate

Make sure everyone is on the same page when it comes to projects, deadlines, or personal appointments by sharing your digital planner with your team or family members. Lucidspark's sticky notes, annotations, and other collaborative tools can help you gather input and share feedback.
How to create your online planner
Prioritize your tasks

Before you begin building your planner online, gather your tasks and prioritize them. Include personal and work-related tasks, key deadlines, and other details that may be important.

Get started with a template or from scratch

Start your planner online for free by selecting one of the customizable templates from our template library, or build your planner from scratch using intuitive building and drawing tools.

Create your online planner

Begin adding tasks to your planner using text boxes or sticky notes. Use one text box or sticky note per task or appointment to make your schedule easy to visualize and adjust.

Add details and customize

Take time to add details like appointment locations, contact information, and more to each task. Add visuals or color-coding to keep your tasks organized and easy to read.

Add others to your board

Invite necessary collaborators like team or family members to your board to gather input, share feedback, and make sure everyone is aligned on scheduling needs.
Create an online planner
Frequently asked questions about our online planner tools
See Lucidspark in action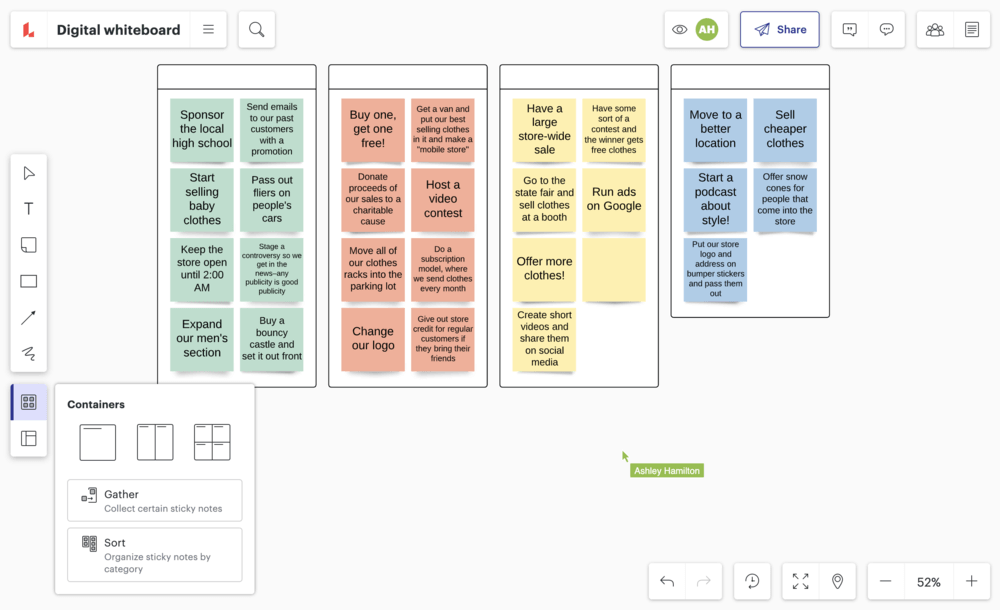 A demo of a sample Lucidspark brainstorming board is shown, with lots of active participation from the four participants across the entire board. Next, a rapid series of closeups demonstrating some Lucidspark features: Writing on a sticky note, drawing a circle around an idea, starting a 30-second timer, crossing an item off an agenda, adding emoji reactions to a sticky note, and sharing a board with collaborators in the share settings. The video then continues to demo features in line with the narrator's audio for the remainder of the video. The video ends with the Lucidspark logo and tagline "Where ideas ignite."
Online planner templates from Lucidspark