Mood board creator
Lucidspark is a virtual whiteboard that helps you and your team collaborate to bring the best ideas to light. Sign up for a free trial today.
Capture the vision of your finished product with Lucidspark
Expand your creativity on an infinite canvas

Why limit your mood board to cutting and pasting when you can capture your product, brand, or redesign's vision on an infinite canvas? Lucidspark has the resources you need to visualize every aspect of your product or service, from drag-and-drop shapes to freehand drawing, sticky notes, ideation tools, and so much more.

Get started with a template

Our mood board maker makes it easy to start your mood board from scratch or get started with the help of a template. Simply select a template from our library to begin customizing it to your specifications.

Include images, GIFs, and more

Complete your mood board's aesthetic by importing images, GIFs, and more. Or, use our in-product image search to find materials that convey the mood you're looking for and clarify your vision.

Add ideas from anywhere

Our board maker is based in the cloud, so you and your collaborators can access your mood board from anywhere. Add images, text, feedback, and more, no matter what device you're working from. Each update is instantly accessible to every collaborator, so you're always on the same page.


Share and collaborate

Share your mood board with others via email or published link to collect ideas, gather feedback, and get input on where to take your project next. Gather input with easy-to-use @mention comments and sticky notes, then add emoji reactions or vote to figure out what feedback to incorporate into your mood board.

Bring your ideas to life

Continue your work in Lucidspark or integrate your mood board using your favorite tools. Lucidspark integrates fully with applications like Google Workspace, making it easy to take your mood board to the next phase of your project.
How to make a mood board
Pick a template or start from scratch

Choose a template from our extensive template library to get a jump-start on your mood board. You can also start your mood board from scratch to create a completely original product.

Add visuals

Decide which visuals help to capture your vision. Import your selected images, GIFs, and more to Lucidspark to incorporate them into your board

Customize your work

Make your mood board your own by selecting shapes from our shape library or by freehand drawing any part of your visual.

Share and gather feedback

Share your mood board with relevant collaborators to gather thoughts, ideas, and feedback. Collect information using @mentions, sticky notes, voting, Visual Activities, and emojis to make sure feedback is recorded.

Export to your favorite platform

Export your completed board in your selected format and share it anywhere you'd like. Integrate it into your favorite applications to make it easy to access for next steps.
Make your moodboard
Frequently asked questions about our mood board creator
See Lucidspark in action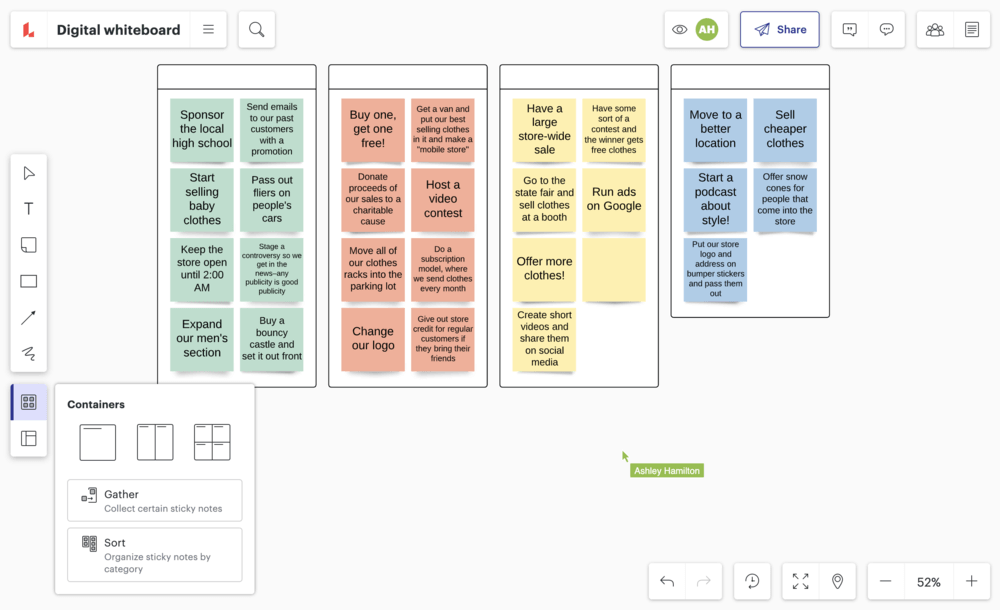 A demo of a sample Lucidspark brainstorming board is shown, with lots of active participation from the four participants across the entire board. Next, a rapid series of closeups demonstrating some Lucidspark features: Writing on a sticky note, drawing a circle around an idea, starting a 30-second timer, crossing an item off an agenda, adding emoji reactions to a sticky note, and sharing a board with collaborators in the share settings. The video then continues to demo features in line with the narrator's audio for the remainder of the video. The video ends with the Lucidspark logo and tagline "Where ideas ignite."
Mood board examples and templates