Kanban board online
Lucidspark is a virtual whiteboard that helps you and your team collaborate to bring the best ideas to light. Sign up for a free trial today.
Track progress easily with a kanban board from Lucidspark
Take agile to the next level with our kanban tool

No agile project management strategy is complete without clear visuals. Lucidspark's intuitive, infinite canvas lets you manage your team's entire workflow, from assigning tasks to running sprint meetings for in-office or remote teams to tracking progress. With our collaborative tools at your disposal, you can take charge of team communication and productivity to make sure that your project is completed on time and on point.


Plan, share, and collaborate on your kanban board effectively

Access your team's full potential. In Lucidspark, you can easily share your digital kanban board to give each team member the chance to contribute their ideas and change the status of their tasks. With real-time updates, your team can draw attention where it's needed and gather feedback from key team members instantly. Use @mentions, in-editor chat, and emoji reactions for all the benefits of in-person communication, wherever you're working from. You can even follow specific collaborators to make sure you never miss an update from important contributors.

Integrate your work for seamless agile collaboration

Lucidspark's powerful integrations let you move effortlessly from ideation to collaboration using platforms you know and love. Integrate your kanban board with apps like Google Drive, Slack, and Zoom to let your team members access, edit, and add insights from anywhere. Best of all, Lucidspark is fully integrated with Lucidchart, so you can export your kanban board to start creating a final asset, and then bring it back to Lucidspark for more ideation.

How to create a virtual kanban board in five steps
Get started with a Lucidspark brainstorming session

Before starting your kanban board, use Lucidspark to brainstorm and prioritize your product features and requirements so your team has tasks to add.

Structure your kanban board

Add a kanban board template to your Lucidspark board, or add containers with categories like "To do," "In progress," and "Done."

Fill out your virtual kanban board with tasks

Add sticky notes to your "To do" column for each task that needs to be completed.

Organize tasks by task owner

Color-code or organize your sticky notes to communicate which team members are responsible for each task.

Track progress on your kanban board online

As team members work on tasks, keep tabs on progress by dragging items into the appropriate column or using tags to group items by status.
Frequently asked questions about our kanban tool
See Lucidspark in action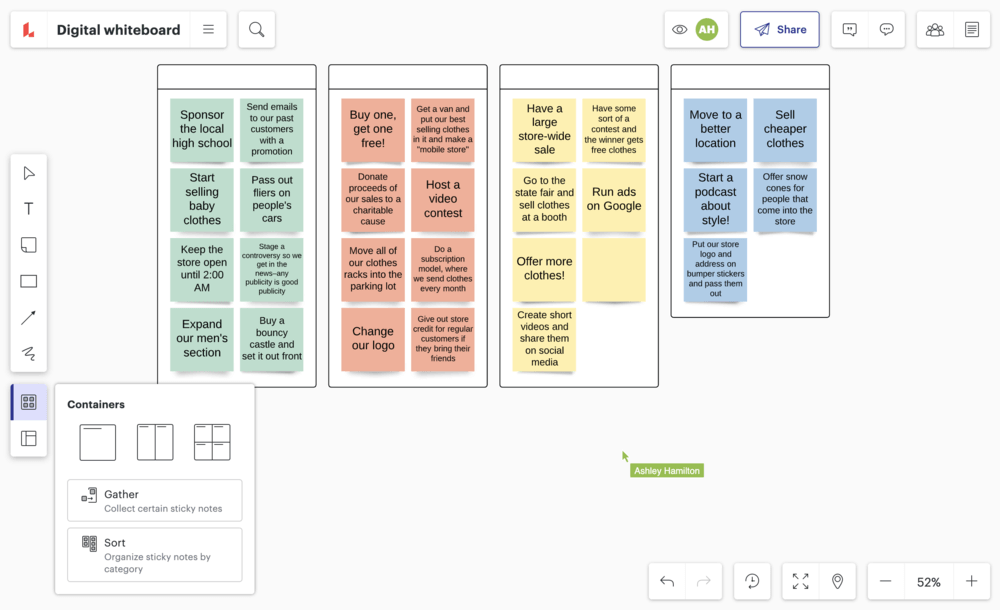 A demo of a sample Lucidspark brainstorming board is shown, with lots of active participation from the four participants across the entire board. Next, a rapid series of close ups demonstrating some Lucidspark features: Writing on a sticky note, drawing a circle around an idea, starting a 30-second timer, crossing an item off an agenda, adding emoji reactions to a sticky note, and sharing a board with collaborators in the share settings. The video then continues to demo features in line with the narrator's audio for the remainder of the video. The video ends with the Lucidspark logo and tagline Where ideas ignite.