Website wireframe template
Design your website faster with a wireframe template. Customize elements and collaborate with others to get feedback early in the process. Try Lucidspark!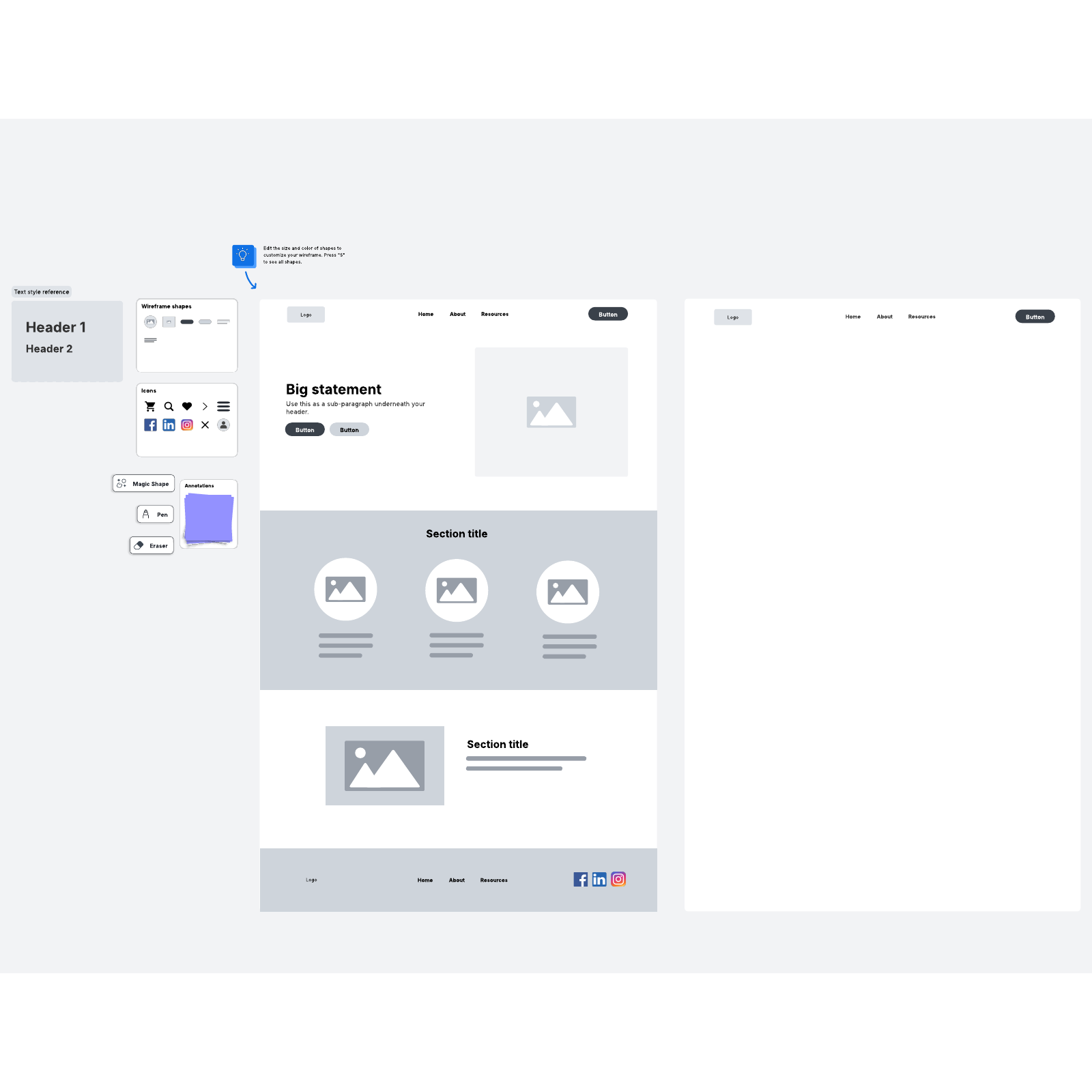 What is a website wireframe?
A wireframe is essentially the layout of a webpage. It omits copy and design and instead focuses on the order of the elements on a page. By showing just the structure of a website at the very beginning of the development process, you can gain clarity early on and avoid many common issues of website development that arise from not having a wireframe. This provides your designers with a pattern to follow as they build the working page.
Benefits of using a website wireframe template
Wireframing is an essential part of the design process. If you start with a wireframe, you can:
Understand the purpose of a site from the beginning. Do you want your customers to buy a product? Click on a video? Every element of the page should be guiding visitors to complete an objective, and a wireframe will help incorporate that in from the beginning.
Cut down on costs. Save on copy and design costs down the road by aligning on content at the start of the process.
Gain stakeholder buy-in. Showing a simple wireframe and gaining stakeholder approval before designing the actual site leads to easier approvals throughout development.
Easily rearrange. It's difficult to reorder a page after it's been designed and built, but if you're using a website wireframe template, you can easily drag and drop with a few clicks.
Share and gather thoughts. A wireframe template can be easily shared for collaboration.
How to use the website wireframe template in Lucidspark
Brainstorm and map user flows before using the wireframe template. That way, you know how the site fits into your overall objectives.
Using the template as a guide, customize your site by moving, resizing, adding, or deleting shapes.
Add sticky notes throughout to ask questions or give feedback.
Assign team members to specific elements of the wireframe by tagging them with @mentions.
Share the wireframe template, then encourage others to comment, react, or leave input on the wireframe.