Strategic planning template
Use this strategic planning template to determine the best path forward for your organization and take action on that plan.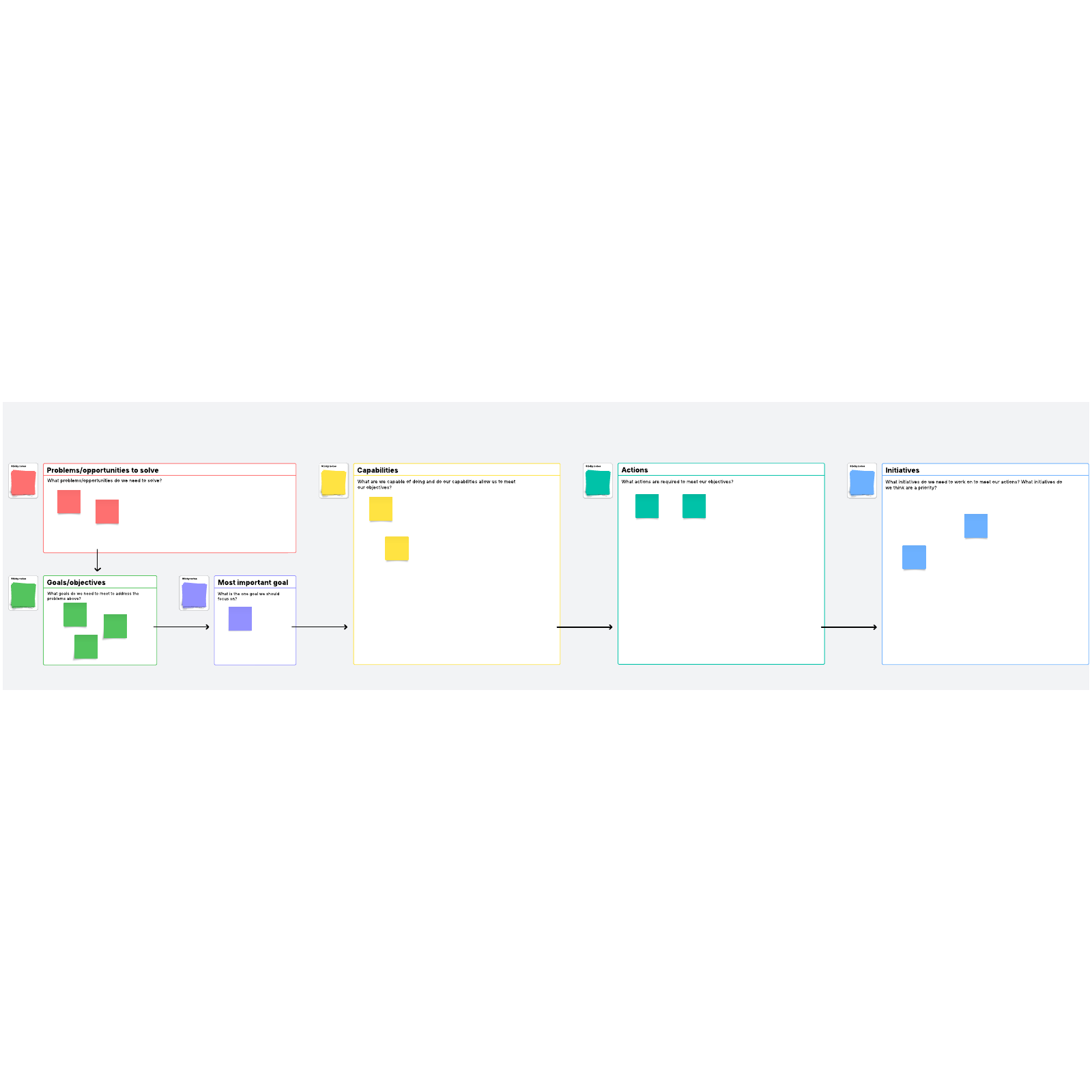 What is a strategic planning template?
In a strategic planning session, your group focuses on the big picture: you define your goals and you figure out what you need to accomplish them. Strategic planning works for any group size, from individuals and small teams to entire companies.
Strategic planning involves three stages: gathering data, creating your plan, and tracking your progress towards your goals. This template helps you with that second step. Use the strategic planning template to dig into the tough questions about what problems you face, what your team is capable of, and what you need to do next.
Benefits of using a strategic planning process template
While this template works great for in-person strategic planning sessions, it's perfect for hybrid and remote teams. The biggest challenge during these meetings is keeping everyone engaged—strategic planning sessions may last for hours, get sidetracked and involve a lot of people. All this makes it easy for remote participants to quietly tune out and even start working on other things during the call.
The strategic planning process template provides structure to keep the meeting on track, and Lucidspark offers features to help everyone stay engaged, from emoji reactions and freehand drawing to Voting. Use this template to help everyone give you their best ideas.
How to use the strategic planning template in Lucidspark
Before the meeting, plan what the session should accomplish. Add this agenda to the Notes panel.
During the strategic planning session, take your group through each section of the template. You'll start by identifying what problems you need to solve and what goals will address those problems. Next, you'll consider your team's capabilities, what actions you'll need to take to meet your goals, and what initiatives will help you get there. Fill in each section with your group's thoughts on sticky notes.
As you work through the template, use the timer to keep the group on track. You'll also need to organize the sticky notes—assign each participant a collaborator color so you know who added the thought, and tag sticky notes as you go so you can sort them later.
Check out our blog post for more tips on how to conduct a strategic planning session in Lucidspark.