Product requirements document (PRD)
Create and share high-level documentation for your next product initiative by using this PRD template in Lucidspark. This product requirements document template helps with project planning as well as brainstorming and ideation.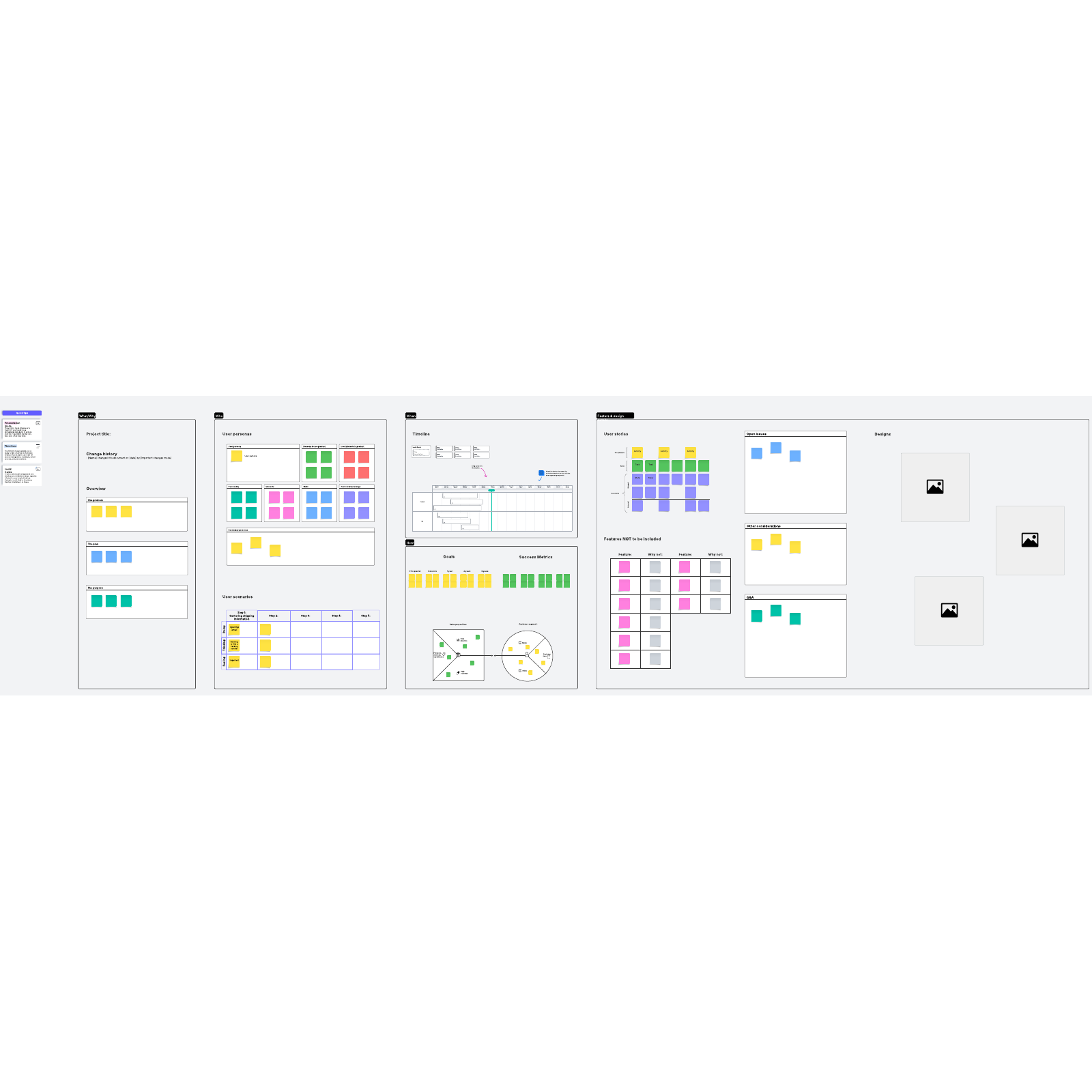 What is a product requirements document?
A product requirements document (or PRD) is a high-level summary of what the product is, who the product is for, and how the product benefits those people. The product manager writes and owns this document, and they use it to keep the product team aligned on their purpose and goals.
Why use a product requirements document template
In order for your product to launch successfully, you need tight collaboration between technical and business teams, including engineering, marketing, sales, design, and support. That's a lot of people to keep on the same page.
A product requirements document outlines the purpose of the product and includes information about how to realize that purpose. If everyone who touches the product's development has access to this document, you'll avoid miscommunications and frustration.
How to use the product requirements document template in Lucidspark
As the product manager, take some time to identify goals and do a bit of research before you get started on the PRD template—this ensures you'll be aligned with stakeholders straight away. Then, work through the sections of the template:
What/Why—define what the product is for and what problem it solves.
Who—give details on who the users of the product will be and what they're like.
When—roadmap the development of the product (try using Lucidspark Cards to sync the timeline with Jira, Azure DevOps, or Smartsheet).
How—set your goals and success metrics.
Feature design and details—include information about features to include in the product and some basic wireframes for how they'll look to users.
As you complete the PRD, be sure to get feedback from other stakeholders. Other teams will spot things that you've missed, so work closely with a variety of teams to get the document into great shape.
You can collaborate on the template in real time, but you may find it easier to seek feedback from everyone asynchronously. Encourage your stakeholders to use emoji reactions, comments, and freehand drawing so their feedback is as detailed and helpful as possible. Additionally, try creating a custom Path for different audiences. This connects the Frames relevant to that audience together so they can get to the parts you most need their help with.
While many parts of this product requirements document will stay stable once finalized, others will change throughout development. You'll realize new customer needs or change directions on features. Update the template as you go to keep everyone aligned.