Product backlog
A product backlog template helps you prioritize the work that needs to be done to keep product teams efficient and deliver high-quality products.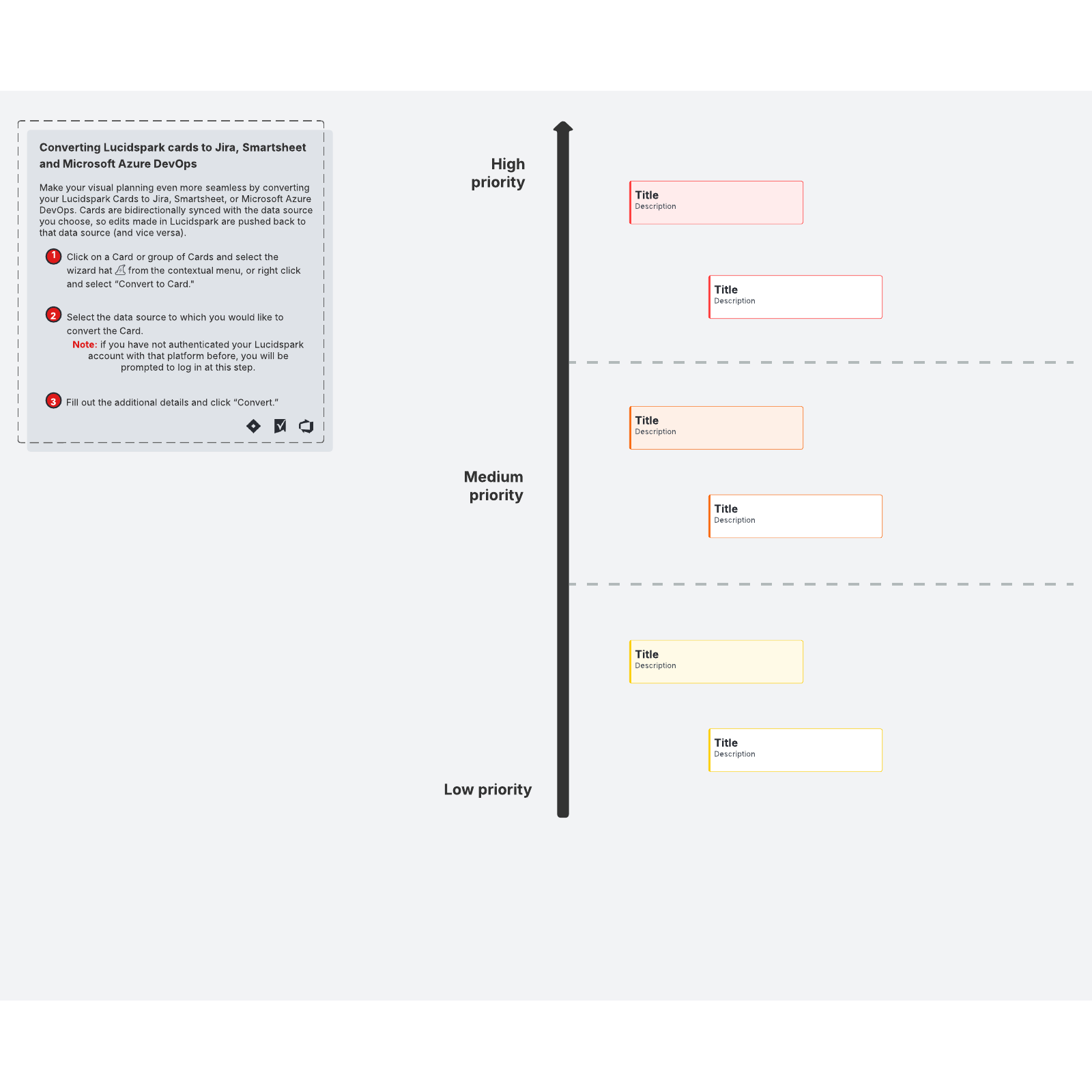 What is the product backlog template?
The product backlog is used in Agile frameworks—particularly with the Scrum methodology—to keep a running list of action items that need to be developed by your team. The product owner is responsible for keeping this list, which is usually built at the onset of a project and adjusted in backlog refinement based on stakeholder feedback. Items can be pulled from the backlog to work on over the course of the upcoming sprint. A product backlog template is a visual way of keeping track of and prioritizing items in the product backlog.
Benefits of a product backlog Scrum template
A product backlog template is beneficial for a Scrum team in the following ways:
Work on the most important items first. A product backlog often contains many, many items. By using a template, it's easy to adjust those items by importance.
Keep it organized. Items can often be just suggestions casually thrown out in meetings. By having a more formalized product backlog, it's much easier to keep track of even the smallest tasks.
Prepare for sprints. The product backlog Scrum template allows you to approach sprints with greater ease—no more scrambling for tasks or worrying the team is focused on the wrong things.
Easy to adjust. Priorities often change, so it's important for your product backlog to change along with them. With a product backlog template, tasks can be dragged and dropped instantly.
How to use the product backlog template in Lucidspark
Gather items from your product backlog into the template. Either create tasks in your backlog with sticky notes and then convert them into Lucidspark Cards or add in the backlog items as Lucidspark Cards right away.
Rank items by priority in the space provided (highest impact items go to the front of the line).
In your Lucidspark Cards, assign an owner, time estimate, dates, status, and description—then convert these into action items by integrating with Jira, Azure DevOps, or Smartsheet. The two-way sync ensures that any updates made in one tool are reflected in both tools, so it's easy to stay aligned.
Use the in-editor chat, comments, and emoji reactions to collaborate as a team and reach group decisions when prioritizing product backlog items.