MoSCoW prioritization
Try the MoSCoW method to strategically prioritize initiatives and features based on Must Have, Should Have, Could Have, or Won't Have.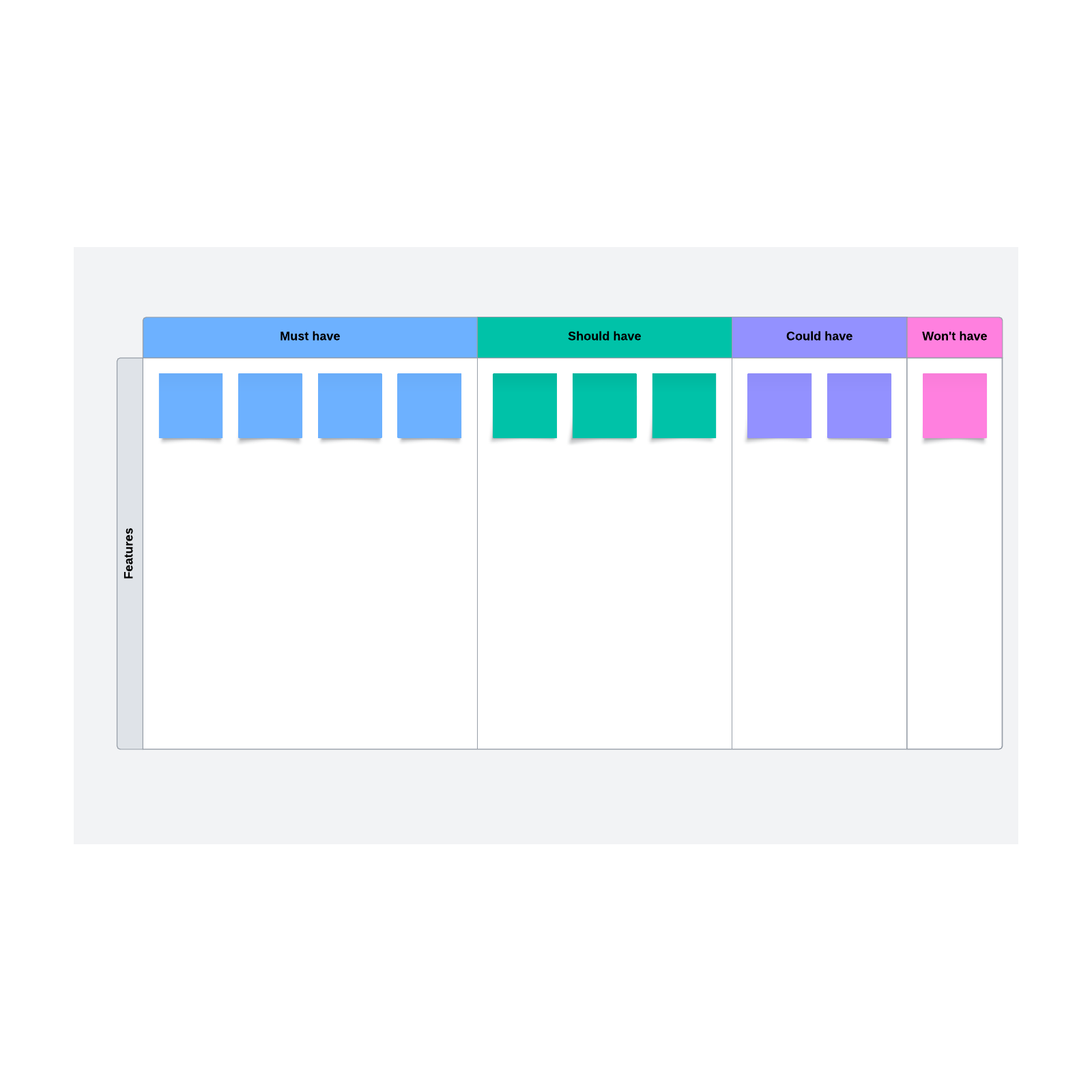 What is the MoSCoW prioritization method?
The MoSCoW prioritization method (aka the MoSCoW method or MoSCoW analysis) is a popular technique used to organize and prioritize project tasks and requirements. It represents four categories:
Must-have: Mandatory initiatives and non-negotiable needs for your team
Should-have: Essential, but not mandatory initiatives that a project would benefit from but could survive without
Could-have: Initiatives that would be nice to have but ultimately have a smaller impact on a final product or project outcome
Won't-have or wish: Initiatives that will not exist for this project or product but may be prioritized for future projects
You can approach your prioritizations based on your team's budget, current needs of the company, customer needs, time constraints, and team members' skill sets. Use a ranking methodology, such as weighted scoring or the kano model, to rank your initiatives–and make sure team members and stakeholders offer their input as your prioritization is completed.
Benefits of using the MoSCoW prioritization template
First and foremost, the MoSCoW method is simple and easy to complete. You don't need anything more than your team's opinions and some basic information about your project (goals, budget, timeline, etc.) to complete a MoSCoW prioritization. It also makes it easy to assign rankings to various initiatives, giving your team a good idea of what their to-do list looks like. Perhaps most importantly, it gives your team a chance to align on what is most crucial and beneficial to your project—and open a realistic discussion about what needs to wait.
How to use the MoSCoW prioritization template in Lucidspark
Here's a rundown of how to start prioritizing using a MoSCow method template:
Begin by opening our MoSCoW prioritization template in your virtual whiteboard and share with your team and stakeholders.
Run your MoSCoW analysis together with your stakeholders. Take an individual look at each of the initiatives in your backlog and sort them into the appropriate template section by asking your team whether each one is a must-have, should-have, and so on.
As you go, make sure that your team arrives at a consensus about each initiative. Use voting or emoji reactions to easily capture your group's feelings about each initiative.
Once your team has agreed on an initiative's status, you can sort the sticky notes by votes, emojis, or color if you'd like to further analyze your board.
Use your completed MoSCoW template to ensure everyone is aligned on initiatives and action items for your team moving forward.