Job map template
A job map helps your team deliver promised value; it's a perfect tool for product management and UX research to break down what customers want.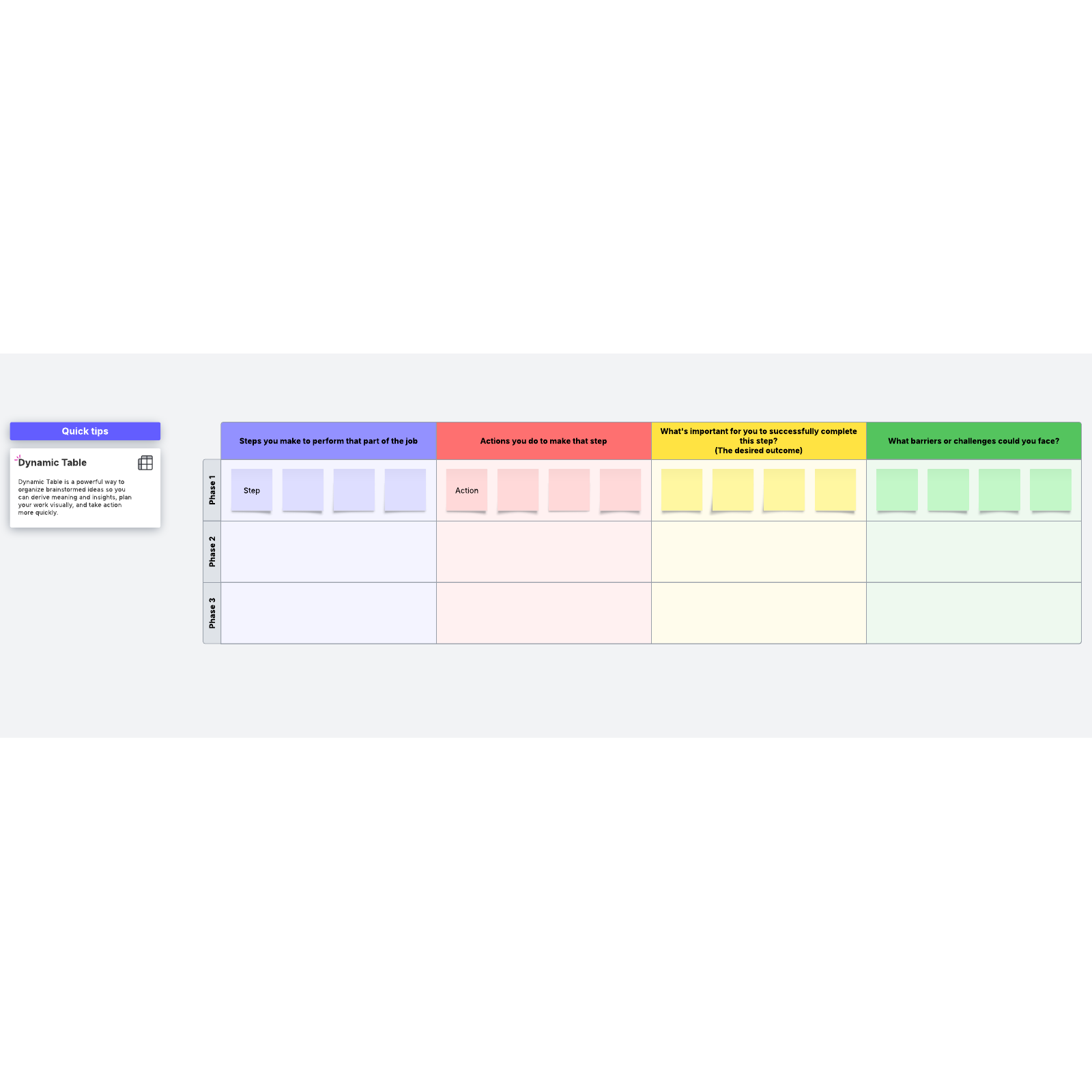 What is a job map?
When you were hired for your job, you were given a set of job tasks and duties for you to complete. The same thing applies to your business's product or service: your customers "hire" your product or service to perform tasks.
A job map visually articulates the expectations your customers have of your product or service. Start by understanding what jobs your customers need completed, then use the job map template to understand how to create a product or service that exceeds customer expectations. Best yet—you can get the whole team on board with the vision.
Benefits of using a job mapping template
A job mapping template is a useful tool that allows you to:
Test your assumptions. The job mapping template is strongly recommended to be filled out collaboratively with your customers. That way, you can have them tell you what they expect your product or service to do. This primary source can eliminate assumptions and biases you may have about your offering.
Align features with expectations. When there are only so many resources available, a job mapping template allows you to devote the most resources to completing your customers' most necessary tasks.
Define a vision. The template allows your team to orient itself towards a north star of defined customer solutions. The template shows where you need to be headed in both the short-term and the long-term.
How to use the job map template in Lucidspark
First, talk to customers. It's important they guide the creation of the template. You can even invite them to view the board as Guest Collaborators.
Next, walk them through different sections of template, from reasons customers "hire" your product to reasons why they'd "fire" your product or avoid hiring it in the first place. Be sure to fill out the steps they take, actions you do to make that happen, the desired outcome, and any challenges along the way.
Finally, share with your team to then brainstorm solutions based on your findings. Your team can react with emoji reactions, use freehand drawing to make notes or illustrate ideas, or tag sticky notes to identify themes.