Huddle board
Use Lucidspark's huddle board template to visualize the workflow and align on priorities to ensure projects get completed on time. Sign up for free!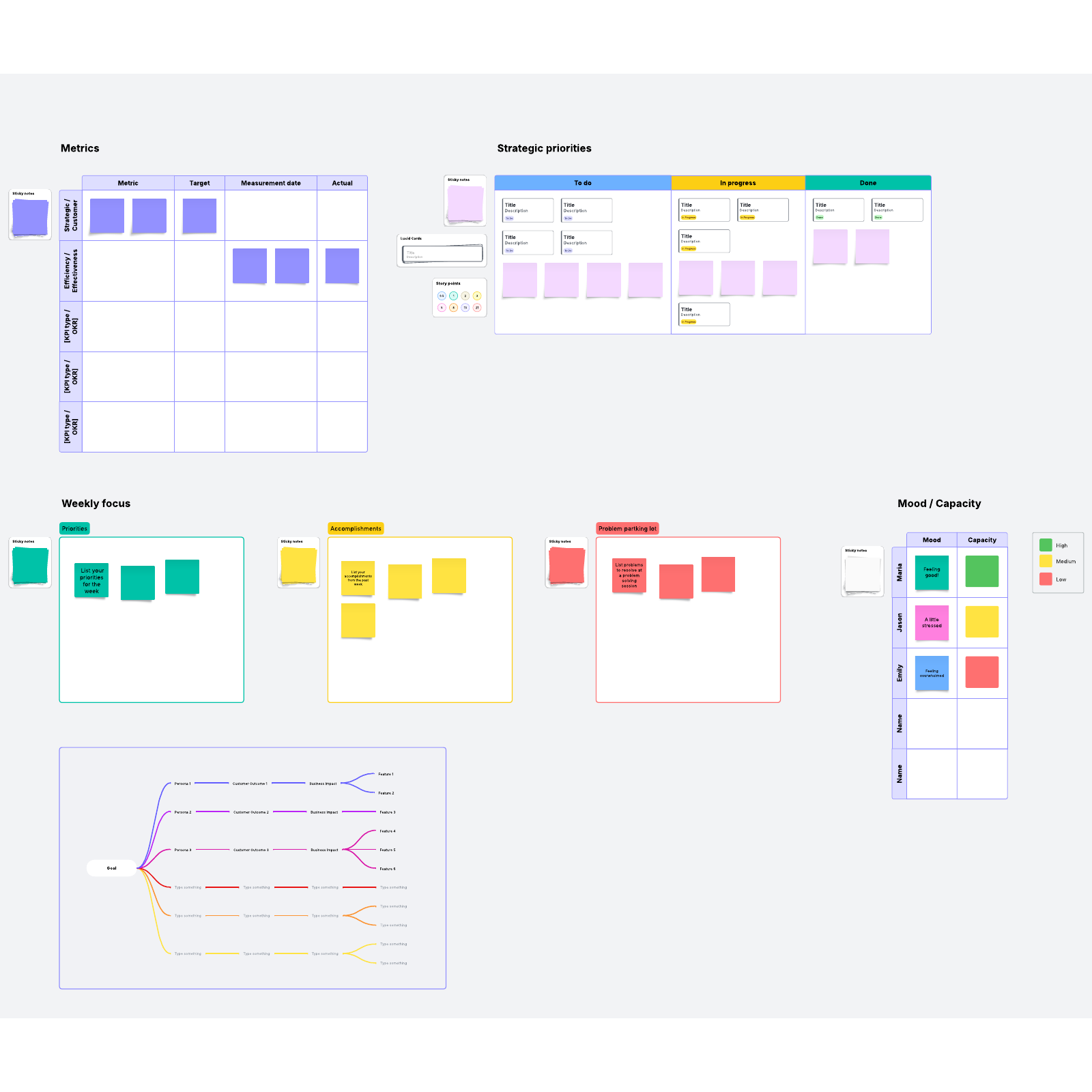 What is a huddle board?
If you have a daily check-in meeting with your team, you can use a huddle board to track what you talk about. Essentially, a huddle board provides a record of where your team is at each day, and the sections on the huddle board help guide your discussion during your meeting.
A huddle board should include whatever is most important for you to talk about, so customize it as needed. In this template, we included four sections:
Metrics. Whatever metrics you use to track your team's work, include them here. Record your goals and progress towards them.
Strategic priorities. Keep the big picture in mind by seeing it on your huddle board every day. Here, you can record the status of your priorities, moving the sticky notes from not started to in progress to done.
Weekly focus. Keep the smaller picture in mind too. This section tracks your priorities, accomplishments, and problems faced for the week.
Mood/capacity. Give your team members the chance to share where they're at. In this section, record their mood and how ready or capable they feel about tackling their work.
How a virtual huddle board can benefit your team
Originally, huddle boards were often physical whiteboards that a team could gather around. However, a virtual huddle board works great, too.
If you use a virtual huddle board, you can check in with your entire team, no matter where they are. Additionally, you can share a virtual huddle board with any stakeholders who need to see it, which is handy if you have a goal that involves another team.
You can also keep a record of your huddle boards day to day instead of losing your notes as you erase a physical whiteboard. Take a look now and then at past huddle boards to see what trends you can learn from.
Huddle board ideas and best practices
To get the most out of your daily huddle, you need to keep it focused, consistent and honest.
To keep your huddle focused, use the huddle board as a guide. Customize the template to show exactly what your team needs to discuss and check in about regularly, and use the huddle board to guide the discussion. While you should allow useful digressions, keep an eye on the clock and bring the discussion back to the point at hand when needed.
For consistency, make sure your huddles are frequent and predictable. Try not to skip a meeting unless absolutely necessary. You want this quick meeting to become part of everyone's routine. To make the huddle easier, use the Zoom integration with Lucidspark so everyone is called to the virtual meeting with the huddle board at the same time.
Honesty is crucial for your huddle to work. If you check in about the status of your team members and their work, you need them to feel comfortable telling the truth, even if it isn't what you want to hear. Model vulnerability, and cultivate a culture that accepts hard truths without backlash, and your huddle board has a much better chance of being filled with accurate information.