Concept statement example
Quickly communicate your vision to others with this concept statement template. Give a brief definition of how the concept will work and what its end goal will be.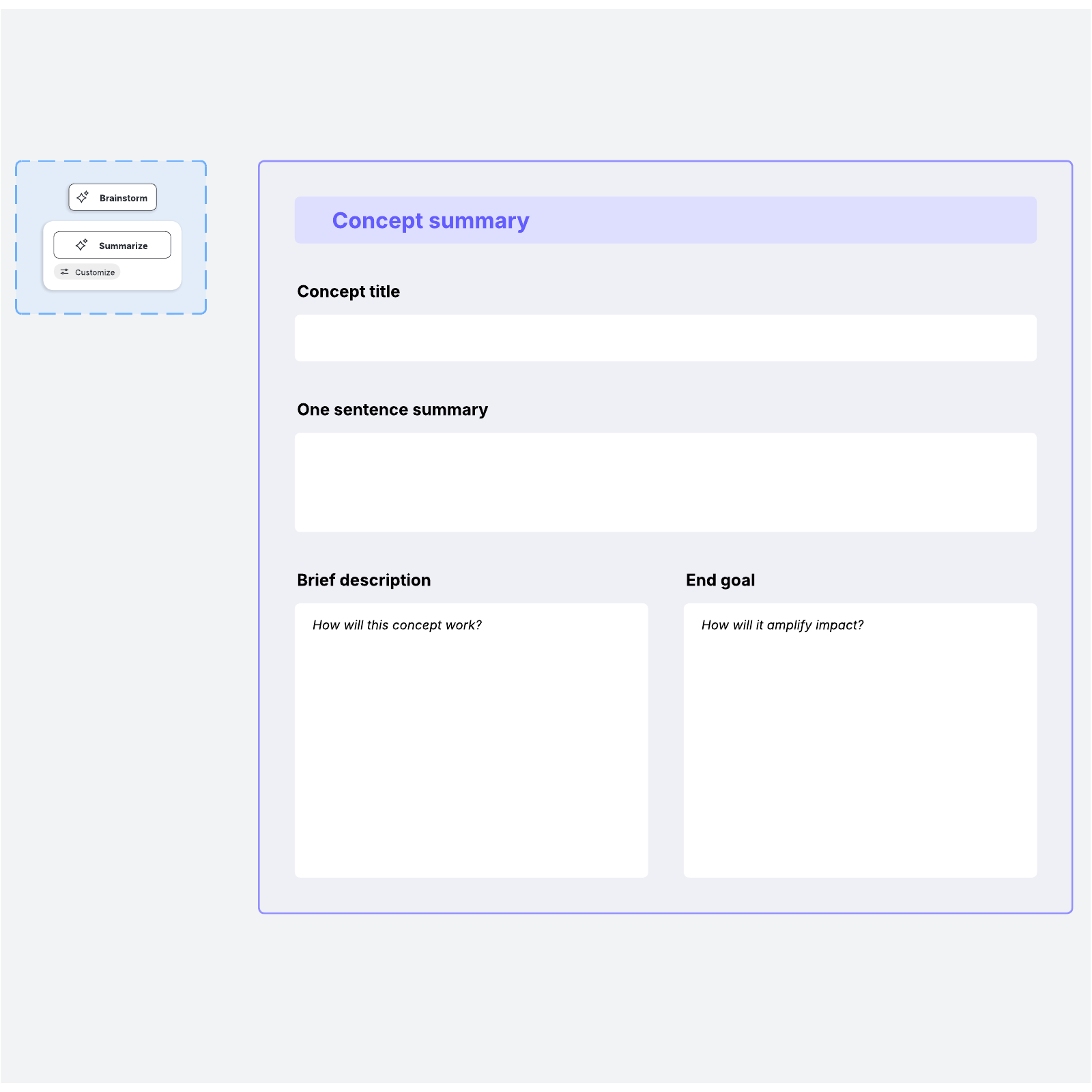 What is a concept statement and why is it important?
All the best ideas have a strong concept statement behind them. A concept statement captures the meaning and significance of an idea, highlights the perceived impact should the idea be realized, and makes it easier for other people to buy into your plan.
If you're in the early planning stages for a new business, product, brand, or service, a concept statement can help you describe your vision for yourself and others. A good concept statement will provide direction for you and confidence for anyone who may want to invest time and money into your plans.
See how Lucidspark's concept statement template can help you come up with a strong concept statement for your next project.
How can you use our concept statement template?
Whether you're collaborating with others on your concept statement or simply want to make it widely available for suggestions, Lucidspark's template can help. Our template encourages you to come up with a concept title, a one-sentence summary of the concept, a brief description of how the concept will work, and a brief description of what the concept will eventually accomplish.
As you fill out each section of the template, keep the following tips in mind:
Title of concept: The title should identify what kind of concept this is (such as a product concept, business concept, or design concept). It should also mention the main components of the concept. For example, a title might be, "Business Concept for a Left-handed Supplies Store."
One-sentence summary: The summary should give the audience a clear understanding of the basics of the concept. For instance, a one-sentence summary might read, "A store that specializes in household tools for left-handed people."
Brief description: The description will explain how the concept will work, what is unique about the concept, and how it will connect with its audience. For example: "Many tools, such as scissors, knives, and can openers, are manufactured for right-handed people as the default. This can make the use of such tools difficult for left-handed people, who must adapt their grip or use less-efficient methods of performing tasks."
End goal: The end goal description will encapsulate the impact of the concept, including how and who it will benefit. "A store that sells common tools tailored for left hands would make daily life easier for lefties. It would fill a niche need and enable left-handed individuals to complete tasks and hobbies as quickly and easily as their right-handed counterparts."
When you nail down the framework of your concept statement, you'll be able to align teams across silos on a shared vision and determine the particulars needed to execute on the idea.