Target audience analysis template
This audience analysis template allows you to identify and analyze your target audience and determine what resources are necessary to further your reach.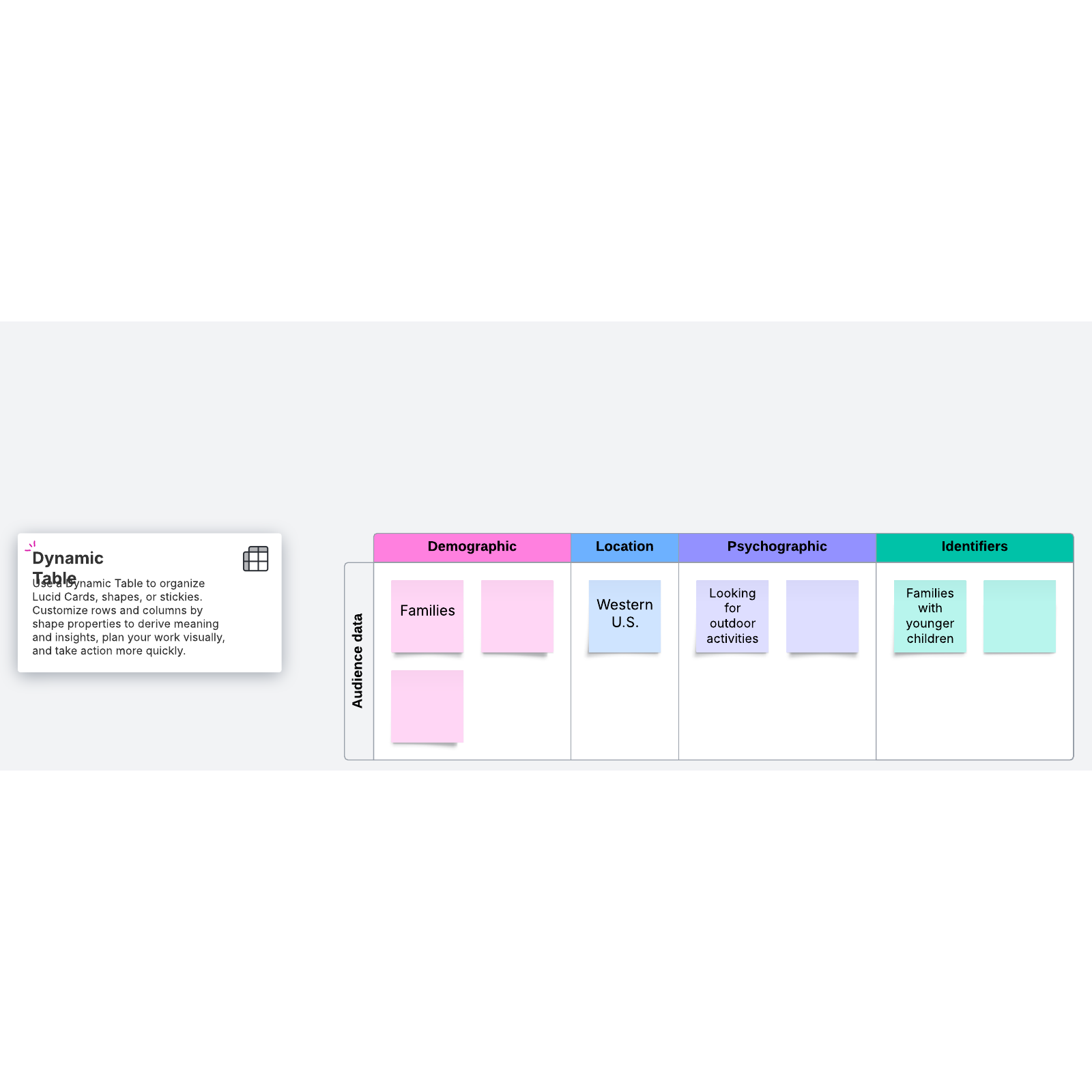 What is an audience analysis?
Finding your target audience is a key step in creating your overall business strategy. An audience analysis can provide valuable information about your target audience's age, location, education, opinions, and more. With these insights, your team can craft marketing strategies, user experiences, and other business functions that attract your target audience.
Why you should use our target audience analysis template
The success of your marketing strategies and business functions depends on how well you're able to engage your audience. Knowing their likes, dislikes, and beliefs can help you create everything from meaningful engagement and branding strategies to more satisfying user experiences. With an audience analysis, you can ensure that your time and resources aren't going to waste—and give your audience exactly what they're looking for.
How to conduct an audience analysis in Lucidspark
1. Conduct research about your audience
Get to know your audience by collecting information that will paint a picture of your typical user or buyer. To collect this information, you can use a mixture of interviews, questionnaires, existing data from industry reports or surveys, and digital tools such as Google Trends.
2. Fill in your audience analysis worksheet
The Lucidspark audience analysis template includes sections for several different areas of information: demographic, location, psychographic, and identifiers. The more specific and granular your information, the better you'll be able to target individuals that are more likely to buy your product.
Here's a few examples of what to record in each section:
Demographic: In this section, include characteristics like gender, age, income, ethnicity, and employment status.
Location: Think broadly, then narrow down location by considering your audience's region, country, city, and neighborhood.
Psychographic: This could include the audience's beliefs, values, lifestyle, goals, and interests.
Identifiers: Narrow down your research by picking a handful of characteristics to be the primary identifiers of your target audience. Be sure to test and validate the identifiers to refine your audience segments over time.
3. Use this information to build personas or customer journey maps
Once you've collected your data, you can compile it into visuals that will give you a better picture of how to reach your customer. Create user personas and customer journey maps to visualize who your customer is, how they interact with your product, and what they need for a successful user experience.
Use Lucidspark's real-time collaboration to build out and share visuals together, so your entire team has the information they need to start planning better, more meaningful user experiences.