Team New Year's resolution
Brainstorm New Year's resolutions with your team.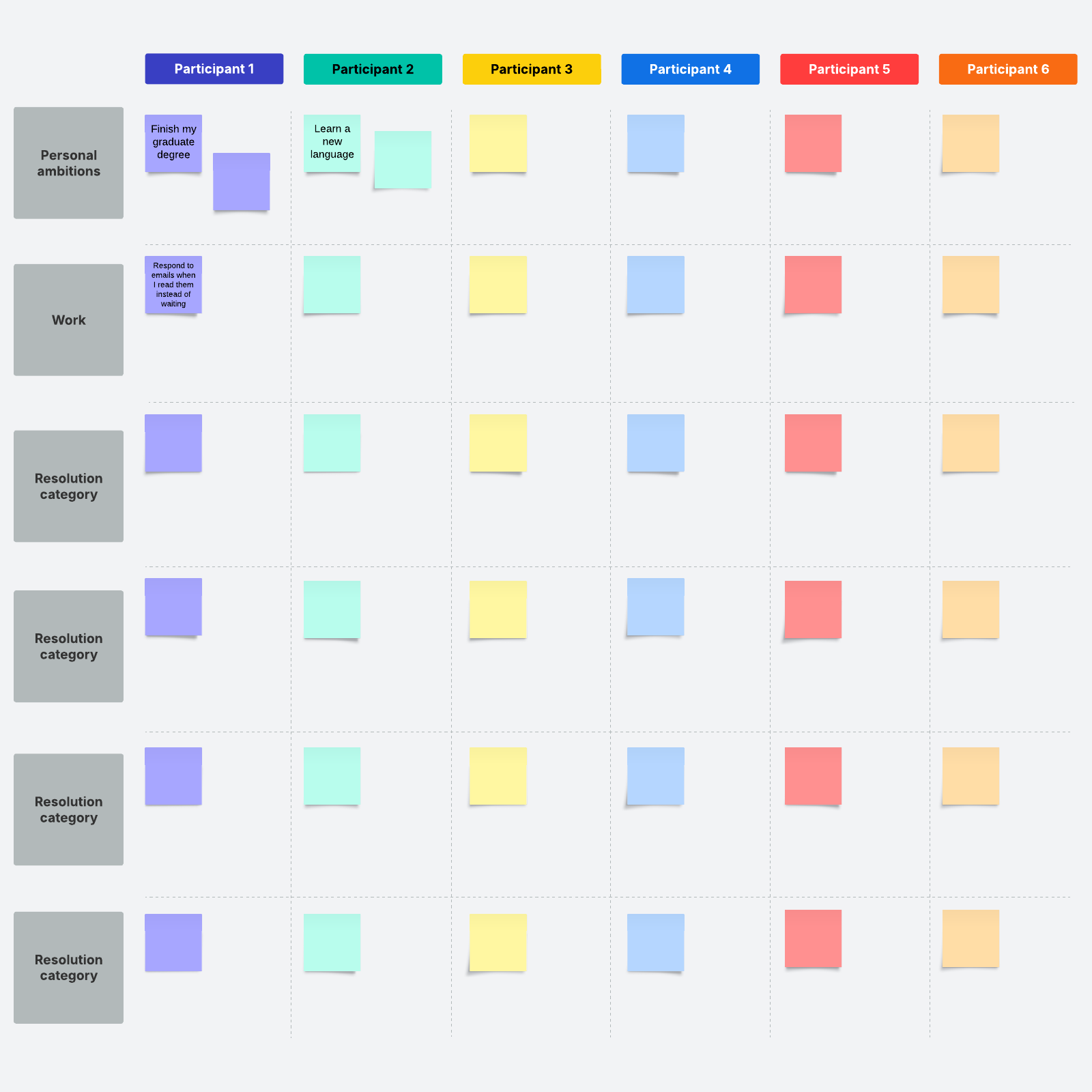 What is the team New Year's resolution template?
If you're like many adults, you've dutifully made a resolution or two at the beginning of the year. This New Year's resolution template was designed to supercharge resolutions—both by facilitating an opportunity for the entire team to brainstorm resolutions, and also by designating different categories for your resolutions to stay organized. This template serves as a group activity, synchronously or asynchronously, to harness the motivating power of resolutions in a productive way that's more likely to deliver long-term results.
Benefits of using the team New Year's resolution template
There are many benefits of using this template:
Perfect for a team activity: Resolutions provide insight into someone's values. This is a great way to understand what your teammates value most.
Adaptable based on your goals: Whether used as a fun icebreaker or as a way of brainstorming professional goals, the template can be customized to fit a variety of needs.
Stay accountable to your goals: Write down your goals and share them for helpful feedback and greater accountability.
Encourage each other: Regularly revisiting resolutions will help keep them top-of-mind so they have a better chance of being met.
How to use the team New Year's resolution template in Lucidspark
Edit the number of columns or the categories of goals based on your team's preferences. Rename categories to fit your needs.
Personalize the names of the participants based on those on your team by clicking and typing.
Set a timer and invite each team member to add sticky notes to each section, describing different New Year's resolutions they have.
At the end of the timer, give each individual time to present so others can leave feedback and encouragement.
Check back regularly with each other to encourage and keep each other accountable.