Team meeting agenda
This team meeting agenda will help your team stay focused and prepare attendees. Document your meeting objectives, updates, and topics to discuss.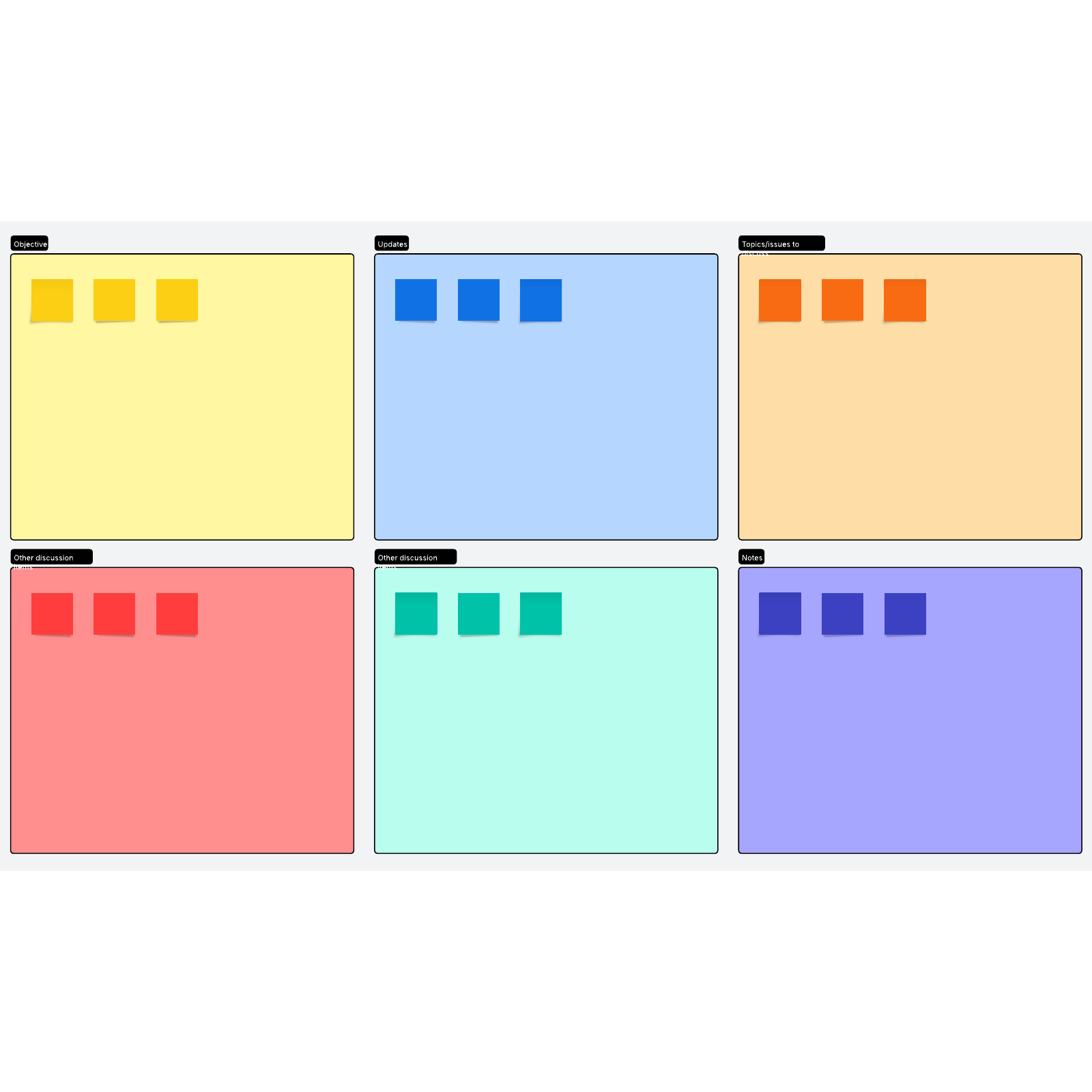 What is a team meeting agenda?
Team meetings are one of the most effective ways to boost creativity, communication, and productivity–if they're done right. More often than not, though, team meetings can feel poorly run and poorly planned, leading to wasted time, checked-out team members, and unchecked to-do lists.
A team meeting agenda is a visualization of all of the items you hope to cover during a team meeting, including: updates, goals, action items, shoutouts, brainstorming sessions, and opportunities for improvement. An agenda should also communicate the goal of your meeting, prioritize tasks, and keep everyone moving in the same direction.
Make your agenda specific, while also giving your discussion room to breathe. You can include time limits for each item to keep up the pacing of your meeting, as well as space for brainstorming and team notes so that your best ideas are never lost.
Why use a team meeting agenda?
The more you hope to accomplish in a meeting, the more likely you are to eventually lose team engagement. A clearly outlined team meeting agenda can keep your team focused on the task at hand without wasting time or your team's precious energy.
Team meeting agendas are all about organizing your staff meeting agenda topics into manageable segments, so that you can move from idea, to discussion, to action item without losing steam. The time you spend communicating and aligning on goals will pay out in dividends as you move forward and tackle work as a team.
Team agendas are particularly effective when they include input from team members. Ask your team to populate the meeting agenda before your meeting begins to ensure that their updates, concerns, goals, and needs are heard. Collectively, you can decide on the best use of your time and give a voice to each member of the team.
How to use the team meeting agenda template in Lucidspark
Begin by selecting a weekly team meeting agenda template in Lucidspark and populating the template with your meeting's purpose as well as your staff meeting agenda topics. Share the agenda with your entire team before your meeting to ensure everyone is aligned on meeting details. Ask them to add any topics they'd like to discuss.
Use tags to label each item as "high priority," "low priority," "action item," and so on. You can also create customized Paths toward the content you'd like your team to focus on during the meeting. As you facilitate your meeting, use the laser pointer to draw your team's attention towards certain parts of the board as you work.
Your meeting agenda can double as a space for notes and to-do lists, complete with sticky notes, images, and text. Create frames around your notes for convenient groupings that you can access at a click of a mouse.