Parking lot matrix template
Stay on topic during your discussions with a parking lot matrix. Organize ideas based off their potential for improvement and implementation.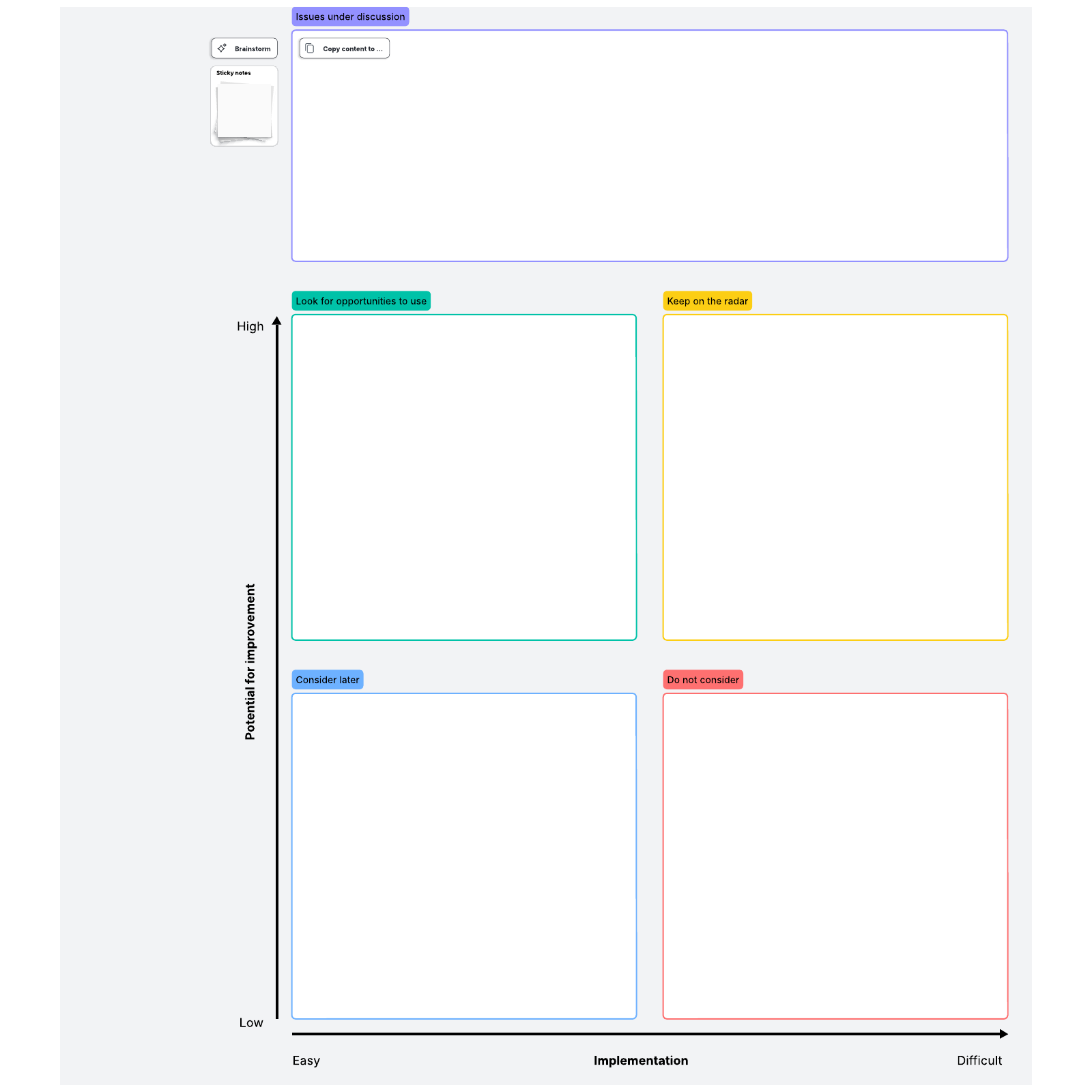 What is a parking lot matrix?
A parking lot matrix is a place to capture tangents, side discussions, and ideas in meetings so that valuable thoughts aren't lost, but the meetings still proceed on track. Basically, if someone brings up a useful point in a meeting, but it isn't related to the topic at hand, you can park it until you have time to address it.
Benefits of using a parking lot matrix
You need your meetings to stay on agenda if you're going to get your work done, but humans aren't robots—your team will come up with a plethora of interesting and possibly useful thoughts that are related, but not on topic. If you ignore those ideas, you could miss opportunities and make your team feel unappreciated.
Instead, if you park those ideas in the matrix, you have the chance to address those thoughts at a later time and get the full benefit of your team's insight and creativity. Plus, your team members know their contributions are valuable while your meeting stays on topic.
How to use our parking lot template in Lucidspark
The parking lot template has several sections. At the top in gray, you'll see space to write down notes for ideas that are relevant to the topic on the meeting's agenda. Beneath that space, you'll find the four sections of the parking lot matrix.
The parking lot diagram template has five sections:
Issues under discussion
Look for opportunities to use
Keep on the radar
Consider later
Do not consider
During your meeting, if you feel the discussion getting sidetracked, bring it back to the topic at hand by putting the tangent on a sticky note in Lucidspark under the "Issues under discussion" section.
Then, make sure to review all the ideas in the parking lot so they don't go to waste. As you review past sticky notes, use emoji reactions and tags to categorize the ideas. Then, take advantage of the Sort tool to quickly identify any common themes or higher priority ideas. At this point, you should move all sticky notes into the appropriate section of the matrix, based on the implementation difficulty and potential for improvement.
While you may need to park some sticky notes indefinitely, you can also turn a sticky note into an action item using Lucidspark Cards. If you want a team member to follow up on an issue they raised, turn the sticky note to a Card, give it a due date, and assign it to them. This way, you'll get the most use out of your parking lot matrix and use your team's valuable insights.