Idea funnel backlog template
Prioritize backlog items and keep your team on track during sprint meetings with this idea funnel.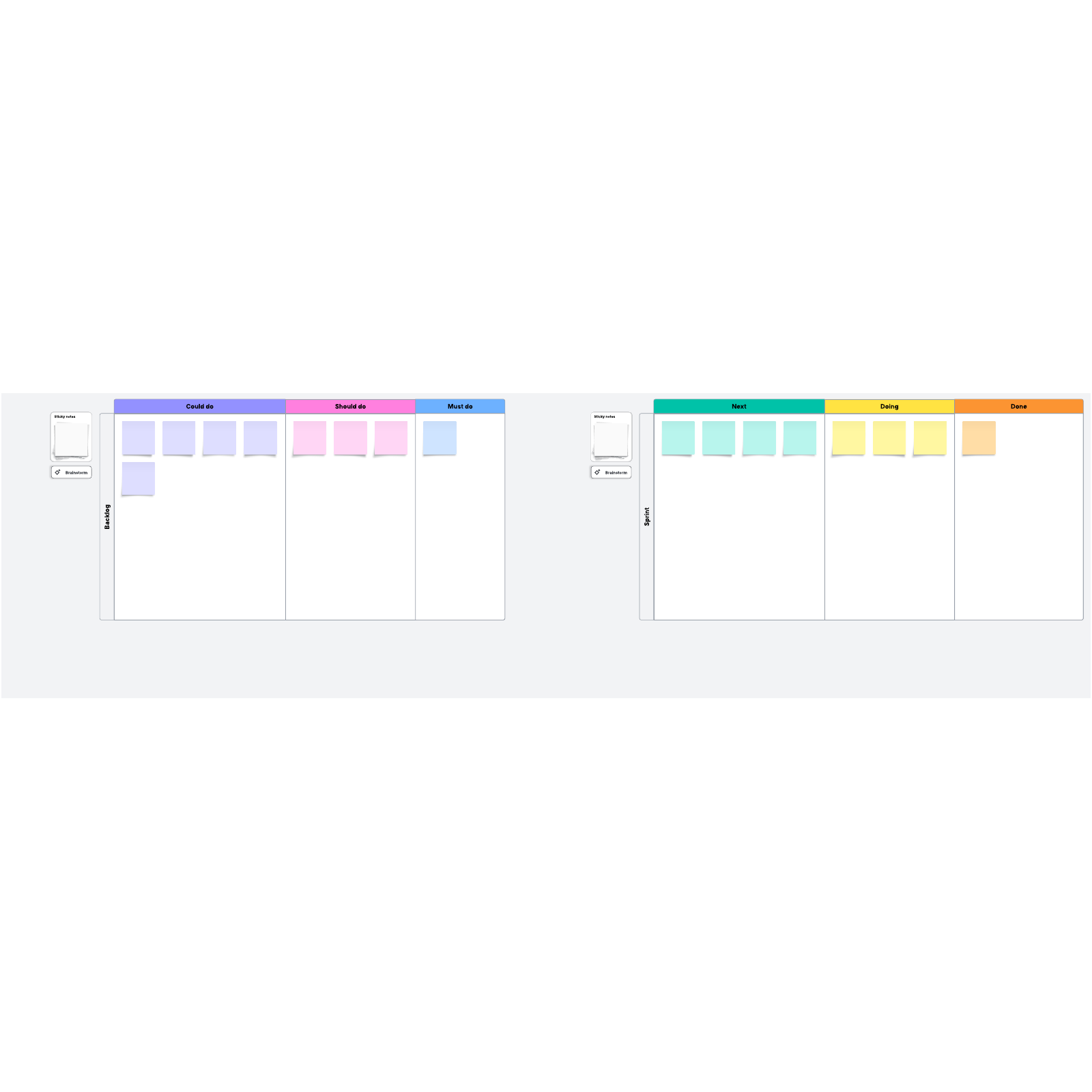 What is an idea funnel backlog and why should you use one?
When you are developing a product or service, your team may be full of ideas on how to improve it. This is where an idea funnel backlog, also called a project backlog, comes in. You can keep these ideas in mind and make them a reality with Lucidspark's combined idea funnel backlog and roadmap template.
This split template will ensure that your team has all the direction they need in the same place; from tasks on the to-do list to what tasks are moving through the pipeline during an Agile sprint.
How to use our idea funnel backlog template in Lucidspark
1. Collaborate with your team. With Lucidspark, you can share the idea funnel backlog template with your team members so everyone can contribute and access the same information.
2. Brainstorm ideas. To kick off the process, you might hold a brainstorming session for the idea funnel portion of the template. As you brainstorm, generate sticky notes with tasks that will be a part of the upcoming project and post them in the appropriate sections of the idea funnel template.
To keep the session on track, you can introduce time constraints using Lucidspark's timer.
3. Prioritize action items. Once you've completed the brainstorming session, sort ideas for product features and improvements into what you "Could Do," what you "Should Do," and what you "Must Do" in order for the project to be successful. This will help you identify what to tackle first.
You can also use Lucidspark Cards for Jira, DevOps, Smartsheet, or Azure to integrate information into those applications as action items.
4. Track your progress. Once you've prioritized the tasks for your project sprint, you can then use the roadmap section of the template to keep track of which tasks are on the current to-do list, what tasks are currently being worked on, and what tasks have been completed. You can easily move sticky notes from one section to another as the sprint progresses.
When you utilize both the project backlog and product roadmap aspects of the template, you'll have an easy way to transform ideas into actionable steps in your product development plan. This template is an excellent tool and resource that will keep everyone motivated and united as your project moves forward.